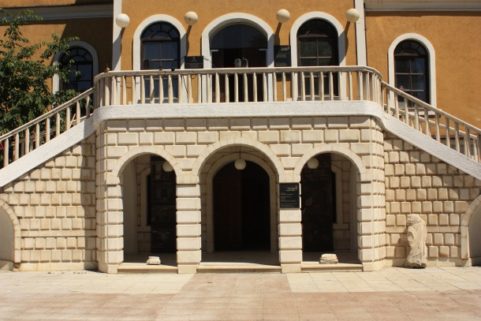 Prestina is the capital of Kosovo and its central economic hub, but as a city there aren't many tourist attractions to see. This doesn't detract from the character of the city or its people, as I spent a day there visiting monuments, shops, and restaurants throughout the city.
If you're in Prestina you can't leave without trying borak. Borak is a famous dish made of light flakey pastry that's filled with meat and best served with plain yogurt that you drink out of the plastic container. Luckily, the driver who toured me around knew the best place to go in the city and I was able to enjoy the best borak in town. When I ordered, the small bakery/diner was packed with people and everyone was eating this local delight. If you're wondering how to get there its easiest to ask a local where to go.
The only UNESCO site in the city is the Gracanica Monastery. Although it wasn't as spectacular as those outside Peja (due mostly to its comparative location) it's still worth a visit as the architecture and frescoes inside are beautiful. I got a cab there for a few euros and only needed a short time to check it out.
In downtown Prestina there are two monuments you won't want to miss. The first is Newborn. I found out that if you ask anyone on the street where it is they'll stand up a little straighter and enthusiastically say, "Newborn" and then direct you right there. Everyone knows where the monument is since it's a symbol of Kosovo's independence, a very cool site.
The other monument that might seem out of place is the Bill Clinton statue. It's there because of the American role in helping Kosovo during the war. The statue is placed at the corner of a busy intersection so you can't miss it. I stopped there for a quick picture before heading off to see the "newborn" monument.
All in all, if you visit the Gracanica Monastery, newborn, the Bill Clinton statue and enjoy a meal of borak you've done a good job of touring Prestina. There is also the historical Kosovo museum to check out, but unfortunately when I was there it was under restoration.
Have fun,
Yak
Tips:
Kosovo Museum Contact info.
Hours – 09:30-17:30 Tues – Fri, Sat/Sun 11:00-15:00, Closed Monday
Phone: +377 44 50 80 55
Admission: Free
https://borderlesstravels.com/wp-content/uploads/2014/05/MG_5854-610-x-407.jpg
407
610
Ian Yacobucci
http://borderlesstravels.com/wp-content/uploads/2017/10/small-1-300x75.png
Ian Yacobucci
2012-12-07 00:09:38
2018-07-26 11:32:38
Sightseeing in Prestina an incredible day of discovery in Kosovo's capital