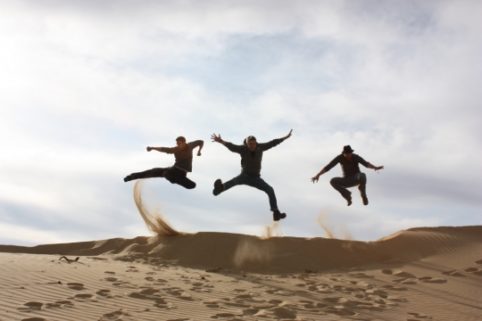 If you're traveling on the Trans-Siberian railway then Mongolia is a must.  Whether you're there for a few days or a month my quick guide to visiting the country will give you an idea of what to expect.
Visiting Mongolia is one of the highlights of a Trans-Siberian rail trip and arriving in Ulaanbaatar one wonders where the adventure is. Like most capital cities Ulaanbaatar is a commercial centre although there are no franchises here. Popular corporations like Starbucks, McDonalds, or Subway are not a part of the economy where a third of the Mongolian population is located. The best way to start your own adventure and experience Mongolia is to head out of the capital by booking a tour through one of the many companies located throughout the city.
Trips range from one night two days to a month. The price is usually set per day and decreases the more people you have. These trips are a must if you're visiting the country because, although organized, they offer tourists a glimpse of a country rich in culture, history, and breathtaking panoramic views.
The trip I went on was booked with the company that gave us the best deal because we decided to shop around. Hostels often offer organized trips for tourists but I would advise you to look at a few options before you decide. Prices can also be negotiable so try to bargain. We ended up getting our cost down from $70USD to $50USD per person per day for a two night three day excursion which included lodging, meals, a driver and English speaking guide.
Day 1 – Drove to Karakorum settled into our guest house
On the first day we drove to Karakorum, the capital of Asia during Genghis Kan's reign. The drive took 7 hours from Ulaanbaatar. On the way we stopped for a goulash lunch then checked out a cool temple before stopping at our guest house. That night settled into a ger where a traditional Mongolian throat singer performed a concert for my friends and I.
Day 2 – Visited the Erdene Zuu Monastery, drove to the Mongol sand dunes, rode a horse through the mini Gobi Desert and stayed with a Nomadic herder's family.
Day two was a lot of fun. Our first stop a visit to Erdene Zuu monastery were we were given an excellent tour of the surviving buildings and I had a monk do a prayer for me. From there my friends and I headed to the Mongol sand dunes located in the Mini Gobi Desert to take some fun pics then went to meet our host family for the night.
When we arrived at the families ger we were introduced to everyone then hopped on a few of their horses for a ride into the desert. That night we all ate dinner together then took a ride on one of the boys motorcycles. To our surprise, just before bed, their sixteen year old son performed a shamanistic ritual that was unplanned, unexpected and blew our minds.
Day 3 – Visited a cool rock formation, Ovgon temple, saved a colt and return to Ulaanbataar
Near the family ger where we spent the night sleeping through a dust storm we headed to a rock formation in the middle of the desert then checked out Ovgon temple that was located in a secluded valley. On our way back to the main road we discovered a colt standing alone in the desert and, thanks to Stevo, stopped to take a pic. Noticing the baby horses wounded leg, probably from a fox, we picked it up, put it in the van and brought it back to the safety of our host families home; we pretty much saved its life.
An unbelievable three day trip into the Mongolian interior wasn't nearly enough time but the experience was unforgettable and I would highly recommend it. The countryside was beautiful as it rolled past the bus windows, we experienced the culture of traditional music and religion, then saved a baby horse. It doesn't get much better than that.
Tips to travel Mongolia:
1. When booking a tour visit a few companies to try and get the best deal
2. Bargain for a good price. Although the tours offer set prices they can be negotiable especially if you're in a group.
Tally – prices as of April 2012:
Tour per person per day – 65,000 tugrig – $50 USD
Mongolian throat singing performance – 5000 tug rig – $4USD
Shaman ritual – luck
https://borderlesstravels.com/wp-content/uploads/2014/05/Dune-jumping-in-Mongolias-Mini-Gobi-Desert.jpg
360
540
Ian Yacobucci
http://borderlesstravels.com/wp-content/uploads/2017/10/small-1-300x75.png
Ian Yacobucci
2012-04-11 05:02:28
2018-07-26 11:43:54
Mongolia Tours: best way to visit Karakorum & Mini Gobi Desert