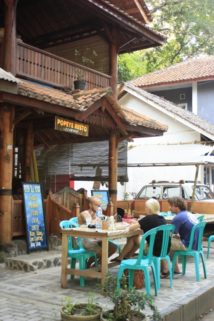 Although the small West Java surf town of Batu Karas is small there are a few great places to eat, and Ian's favourite makes it to the top of the list.
If you're in Batu Karas most of the restaurants are great but for excellent food Popeye Resto Legokpari is the only place to go. Teti and her husband Adam cook everything fresh when you order. You can often see them hustling and bustling about in the tiny back kitchen cooking up perfect meals for an unbeatable price. Eating here you have to wait since everything is fresh so order a Bintang or a freshly made juice then sit back relax and enjoy the ocean view.
The best things to order at Popeye's are their fresh juices, but remember that you can only get what's in season. My favourite is the pineapple or lemon juices and for a real treat you can mix it up with a melon pineapple lemon juice that's sure to shock your taste buds.
Lunch and dinner are the best time of the day here in Batu Karas as everyone heads to Popeye's to share their day's surf stories and tomorrows surf conditions. Most food here is a healthy choice and most popular are Tetis fresh vegetable soup and curry, your choice of chicken or vegetable. After a long day of surfing the best way to regain your energy it to order the nasi or mie gorang, nasi meaning rice and mie noodles. Both dishes come with your choice of seafood, vegetable or chicken and are topped with a fried egg; delicious.
Meals here usually range in price from 10-20,000 rupiah per meal and juices cost around 8–10,000. A local hangout for the surf club and other locals Popeye's offers the perfect beach vibe. With Bob Marley in the background or played live by the locals evenings chilling around a table talking surf devouring Tetis home cooked food is the best way to end a perfect day.
https://borderlesstravels.com/wp-content/uploads/2014/05/Popeyes-restaurant-Batu-Karas-West-Java-Indonesia.jpg
810
540
Ian Yacobucci
http://borderlesstravels.com/wp-content/uploads/2017/10/small-1-300x75.png
Ian Yacobucci
2012-04-13 00:40:20
2018-07-26 11:43:43
Where to eat in Batu Karas, Indonesia