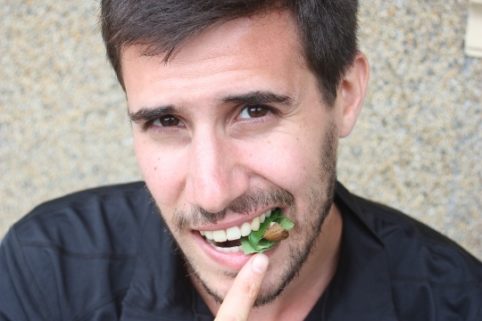 Hiking in the rice fields of the Ifugao province I'm offered to try Moma, a popular Filipino chewing stimulant. I'm taught how to roll my own Moma combo using a bag of ingredients (check out the 'How To' guide) and get my teeth stained for the sake of good research.
"Do you want to try Moma?" My hiking guide Franz asked while we were trekking to the remote village of Cambulo in the Philippines. For a second I thought I was being offered somekind of street-drug.
But Moma is something everyone seems to be doing in the Phillippines; men, women and even children enjoy the salivating substance. "It's like chewing tobacco," he tells me, "it will give you energy and make you feel warm." At 8 in the morning as we took a break at a waterfall I thought, why not?; I could use a little pick me up.
The betel nut, known locally as Moma, is a distant relative of coconut, with medicinal properties similar to chewing tobacco. Throughout the day, locals of Ifugao province in the Philippines enjoy the warm sensations and energizing effects of Moma, which gives you the same buzz as a glass of beer but, unlike alcohol, gives you the jolt you'd get from a cup of coffee.
The effects of Moma are best brought on by combining several local ingredients. These ingredients include betel nut, an indigenous vine leaf, lime, and tobacco. In the Ifugao province, particularly in the towns of Binaue and Batad, you can buy a bag of ingredients from the local shops for around 5 pesos.
There's no shop that will sell you a kit to wash your mouth out afterwards, however, so be prepared for spending time at your sink trying to get all the little bits out of your mouth and the stains out of your teeth (the locals have pretty much accepted the damage it does to their smile, but chances are you wont be keen on having red teeth).
After chewing for a while, I noticed the taste was bitter and not altogether pleasant. I did enjoy the high it gave me, and it really does make you feel warm inside.
Interesting Facts: In Binaue the lime is produced using snail shells from the nearby rice terraces. In harvesting the local farmers eliminate the snails which are a common rice farming pest. Nothing is wasted the snails itself are then consumed as a local food source. The collected snails are baked over a hot fire turning the shells from black to white. These brittle shells are pounded into a fine powder. The key differences between snail shell lime and stone lime are the hues and potency. Stone lime is pure white and often has a higher PH balance making it more corrosive.
https://borderlesstravels.com/wp-content/uploads/2012/02/1.jpg
360
540
Ian Yacobucci
http://borderlesstravels.com/wp-content/uploads/2017/10/small-1-300x75.png
Ian Yacobucci
2012-02-07 00:51:26
2018-07-26 11:52:43
The Filipino guide to moma