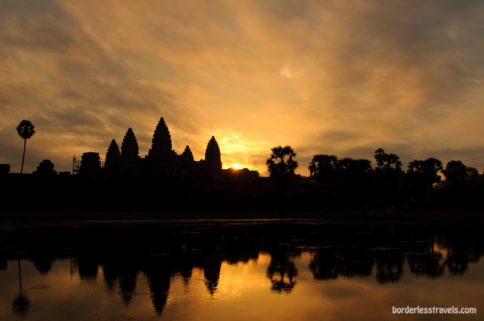 Showing up at the 6:00 am sunrise at Angkor Wat was not exactly what I expected it to be. Being a Lara Croft fan myself, I was hoping to have to swing down from a jungle vine into an undiscovered tomb and watch the sunrise from behind a mysterious untouched ruin. Instead, I arrived to a field full of people with the exact same idea. Having to fight for a place in the crowd for the perfect sunrise view, I couldn't help but think what the rest of the day exploring would be like. It wasn't exactly as I imagined it, but it was still pretty spectacular.
Angkor Wat is full of tourists, but if you can accept the fact and use a little imagination, you can have a lot of fun. Here are the tips and tricks I came up with during my visit to get as much time with my inner Lara Croft as possible and the least amount of time avoiding being in someone else's photograph.
1. Sunrise at Angkor Wat
If you are into getting that beautiful sunrise photo at Angkor Wat, I would recommend you still go but not exactly at sunrise. Google the time of the sunrise at Angkor Wat the night before (it will depend on the time of year) and plan to arrive 15/30 minutes after. This will guarantee the best light for photographs and ensure that most tourists would have already left.
Angkor Wat Mistake: Most people arrive too early and get sick of waiting in the crowd by this point.
2. Angkor Wat
Sunrise at Angkor Wat is definitely a splendor to witness. The only problem, once again, is that everyone else wants to witness it at the same time too. I would recommend trying to go off the beaten track for a more authentic and reflective experience. It can be done! Just avoid the flow of the crowds and explore the ancient temples for enjoyment, not to go where everyone else is.  Trust yourself and discover what other people are missing.
Angkor Wat secrets: Start at a less well-known temple in the morning. Such as Bayon or Angkor Thom. Large tour groups always start at Angkor Wat.
If you want to learn about the history of Angkor Wat, I would suggest hiring a tour guide. The books that are being sold all over the grounds for various prices, are also a good idea but may not provide the interesting and more intimate details that the well-trained multi-lingual guides do.
3. Bantaey Kdei
This temple complex takes up a lot of square footage and if you tire of crowds, it is one of the least busy temples in Angkor Wat. There are many passages and doorways to venture through and you can get that awesome picture beside a massive tree with fewer tourists to compete with.
4. Ta Phrom
The temple from the Lara Croft movie. The Tomb Raider temple was definitely a sight to see. However, it is also one of the most popular temples because of the allure of the large trees that grow throughout the complex.  If you're not afraid to venture off you can find a space to get your photo but beware of the most famous tree from the 2001 film version of Tomb Raider.  You won't get a moment alone there.
Ta Phrom secrets: After 3:00 pm, many tourists start clearing out of the temples. Perhaps the best time of day to get that selfie you were dreaming of.
5. Angkor Thom
This temple is stunning and a lot of fun because there are tones of small temples throughout the forest in the surrounding area. This is a temple where you can really get off the beaten track and explore!  Remember the Angkor Wat temple complex is massive and if you're willing to explore you'll find hidden treasures that represent the spiritual setting these temples were designed to embody.
Angkor Thom secrets: Just don't get stuck in the tall grass with the huge spider webs. I am still not sure what kind of spiders were hiding in those webs but I am glad we never found out.
As one of the most famous temple systems in the world Angkor Wat will far exceed your expectations.  Just remember that there are many temples to explore and all of them are several kilometers apart so be prepared to spend a lot of your day enjoying the jungle by tuk tuk (yes, you should definitely spend the little money it costs for a tuk tuk).
No matter how many times you visit you'll always feel like you're just scratching the surface of Angkor Wat's mysteries.  So be kind to yourself and take my advice, get the three-day pass. It is well worth it, and with a little imagination and some childish enthusiasm, you can really make the experience your own.
Have fun and safe travels!
https://borderlesstravels.com/wp-content/uploads/2016/03/Perfect-sunrise-at-Angkor-Wat-Siem-Reap-Cambodia.jpg
531
800
Danielle Aniceto
http://borderlesstravels.com/wp-content/uploads/2017/10/small-1-300x75.png
Danielle Aniceto
2016-03-09 06:00:08
2018-03-27 17:44:35
Angkor Wat Tips| Help yourself tour Angkor Wat like a boss