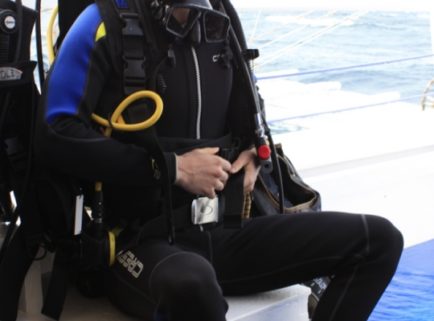 Visit any resort in the Dumaguete area and you'll be able to rent your gear and book yourself dive outings. Ian finds a good one and offers a few suggestions about prepping for your scuba diving experience. This article includes tips and tally.
One of the best places to scuba dive in the Philippines is around Dumaguete, Negros Oriental. Dumaguete itself is simply a hub to the diving hot spots blanketing the surrounding area. The best way to dive around Dumaguete is to hook up with a dive shop or resort that organizes dive trips. I decided to dive with Harold's Mansion. I chose Harold's because it was recommended by friends, I was already staying there, and as I later learned, it was one of the cheapest places in the area to dive through.
All the dives were organized at the hostel front desk, and you don't have to be staying there to dive. They often post which dives are available a day or two in advance, and you have a choice of snorkeling or going on two or three dives, two dives being the minimum. Harold's organizes all the equipment and transportation to each dive location and even provides you with lunch and some snacks.
In my opinion it's the cheapest scuba diving option in the area, and most of my friends in Dumaguete were diving with or working there. Dives cost around 1000 pesos per dive ($20 U.S. at the time of this writing). Of course, you can't neglect the sanctuary fees. Most of the dive sites in the area require divers and snorkelers alike to pay a sanctuary fee. This goes towards maintaining and protecting the different dive sites in the area and usually run you about 150 pesos per location.
There are other options in the area, and if you decide to stay at a resort or rent your own place, don't be shy, weigh your options and check out the other dive companies.
If you're not up for the underwater adventure or if you get last minute cold-feet, don't worry. Boats will often be able to drop you off after the divers and snorkelers are in the water, leaving you to explore an island for the afternoon before heading back to Dumaguete. You can also, like many who joined on Harold's boat, just spend the day floating among the Philippine islands, enjoying the sun, crystal clear waters, and picture perfect coasts.
If you're planning on doing three dives with Harold or another dive shop you can expect to spend around 3500 pesos for the day. This includes all your equipment, tanks, food, transportation and sanctuary fees. If you're snorkeling, you can expect to pay a fraction of that for food, transport and sanctuary fees.
If you're ever able to come to Dumaguete, you don't want to miss out on the opportunity to explore the islands around Negros Oriental and truly see the beauty the Philippines has to offer. Going with a dive shop will limit your need to organize everything yourself; it's one-stop shopping and, best of all, everyone speaks English so you don't have to worry about the language barrier.
Tips
1. Do your research. Look online and inquire upon arrival at costs of other dive shops in the area. Costs are always subject to change and often packages can vary in price.
2. Don't worry about gear. Most dive shops offer equipment with their packages. However, it's always more comfortable with your own mask, snorkel and fins.
3. Bring your anti-nausea pills. It can be a bumpy ride on the boat to and from the different islands and if you're prone to sea sickness definitely bring something to quell your stomach.
4. Don't forget your dive log. If you're planning on scuba diving bring your dive log. Often a few dives can turn into many. I ended up doing about 10 dives when I intended only to do three. Logging them allows me to build my experience and if I plan to get additional qualifications it's a necessity to have a history of your dives.
5. Be prepared. Most divers have antibacterial ear drops and other pharmaceuticals as preventatives. Vitamins are also helpful. Doing a lot of diving can tire you out and lower your immune system so dive safe and be prepared.
Tally – Diving in Dumaguete, Negros Oriental, Philippines (January 2012) 3 Dives – about 3500 pesos per day – 1000 pesos per dive lunch and snacks included – 100 – 150 pesos per dive for sanctuary fees
https://borderlesstravels.com/wp-content/uploads/2014/05/15.jpg
399
540
Ian Yacobucci
http://borderlesstravels.com/wp-content/uploads/2017/10/small-1-300x75.png
Ian Yacobucci
2012-02-20 00:36:40
2018-07-26 11:50:39
Best Scuba Diving Philippines