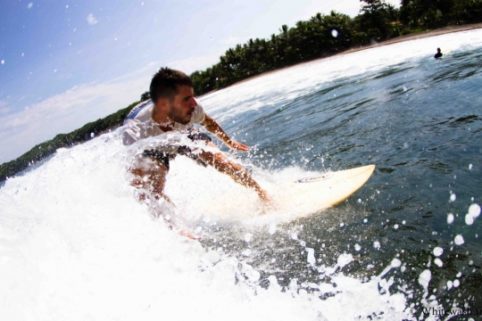 Trying to find the best beaches in Indonesia? Look no further, Batukaras is the sun, sand and surf paradise you've been looking for.
Surf, sun and relaxation is Batukaras. Forget the crowded over travelled beaches of Bali and head to Batukaras, West Java's surf paradise, if you want to experience true Indonesian surf culture. This small fishing village located only hours away from Jakarta is a hidden gem when it comes to travelling.
Most who visit this special place end up staying for longer than planned and some never leave. So if you're planning to travel to West Javas soon to be hot spot than make sure you leave yourself time to explore the areas unspoiled beaches and surf. You won't be disappointed.
I had heard the name Batukaras only twice on my travels so I knew this place was somewhere worth checking out. Seemingly off Indonesia's all too popular backpacker trail, Batukaras is a place that few travellers know about. For those adventurous enough to find their way here the rewards are enormous. With only a few homestays and a couple of restaurants this West Java surf village and its surrounding beaches are paradise.
When I first arrived I was reluctant to find that Batukaras is growing. No longer a simple fishing village this once secret surf spot is slowly developing. Luckily, it's location and the allure of Bali surf has created the perfect getaway here in West Java a result of the new amenities without the big crowds. Whether you're into surfing or just want to relax on the beach Batukaras is a great place to enjoy the sun and sand that has made Indonesia a popular travel destination.
It's easy to get used to life here in West Java. For surfers, both on and off season are good times to visit although the waves are bigger and more consistent in the summer months.
The best way to explore the surf around Batukaras is to rent a motor bike and ask the locals where the best surf will be. In Batukaras there are two main surf spots the reef and the point. If the swell is big enough both long and short boarders can share these waves with the locals and have some fun.
If the waves in Batukaras aren't doing it for you hop on your bike and head down the winding roads, along rice fields and ocean vistas, to Legok Jawa's beach break or just beyond that to the all popular Baluk Benda reef break.
Just near an hour drive away, these two surf spots are found on pristine beaches with only a few fishermen out hunting for the days catch. In the off season, you can expect only a few people out in the waves and often you'll find that you're the only one.
When there are no waves in the forecast there are dozens of beaches to explore and the area's green canyon is a magical place that should not be missed. Time here soaking up the sun, surfing, or chilling out with the locals near the Batukaras surf club seems to fly by, and once you're here it certainly is hard to leave. So forget the craziness of Indonesia's touristy spots and head to Batukaras before it's too late.
Tips
1. Surfboard and scooter rentals can usually be arranged through your homestay or by one of the local surf club members.
2. If you're looking to find the best way to leave Batukaras ask around to figure out your best options and prices.
3. Bargain – Often you'll be able to swing a deal whether it's saving 10,000 on a scooter by getting renting it for a week instead of per day or getting an AC room for cheap by giving up the controller, when only those rooms are available.
Tally – calculated in Indonesian Rupiah as of winter 2012
Surfboard – 50,000 per day
Motorbike – 50,000 per day
Food – 10 – 30, 000 per meal
Getting there and back – 150 – 250, 000
https://borderlesstravels.com/wp-content/uploads/2014/05/Ian-surfing-the-reef-in-Batukaras.jpg
360
540
Ian Yacobucci
http://borderlesstravels.com/wp-content/uploads/2017/10/small-1-300x75.png
Ian Yacobucci
2012-04-01 02:21:01
2018-07-26 11:45:59
Sufing Indonesia why Batukaras is a real surfer's paradise