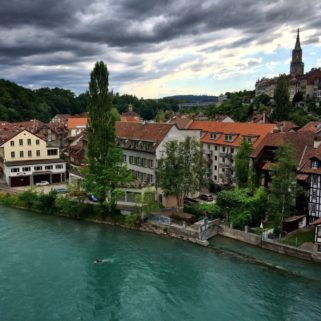 If you're travelling in Europe there's little doubt that your friends tired of drunk Instagram selfies, 101 medieval churches, cobble stoned streets, and the exact same pictures as every other tourist who tagged #europe2015.
Be original, make your way to the Swiss capital Bern and take some pictures that will inspire your Instagram followers to travel to Europe too.
Since the early 1400's Bern's medieval architecture has remained virtually unchanged.  Since the early 1400's!  That's more than 2000 years older than Canada.  It's so old you can eat at 500-year-old restaurant; with WIFI.
Founded in 1191, Bern is recognized as a UNESCO world cultural heritage site.  The Old City is virtually surrounded by the sapphire Aare river, and in the distance you can see the Swiss Alps.  Yes, there are some viewpoints that will make your friends at home wish they too took a vacation to the Swiss capital.  Oh, and these places are free!
Bern Rose Gardens
The easiest was to visit the Rose Gardens is to take the #10 (Ostermundigen) bus from Kornhausplatz (between Kramgasse and Rathausgasse).  You get picked up at Waldeck and dropped off two stops later at Rosengarten.
At the Rose Gardens there's a small restaurant where you can grab a coffee or some food after snapping the perfect picture of Bern.  Afterwards you can take the small footpath in front of the restaurant back to Nydeggbrucke bridge.
Nydeggbrücke Bridge, Bern
This bridge is one of the earliest bridges to cross the Aare River.  From the middle of the bridge you get a great view facing back towards the old city of Bern.  It's also right next to the Bear pits and Altes Tramdepot Bern's first microbrewery with good food and great beer (the place gets packed on the weekends to make a reservation).
Behind the Bern Bundeshaus (Swiss Parliament)
From behind the Swiss parliament buildings you get one of the best views in Bern.  On a clear day you can see the Swiss Alps in the background with a view of the Bern History Museum as the Aare snakes through the foreground.  After snapping a great picture you can go for a tour of parliament, play chess on one of the giant chessboards, or relax a bench as you take in the best view in Bern.
So save your money.  Don't go spending 5 CHF to climb to the top of the Cathedral tower.  Go on a little adventure and explore the best viewpoints in Bern.   Take your time, stop off at coffee shops along the way, eat some lunch, and capture some incredible Instagram posts  that will inspire your friends to visit Europe!
Happy Travels!
Yak
https://borderlesstravels.com/wp-content/uploads/2015/08/View-from-Nydeggbrucke-bridge-Bern-Switzerland-e1438769353105.jpg
800
800
Ian Yacobucci
http://borderlesstravels.com/wp-content/uploads/2017/10/small-1-300x75.png
Ian Yacobucci
2015-08-05 06:17:06
2018-07-26 09:32:38
Inspire Instagram with pics of Bern's best viewpoints