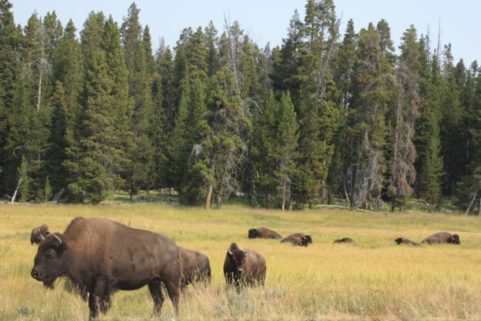 Arguably the most iconic national parks in the United States, Yellowstone is one place everyone should visit at least once in their lifetime. Bigger than Puerto Rico, Yellowstone National Park has incredible geologic features, unparalleled biodiversity, and endless opportunities for exploration. With so many options, the hardest part about visiting Yellowstone is figuring out what to see and do.
My brother and I visited Yellowstone National Park on a road trip across the northern boarder of United States for a tour of three of the countries top National Parks. With only a limited number of days, and a pretty tight budget, two days at Yellowstone National Park was all we could make time for.
As you'll probably agree, two days wasn't nearly enough time to fully experience Yellowstone. Yet, on a late August morning waking up in hammocks at 5am to -5 Celsius temperatures, we were able to get an early start and discovered some of Yellowstone National Parks highlights.
Here are the highlights we think everyone who visits Yellowstone should try to do:
1. See Yellowstone's incredible wildlife in its natural habitat
Wild bison, wolves, osprey, and elk; need I say more. These are the animals that my brother and I saw while driving through the park. The wild bison were massive beasts that I loved watching as they roamed the grassy plains of Yellowstone. As the misty frost bitten morning warmed with the rising sun, I was taken back to a time when these beasts roamed North America in the millions (there are around 3000 in Yellowstone now).
Early in the morning we were also lucky enough to see a pack of wild wolves wandering through a field (there're only about 100 in Yellowstone). As they jumped and played with each other my brother snapped some incredible photographs. I on the other hand was too awestruck to shoot, and just enjoyed the moment.
2. Explore Yellowstone's hydrothermal features
Hidden beneath the ground is one of the largest super volcanoes in the world. Hot springs, mud pots, steam vents, and geysers are found throughout Yellowstone. My brother and I had a great time photographing these volcanic wonders. The multicoloured pools of volcanic heated water and explosive geysers made great subjects
The best part about these natural phenomena is how accessible they are. Boardwalks and guided walking routes lead visitors around these geologic features, and all along the roadways signs direct people throughout the park while providing information about each feature.
 3. Camp under stars in a Yellowstone campground
My brother and I showed up for a campsite in the early afternoon and lucked out with a site at Norris, which was incredibly picturesque. Each campsite is unique and completely different as they're located across the park. Some of them are located near the mountains, along lakes, rivers, and forests so it depends on availability and what setting you're looking for.
It's important to note that Yellowstone's campsites fill up quickly, and you have to pay, so you're better to reserve a spot in advance if you know your dates. We planned super last minute so we were at the disposal of the parks availability. If you're tenting you can always see if the biking and hike-in only trails are available (there's usually at least one, and this is what we did).
Important: August nighttime lows hit -5 when we were there so dress warm.
4. Watch the sunrise over the Grand Canyon of Yellowstone
The Grand Canyon of Yellowstone is absolutely massive and the best viewpoints are all accessible by car. My brother and I explored it during sunrise when the place was virtually empty (less one other photographer). Its absolutely massive size and rare volcanic canyon walls, made of ash and tephra that lead to a river below, offered spectacular views.
During sunrise these walls change colour by the minute, and with its massive waterfalls flowing in the distance the natural beauty and wonder of Yellowstone unveils right before your eyes. Just go there ☺
5. Watch Yellowstone's Old Faithful erupt
A trip to Yellowstone isn't complete without seeing Old Faithful explode into the sky. This was the last stop for my brother and me on our tour of the park, and something you can't leave the park without seeing. I thought it was really cool considering the geology, history, and how unique it is. Although I found the phenomenon a little anticlimactic and preferred the other wonders in the park.
Why I'm going back to Yellowstone one day!
The park has hundreds of hiking trails along lakes and rivers, through valleys and over mountains. For people visiting Yellowstone hiking is definitely one of the highlights. You can even spend multiple days hiking and camping along the way.
Even though I missed most of the hiking (it's virtually endless) I can't wait for next time.  Not to worry, Yellowstone National Park is extremely accessible and all of the important things to see can be easily accessed by car. Just be aware that the park is HUGE, and it takes a lot of time to get around. My brother and I, with our limited schedule decided to stick to four wheels for much of it, but I hope to go back for at least a week on a hiking and camping trip!
In the end, Yellowstone National Park was one of the most incredible natural wonders I've been fortunate enough to visit. The wildlife was spectacular and the geologic features were unparalleled to anywhere else in the world. On our last evening, while sitting by a warm fire as the nights stars flickered in the sky, my brother and I enjoying the company of new camping friends while reminiscing about our days highlights, Yellowstone became memory that I can't wait to relive.
Happy travels,
Yak
https://borderlesstravels.com/wp-content/uploads/2014/05/Wild-Bison-roaming-along-the-road-in-Yellowstone-National-Park.jpg
407
610
Ian Yacobucci
http://borderlesstravels.com/wp-content/uploads/2017/10/small-1-300x75.png
Ian Yacobucci
2013-12-02 07:23:56
2018-07-26 09:57:51
5 highlights of Yellowstone National Park