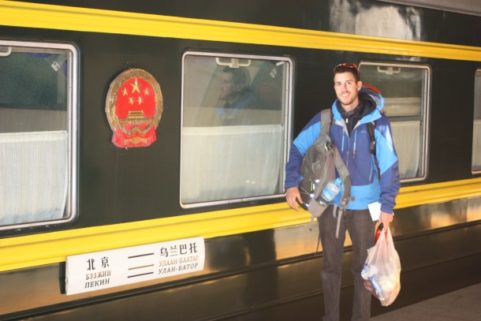 After traveling on the Trans-Siberian from China to Russia I decided to answer all your questions. So here are answers to the 10 most commonly asked questions about travel on the Trans-Siberian. Hope this helps!
1. How do I buy tickets for the Trans-Siberian?
The best way to buy tickets for the Trans- Siberian is to purchase individual tickets as you travel. That means the first thing you should do whenever you arrive at a destination is buy a ticket to your next stop. By doing this you will not only save money but you'll be able to give yourself options for overbooked trains and free up your itinerary in case something cool comes up.
Of course, you can take the easy way out and pre-book your tickets with a company online. To be fair, in the summer months this might not be such a bad idea as trains can be booked up during the busy travel season. Just be aware that buying tickets for the Trans-Siberian this way is a lot more expensive and doesn't give you the freedom of an open itinerary.
More information on getting your Trans-Siberian train ticket in China here
2. What class should I travel on the Trans-Siberian?
For most of my travels I rode third class where you get a bed and blankets in an open train car with about 50 other people. Third class is moderately comfortable and the cheapest option, although it can get a little busy and smelly.
For more privacy you can get second class train tickets in a four person cabin with a closing door. This option is a more expensive but is certainly more private and you can still meet cool people. Basically, I'd go third class all the way, although if you need a break, second class is a nice change.
3. How much does the Trans-Siberian cost?
Contrary to the inflated prices of the online pre-booked ticked, all together my Trans-Siberian train tickets costs roughly $700 USD. Some tickets for a leg of the trip cost $60 USD and others $240 USD but when it was all added up the total was a lot less than I expected. Not to mention the fact that I also traveled across Kazakhstan which included and 81 hour train from Almaty, Kazakhstan to Moscow, Russia.
For food and accommodation I'd say another $7-800 USD would be perfect, maybe even a bit generous. To be on the safe side you can probably look at spending around $1500 USD for a month on the Trans-Siberian. This would include food, accommodation, and transportation.
4. Should I take the Trans-Siberian alone?
It's totally up to you. I had an amazing experience sharing the adventure with a couple friends, and to be honest, on some of the long train rides I was happy to have some company. Whether it was to share a drink, a meal, or play cards I wouldn't have wanted it any other way.
That's not to say I wouldn't do it alone. In fact, since my Trans-Siberian trip the train has been my favoured mode of transportation, and I've had some great times crossing Europe on my own. I found it easy to meet people, relaxing, and a carefree way to travel.
5. What can I eat on the Trans-Siberian?
The best thing to do before getting on the train is to buy some food. The selections are not always what you'd expect, but there are lots of food options if you're willing to compromise. I'd bring some instant soup bowls (each car has boiled water), water bottles (the train water is undrinkable), some crackers, bread, jam, cheese and cured meats to hold you over. Fruits and vegetables aren't as easy to find, but I managed to get some apples and bananas.
The coolest thing about the Trans-Siberian is the people selling food at each stop. For healthy delicious choices of fish, perogies, beef stew, and fresh breads you can hop off the train at most stops and buy food off locals who come to sell to the travelers. You'll even see people cruising the train isles selling smoked fish, clothes and other knickknacks.
If all else fails, nothing beats a bowl of borche, a hot tea, or a cold beer as you watch Siberian landscape blur by you. The dining cars serve delicious food and are a great place to meet and drink with locals. Just be forewarned that the menus are often not in English, not many people speak English, and the price of food in the dining car can be relatively expensive.
6. Where should I stop on the Trans-Siberian?
Depending on your Itinerary and where you start the most common places to stop are Beijing, China, Ulaanbaatar, Mongolia then Omsk, Irkutsk, Moscow, and St. Petersburg, Russia. If you're looking for something special to add to that list I highly recommend Kazakhstan where a night bus from Omsk, Russia to Astana, Kazakhstan (the capital) is easily accessible.
7. What should I pack for my Trans-Siberian trip?
Depending on the time of year I'd bring the necessary clothes for the climate (sweater, jacket, jeans, shoes). On the train you'll want to be comfortable and it can get really hot so shorts and flip flops are a comfort, and of course a little vodka hidden in your back is always welcomed depending on your neighbouring company; just remember to keep it hidden from the police and border guards.
8. How long does the Trans-Siberian take?
Depending on your time frame and how much time you intend to spend at each destination the Trans-Siberian can take 6 days to a few months. A good time frame is about a month. This will give you enough flexibility to make changes to your itinerary while allowing you to enjoy the places you stop in rather than simply rushing through.
9. Is the Tran-Siberian safe?
Simply stated, yes. Of course you have to be cautious just like anywhere else in the world. That being said, the people are usually quite friendly and very helpful, you can stow your bags on top or under your bunk, and everyone has cellphones or computers so you won't stand out too much.
On the train I met so many great people who shared food, stories, drinks, and cards with my friends and I. Everyone was interested to learn from us just as we were of them; you can't always listen to the naysayers.
10. What is the best time of year to travel on the Trans-Siberian?
The most popular time to travel on the Trans-Siberian is in the summer. However, if you want to miss the crowds of foreigners I'd say early spring is the way to go. This way you'll avoid the cold and the crowds. You'll still have to dress warm but the month of April proved to be a perfect month to travel the Trans-Siberian.
And finally…
If you're still not totally convinced that you should do this trip, let me tell you that traveling across China, Mongolia, Russia, and Kazakhstan on the Trans-Siberian (although the name refers strictly to Russia) was one of the most amazing experiences of my life.
The adventure took me across four countries where I slept in a Mongolian Ger with a shaman,  drank vodka with Russian soldiers, visited the biggest fresh water lake in the world, crossed the unique country of Kazakhstan, and so much more.
All I can say is, if you get the chance, "do it!"
Good Luck,
– Yak
https://borderlesstravels.com/wp-content/uploads/2014/05/start-of-the-trans-siberian-beijing-china.jpg
407
610
Ian Yacobucci
http://borderlesstravels.com/wp-content/uploads/2017/10/small-1-300x75.png
Ian Yacobucci
2012-11-13 00:12:16
2018-03-27 20:39:03
10 questions you need answered to travel the Trans-Siberian