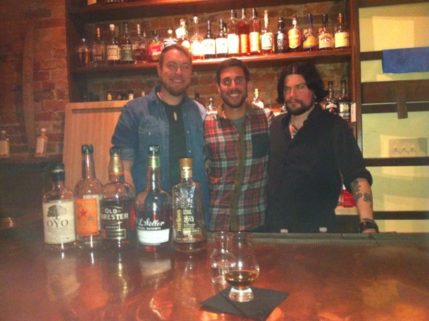 Let me first start off by saying that before my visit to Cincinnati, I knew nothing about the glorious liquid gold drink that is better known as bourbon.  As a matter of fact, I was a bourbon virgin.
Arriving in Cincinnati after a several hour drive to visit with fellow travel blogger, and self-proclaimed bourbon aficionado the Shamelss Traveler, there was only one place to go.
And so, shortly after introductions and a tour of his place it was time to venture into the heart of Cincinnati. First stop, Old Kentucky Bourbon Bar in Covington, Kentucky.
If you're wondering how the heck I ended up in Kentucky when I was heading to downtown Cincinnati let me shoot a little geography your way. Downtown Cincinnati is right on the northern border of Kentucky, and located just across the river from Covington, where you'll find the greatest bourbon bar in the world!
Bourbon, which I got to know as liquid gold, is Kentucky's greatest export (sitting just in front of Abraham Lincoln and George Clooney). If you're new to bourbon, like me, or a bourbon connoisseur visiting the Cincinnati area your first stop needs to be the Old Kentucky Bourbon Bar; especially after a long drive.
More than a bar, OKBB is an experience. With hundreds of bourbon whiskies to choose from, OKBB's staff are experts when it comes to bourbon and offers something for everyone.
Sitting at the bar, I met whisky expert Tayor Renfroe who introduced himself with the classic bartender greeting of, "what can I get you guys".
With little to no knowledge about bourbon I had no idea what to order, so I told him I came all the way from Canada just to be here; so began my introduction to the wonderful world of bourbon.
As soon as he heard I was from Canada, and uninitiated when it comes to bourbon tasting, he decided to bring me on a bourbon journey back through time, a journey that would change my pallet and preferred spirit forever.
Taylor took me on what he called a history of bourbon tasting tour where he specially selected several bourbons to outline the spirits rich history in America. With only a few samples from their massive whisky collection he taught me how to taste bourbon as he intertwined its rich history from pure corn whisky to the best American bourbon of 2013.
Not only that, but he explained what made each type of bourbon unique while helping me find what I liked best by providing a wide range of whiskies to taste.  Lucky for me, our tour ended with a Four Roses 2013 limited edition single barrel bourbon that was outstanding (a sold out everywhere bourbon that I was ecstatic to get a chance to try).
Even better was the price thanks to my buddy Shameless who treated this canuck to a night out (in all honesty the price was very reasonable and I can't wait to go back again).
By the end of the tour I was hooked and ready to venture deeper into bourbon country. Thanks to Taylor and the OKBB, I was armed with the basics of bourbon know how, and got to test my newly honed taste buds on the Kentucky bourbon trail.  So next time you're there, say "hi" from Borderless Travels, and have a drink for me 😉
Happy tasting,
Yak
Visit the Old Kentucky Bourbon Bar on Facebook
Call at (859) 581-1777 or have a drink @ 629 Main St. Covington ky 41011
https://borderlesstravels.com/wp-content/uploads/2014/05/Nothing-but-smiles-at-the-Old-Kentucky-Bourbon-Bar-in-Covington-Kentucky.jpg
456
610
Ian Yacobucci
http://borderlesstravels.com/wp-content/uploads/2017/10/small-1-300x75.png
Ian Yacobucci
2014-03-19 08:16:39
2018-07-26 09:48:58
Bourbon virgin no more thanks Old Kentucky Bourbon Bar