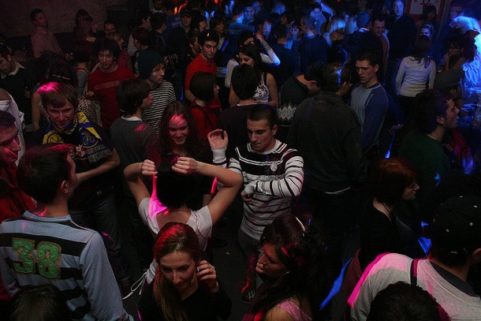 For young people one of the biggest draws to visiting Belgrade is the nightlife. Recently recognized as one of the best party cities in Europe, Belgrade offers a massive club and pub scene that are set to rival that of Berlin and Budapest.
Belgrade's party scene is unique from other big European party cities because it offers two different summer and winter nightclub seasons.
In the summer, Belgrade's nightclubs are located on the river, where barges offer cheap drinks and music to suit every taste. If you're into house, techno, hip-hop, alternative, or mainstream music there is literally party boat for you.  In the winter (October to May) the clubs move to the city, where massive warehouses host some of the worlds best DJ's.
Nights out in Belgrade usually start off at traditional Kafanas where you can taste Rakia (the national drink), eat, and listen to traditional Serbian music.
Depending on your party personality you can start partying at a Kafana first thing in the morning, or at a more reasonable hour before you head to the clubs.
There are dozens of unique Kafana's, and some are so popular you need to book tables in advance. The easiest way to find a good one is to check online or ask a local. If you go, be prepared to have a crazy time because according to my Serbian friend (and I totally agree), " Kafana is crazy! It is Serbian antistress therapy".
Don't believe us. Just wait until you're dancing on the table, drunkenly belting out Serbian love songs with the locals, as you down shots of Rakia between ballads; the energetic sounds of a live accordion band intoxicating the room.
Known to Serbians as a second home, if you find a good Kafana you should bring a little money to stick on the musician's forehead. As culture dictates if the musicians are working hard (sweating like beasts) the money will stick the their foreheads and they'll get to keep it. If not, you'd better find a new Kafana to drink in.
Spending time at a traditional Kafana with a few shots of Rakia is the best way to experience traditional Serbian nightlife, but if you want to discover the best place in Belgrade you won't want to miss is Bigz.
Now a converted art, night club, and bar scene the 10 story Yugoslavian architectural icon, once slated for destruction by the city, is the coolest place to go out to in Belgrade.
Bigz is the hub of the art scene in Belgrade. With hundreds of rooms, now music and art studios, Bigz is something special that can't be found anywhere else in the world. The hallways are decorated with incredible graffiti and wall art that could easily keep you busy exploring the building for hours.
What makes Bigz special is the best Jazz club in Europe, Klub Cekaunica (pronounced chekonitsa https://www.facebook.com/jazzklubcekaonica?fref=ts) which is situated on the top floor of the building.
On a Sunday evening my sister and I went to Cekaunica for a beer and ended up staying until the early morning, something that apparently happens more often than not there. At Cekaunica we got down to funky jazz music created by the best Serbian Jazz musicians in the country.
Studying at the top music schools in Europe these musicians where incredibly talented artists. So much so that, while you're busy enjoying a drink or taking in the view of Belgrade from the rooftop patio, I guarantee that once you get there you'll find hard to leave for the clubs.
In the end, there's not much more to say than, "go there".  I experienced more than just Belgrade's amazing nightlife while visiting the city, but the night life is something you just can't miss.
Happy travels,
Yak
https://borderlesstravels.com/wp-content/uploads/2014/05/Belgrade-Serbia-CC-party-Vlidi.jpg
407
610
Ian Yacobucci
http://borderlesstravels.com/wp-content/uploads/2017/10/small-1-300x75.png
Ian Yacobucci
2013-11-08 08:28:15
2018-07-26 10:00:40
Parting in Belgrade Europe's next tourist hot spot