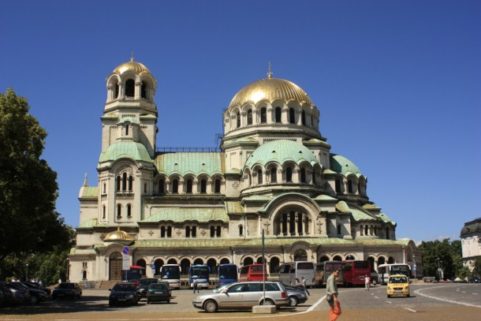 Discover Sofia, Bulgaria the perfect place for partying, food, and some relaxing sight seeing.
Partying in Sofia, Bulgaria is a great time. In Sofia, they close down the main street on the weekends so people can walk around and check out the various bars, restaurants or quaint little cafes that line the downtown streets.
I spent my time there with a few friends watching the Euro Cup, drinking beer and enjoying a fresh burger. The main street is a great place to start your night out before heading to one of the Sophia's nightclubs.
The friendly locals are a good source of information on where to party. Funnily enough, most of the clubs are named after drinks like Tequila, and one of the most popular is aptly named Alcohol.
If you're planning on partying in Bulgaria, Sofia is definitely a wicked place to spend a weekend.  People are super friendly, the drinks are ridiculously cheap and if you're feeling adventurous you can hop on centre stage to dance like a maniac without any judgment.
The city itself is quite small and you can easily see the most popular tourist attractions in a day. Generally, hostels have good maps that clearly outline easy walking tours.
Some of the best things to see are St. Alexander Nevsky Cathedral, a magnificently large cathedral in the centre of the city, Parliament, the communist party headquarters, and of course the statue of St. Sofia.
While I was there with a few friends we spent most of our day wandering the streets and trying a few restaurants. Because it's so small, traveling by foot is a pleasure. Meals are relatively cheap and there are some great places that offer traditional Bulgarian foods.
If you're looking to fill an hour or two in the afternoon, I would suggest a stopover at the central market. There you'll find fresh produce and cheap clothing. There are also a number of food shops that sell olives, cheeses and breads.
While sightseeing in Sofia take your time, enjoy a coffee, and relax because there's no reason to rush around. For me Sofia was exactly what I needed it to be: a fun city to party in with a few sights to enjoy, good food, cheap prices, and fun people.
Enjoy,
Yak
https://borderlesstravels.com/wp-content/uploads/2014/05/St.-Alexander-Nevsky-Cathedral-sofia-bulgaria-main.jpg
407
610
Ian Yacobucci
http://borderlesstravels.com/wp-content/uploads/2017/10/small-1-300x75.png
Ian Yacobucci
2012-11-09 00:15:53
2018-07-26 11:36:08
Partying and sightseeing in Sofia, Bulgaria