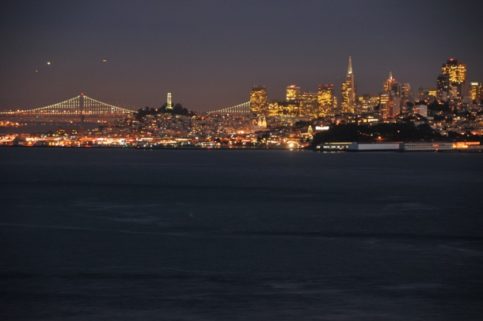 As the Bay Bridge unfolded before me, its metallic suspenders twisting and turning in the sky like the folding's of a fresh white bed sheet, I had trouble keeping my eyes on the road. With the shimmering blue San Francisco bay to the right, a bright sunny sky above, the city revealed itself before me as if I was unwrapping a candy that I'd been waiting for all day.
I was mesmerized by San Francisco's beauty, as the white facades of the buildings dotting the hillsides came into view like shiny specs of sand on an endless beach. Seeing the city one begins to understand why authors like Jack Kerouac and Hunter S.Thompson lived it, loved it, wrote about it, and made the city part of their lives. It's because there's something special about San Francisco that grabs hold of you, spoils you, and brings the realization that this will not be the last time you visit.
"I'm going to San Francisco," I said to my parents only a few weeks before my flight touched down in neighbouring Oakland. I was visiting for a job interview, and decided to make a short trip of it. San Francisco was the first stop, but I only had a short time there since my mom, who was joining me on the trip, wanted to drive the Pacific Coast Highway down to San Diego before flying home. This meant that I had to see what I could of San Francisco in a day.
First stop, North America's oldest China Town. This twenty block community of authentic Chinese shops, restaurants, supermarkets and places of worship is located right in the heart of downtown San Francisco and a great place for photography. I went down for some authentic Chinese food and would recommend the same,  Just make sure you research restaurants before you go, as there is a lot of choice and not everywhere is great.
Visiting San Francisco wouldn't be complete without a ride the world's only manually operated cable car from Union Square to Fisherman's Wharf. Hop on and enjoy the ride because the cable car will take you through the winding hilly streets of San Francisco, which offers some spectacular views of the city. I had my camera at the ready and enjoyed the ride by chatting with the incredibly knowledgeable operators.
When you arrive at Fisherman's Wharf take some time to explore Aquatic Cove (small beach area and pier) just down the way from where the cable car drops you off. If you walk down the pier you can capture a great picture of Alcatraz.  Next to Aquatic Cove I also hiked up Black Point to Fort Mason Meadow, which is a spectacular park.
If you love to walk, like my mom and I, Fisherman's Warf is the perfect place to speed through since it's worth seeing but super touristy. After Fisherman's Warf you can continue on to Pier 39 where you'll get to see the Elephant Seals as they lounge and bark on the floating docks in the pier. Next to where the seals hang is a concourse filled with restaurants and shops, but I'd recommend heading to the sailboat filled docks on the East side of Pier 39, where you'll get a great view of the Bay Bridge, the San Francisco Bay and Berkeley.
After Fisherman's Warf continuing to walk down the Embarcadero is great and I'd highly recommend stopping at Pier 23 Cafe for a pint, live music, and some grub. The local atmosphere is really laid-back and the food is fantastic (I had the happy hour Oysters). It was by far my favourite restaurant on the Embarcadero and wasn't very expensive.
Of course, a trip to San Francisco wouldn't be complete without a drive across the Golden Gate Bridge. For the best photos of San Francisco and the Golden Gate Bridge visit the Marin Headlands just up the way from Conzelman Rd. If you're a photographer, you won't want to miss this place at night! You should also go to Vista Point, which is easy to access from the bridge and has a great view of both San Francisco and the Golden Gate Bridge.
In the end, I only scratched the surface of San Francisco, but my time there was well spent. There was certainly plenty more to see and do, but I felt like what I did experience gave me a good perspective of why San Francisco is one of America's most iconic cities and a place that deserves to be on every travelers list.
What's your highlight of San Francisco?
Happy travels,
Yak
For more information on everything San Francisco check out San Francisco travel's official website

https://borderlesstravels.com/wp-content/uploads/2014/05/San-Francisco-Skyline-From-Vista-Point.jpg
405
610
Ian Yacobucci
http://borderlesstravels.com/wp-content/uploads/2017/10/small-1-300x75.png
Ian Yacobucci
2014-03-17 09:33:46
2018-07-26 09:49:08
Highlights of San Francisco in a day