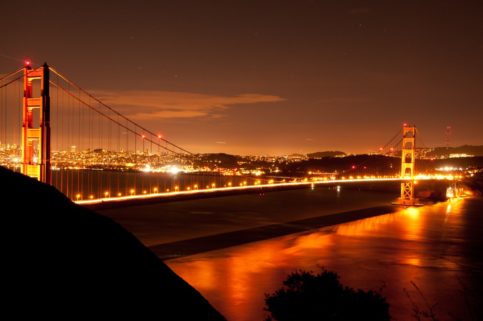 Capturing the Golden Gate Bridge by night
When I went to San Francisco, there was one photo that I wanted to capture before heading back to Canada and the -20 C winter weather we were having.  One night, after touring for the day, my mom and I drove across the bridge to Vista Point (which is on the other side of the bridge from where this photo was taken).
Since I almost never bring a tripod (can't seem to find a good travel one) I wasn't able to capture an image of the Golden Gate Bridge that was worth being put on my wall.  Luckily, as we were driving back to San Francisco, I saw a road that lead up into the Marin Headlands.  The road took me to the lookout that you see here.
Trouble shooting with where to put the camera, because I didn't bring a tripod, was not working well for me.  I tried the on top of the car, but the hood kept showing up in the shot and it wasn't straight; then the curb,which had safety wires in the shot.  Finally, just as I started driving down back towards the bridge, I noticed a square cement block that looked right out at the Golden Gate Bridge and was pretty much straight.  So, after a few minutes I captured this photograph (which is why the headlands are in the foreground, but I think it still looks great).
Photography tip

– Getting warm colours
To get the warm orange colour in my photograph of the Golden Gate Bridge I used a cloudy white balance.  Without it, the colours are cooler and the sky is more blue; although it is called the Golden Gate Bridge.
Happy travels,
Yak
https://borderlesstravels.com/wp-content/uploads/2014/05/Golden-Gate-Bridge-Night-San-Francisco-California-1.jpg
664
1000
Ian Yacobucci
http://borderlesstravels.com/wp-content/uploads/2017/10/small-1-300x75.png
Ian Yacobucci
2014-03-07 12:11:39
2018-07-26 09:49:17
Photographing San Francisco's Golden Gate Bridge