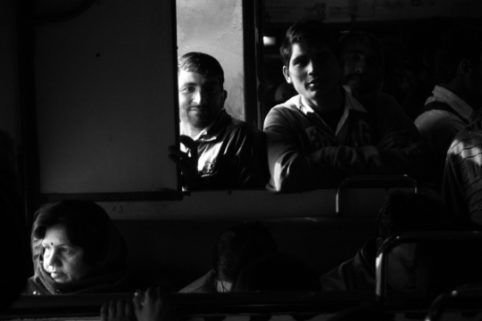 In Agra, with the airline I had planned to take across the country bankrupt, no train ticket back to Delhi booked, and my mountaineering course starting in less than three days I was in a tight spot.  I wasn't using a travel guide at the time and needed to depend on the goodness of the Indian people to get me out of this one.  With an envelope of money handed to a man sitting behind a desk in a alley doorway I really needed to trust my new friend Sanil (AKA. Lucky), who was the manager at the hotel I was staying at.
Well, as you can see all worked out well.  Sanil's friend booked my new flight, I got a refund for my old flight (before the airline went completely bankrupt), and at 5am we boarded the train for a 4 hour ride from Agra to Delhi.
Spot metering helped me capture the morning sun shining on the faces of the people riding the train from Agra to Delhi.  I chose to use black and white to make the light stand out.  Since it was election day I lucked out in getting this four hour second class train from Agra to Delhi, India's capital.  The train was full of voters heading to the capital to cast their votes and I lucked out in getting a seat, so I wasn't stuck standing all day.
The best part of this adventure was how it lead to me experiencing a Hindu wedding, meeting Sanil's family, and learning about the incredible friendliness and hospitality of India, a story for another day.
https://borderlesstravels.com/wp-content/uploads/2014/05/3ef1e271f8c5df425ed7fe034d1dcd59.jpg
360
540
Ian Yacobucci
http://borderlesstravels.com/wp-content/uploads/2017/10/small-1-300x75.png
Ian Yacobucci
2013-11-18 10:00:34
2018-07-26 09:59:02
Travel Photo| Travelers luck on a train in India