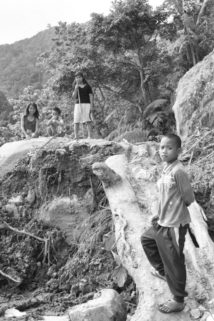 Little helpers of San Juan Philippines:
There weren't may times on my travels around the world were I prayed that I'd live, but this was one of them.  On an adventure to explore the volcanic lakes of San Juan, Philippines I ran into a bit of trouble.  With a consumer scooter and flip flops I found myself trying to navigate dirt and tree obstacles created by the 2009 landslides on the Filipino island of  Negros Oriental.
Things wouldn't have been so bad if there weren't 500 foot cliffs beside each of these seemingly insurmountable blockades.  Covered in a slick layer of mud I also broke a flip flop and had to hull the bike up each obstruction in bare feet as I pictured myself slipping to my death with every step.
Thankfully, these children from a village nearby saw my distress and came to give a lending hand.  With the little ones at the top leading the way and one or two giving me an extra little push I was able to make it over the top of what you see pictured and to the safety of the paved road beyond.
Before I rode off into the distance and down the mountainous hillside, where I ended up getting invited to a wedding celebration (a story for another day), I asked my little saviours if they'd like to take a picture.  When I checked my camera, upon arriving safe to my hostel safe and sound, this is what I found.
Happy travels,
Yak
https://borderlesstravels.com/wp-content/uploads/2014/05/Mountain-children-of-San-Juan-Philippines1.jpg
1050
700
Ian Yacobucci
http://borderlesstravels.com/wp-content/uploads/2017/10/small-1-300x75.png
Ian Yacobucci
2013-12-11 17:55:34
2018-07-26 09:56:15
Travel Photo| Saved by mountain children of San Juan, Philippines