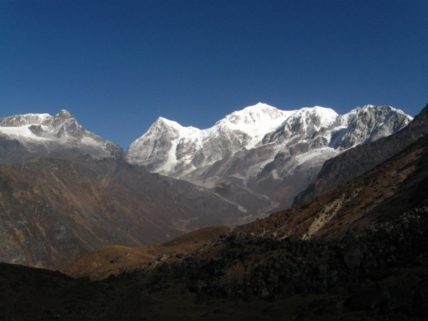 After making it through phase 1 I explain how to prepare and what to expect as you head to the Himalayan Mountaineering Institue's base camp, a 37 km trek from 5610 to 14, 600ft.
Trekking to base camp and acclimatization
On day 9, after 8 days on campus training and studying, the basic course departs for base camp. Before you go, make sure you pack well and have everything you need because you won't be back in civilization for 18 days.
What to pack for base camp and trekking in the Himalaya's
You'll want to minimize the amount of personal items you bring with you to base camp since you'll be trekking for several days and the pack already weighs 20kg (45lbs) with the equipment the Himalayan Mountaineering Institute provides.
What I brought:
Toque (winter hat)
Scarf
Toothbrush and toothpaste
100 Wet-wipes (for washing your face and other areas 😉
Headlamp
Hand sanitizer
Multi vitamins and vitamin C
2 T-shirts (one for ascent and descent)
Shorts
Flipflops
Water bottle (my own)
Hankerchief (doubles as a towel)
Snacks
Plastic backpack cover (can be purchased from a small shop near Yoksum camp)
Note: the things I brought on my own were alternatives to what they provided. Also, you won't be showering because it'll be snowing and freezing cold at basecamp (if you're there in March) so don't worry about a towel.
Trekking to base camp
Day 1 of 5 – Darjeeling to Yoksum 1710m
On day one departure from campus is at 8am. On campus the Indian students board a bus for Yoksum where the trek to base camp begins.  Alternatively, foreigners take a jeep with the instructors. This is because foreigners are only granted 15 day permits for travel in West Sikkim and the Himalayan Mountaineering Institute's basic course requires students to be there for 18 days.
For permit extensions foreign students go to the District Administrative Centre West Sikkim in Gylashing. After that there's a quick lunch stop, and although I had a packed lunch of puri and roti packed between my mess tins, I grabbed some momma (dumplings) and soup instead. In the jeep the ride takes about 4-5 hours whereas the buses take a longer 6 hour ride, a result of the difficult roads.
Everyone arrives to Yoksum in the late afternoon. Shortly after arrival the students are responsible for setting up camp, which is comprised of tents that fit 10-12 people in each. Dinner is served once everyone is settle then they are given free time to rest and get ready for bed. During this time most people head to the shops behind the camp to get snacks and plastic wrap for their bags (the plastic wrap is used to protect bags from rain).
Toilets at this location are a 5 min walk away from camp. When doing your "business", everyone is asked to use their ice axes to dig a hole, do their business, and cover it up. With 65 people the facilities at the camp are not built to accommodate that many people so you have to start roughing it.
Day 2 of 5 – Yoksum 1710m to Bakhim 2243m (13km)
Day 2 is the first day of trekking towards base camp, and in all honesty it's difficult. Its difficult because its the first climb to high altitude as Bakhim is located at 9000ft above sea level. The other reason its difficult is because its the first day you have to trek with your 25kg backpack.
The trek is extremely difficult, and one of the most physically demanding things I have ever done. To be honest, I thought I was going to collapse and not even the physical training from phase one prepared me for this physical test. However, it's not impossible and with each passing day things get easier.
Yet, when you get to Bakhim your shoulders will be the sorest they've ever been, your legs will be rubber, and you'll probably be dehydrated; drink water. Even still it's awesome because you've completed the first step in learning how to become a mountaineer and the physical and mental demands associated with the sport.
Day 3/4 of 6 – Bakhim 2743m (9000ft)
In Bakhim the group stays at the forest guesthouse, which looks more like a haunted house. The derelict guesthouse looks like it should be the set of a horror movie, a result of an earthquake that hit the region in 2011. With graffiti everywhere, the building falling apart, and windows smashed in it would seem like an unlikely place to spend the night.
However, keeping with the theme of breaking through comfort zones its best to find a low traffic place to lie your sleeping bag and prepare for the night. I guarantee after a long day of trekking you'll have no problem catching some Z's. I'd encourage you and get to sleep early because you'll be staying here for two days in order to acclimate. During this time students have outdoor lessons and acclimate by trekking to Gir Ped (fallen tree) at 11, 000ft.
Day 5 of 6 Bakhim 2743m to Dzongri 4030m (11km)
After acclimating in Bakhim you head out to Dzongri at a height of over 13, 000ft above sea level. The overnight accommodation here is similar to that of Yoksum. Here, tents are set up and a short acclimation walk is taken to help the group acclimatize to the new height. Here the weather really starts to change and the vegetation is not as rich. Dzongri is nice because it has some small shops that sell waiwai (ramen noodles) and snacks during the hiking season. If you forget to buy mittens or need an extra pair of socks those can also be purchased here.
Day 6 of 6 – Arrival – Dzongri 4030m to Chowrikhang (base camp) 4450m (13km)
The final climb on day six is the end of a 37 km trek from 5610ft to 14, 600ft. The final leg of the climb is difficult but once you arrive at basecamp you're almost halfway done the course. The coolest parts of this ascent are the views as you begin to see the snowcapped peaks of the mountain range, some reaching upwards of 18,000 ft.
On our journey a blizzard settled in as we completed the last leg of our trek. As snow fell and the wind howled around us it was a harrowing experience for me to push on one step at a time. Trying not to think of the pain in my shoulders, arms, and legs was difficult but in the end the goal of reaching basecamp and the encouragement of the instructors along with my peers pushed me on.
In the end this part of the trek was a great experience because it taught me the difficulty of mountaineering, and how you need to push yourself to your mental and physical max to achieve success. In fact, this experience made me appreciate the difficulty of some of the world's greatest mountaineering feats.
And once you've made it to base camp you've done it and its here that you'll spend the better part of two weeks learning the skills of a mountaineer where the truly exciting part of the course takes place.
Now it's time for Phase 3
If you have further questions about my experience please feel free to leave a comment or email me
For more information on the Himalayan Mountaineering Institute check out:
http://www.himalayanmountaineeringinstitute.com/
https://borderlesstravels.com/wp-content/uploads/2014/05/West-Sikkim-himalayan-mountaineering-institute-base-camp-1.jpg
458
610
Ian Yacobucci
http://borderlesstravels.com/wp-content/uploads/2017/10/small-1-300x75.png
Ian Yacobucci
2013-01-21 13:56:14
2018-07-26 11:27:25
Himalayan Mountaineering Institute Basic Training Course : Phase 2 Trekking to Basecamp