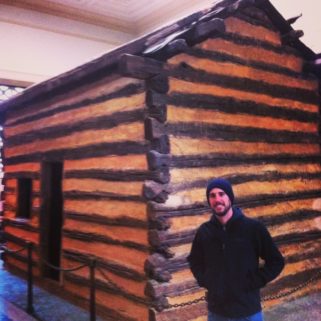 As one of my favourite states in America, Kentucky is not only beautiful, home to bourbon, the longest cave system in the world, and the first place I experienced southern hospitality, it's the birthplace of the great American hero for his views on slavery and 16th president of the United States, Abraham Lincoln.
While driving from Mammoth Caves to visit some of the most famous bourbon distilleries in the world I stumbled upon Abraham Lincoln's birthplace. I first noticed the signs while driving along rural central Kentucky Highway 31E on my way to Maker's Mark Distillery.
With plans to visit several distilleries on the Kentucky Bourbon Trail the Shameless Traveler and I weren't planning to stop. In the end we said why not and turned off the highway into the quaint town of Hodgenville, Kentucky.
It was down a winding national park road that we found the Abraham Lincoln Birthplace National Historical Park, one of the most unique historical landmarks in the U.S.A.
Our plans to check the place out and get back on the road were stalled when we discovered the spring where Abraham Lincoln probably took his first drink of water! Whaaat? Yes, this actually exists and can be directly quoted from the informative panel along side it.
Figuring we had seen the greatest American historical site of all time we were about to leave when we noticed the gigantic marble memorial building just up a small hill from the spring.
What we found inside was the most boring job in America followed by a completely unexpected relic. Inside the memorial building (which is an incredible piece of 19th century architecture itself) is an original house from the early 1800's.
Unfortunately, it's not the actual house Lincoln was born in, but an original house from that time period. In fact, as the National Park Ranger (who stands alone watching over the house) told us that the the memorial building is located within 10 ft of Abraham Lincoln's original house.
Encased in the memorial building is an incredible piece of American history. Walking around the 19th century house brought to life the hardships of life as an early American settler.
As you look upon the primitive clay and timber plank structure with it's incredible to think how technology, life, and society has changed.
The best part about visiting Abraham Lincoln's birthplace was learning about the humble beginnings the great American president who's open views on slavery sparked the changes that eventually led to a free country for all Americans.
It's not often that one stumbles upon an incredible piece of  American history, like Abraham Lincoln's birthplace, that offers such a rich opportunity to learn.  Next time you're traveling along the Kentucky Bourbon trail take a detour and unearth the history of Abraham Lincoln.
Happy Travels,
Yak
https://borderlesstravels.com/wp-content/uploads/2014/05/Abraham-Lincoln-19th-century-home-Kentucky.jpg
610
610
Ian Yacobucci
http://borderlesstravels.com/wp-content/uploads/2017/10/small-1-300x75.png
Ian Yacobucci
2014-04-14 13:41:09
2018-07-26 09:46:45
Abraham Lincoln's birthplace unearthed