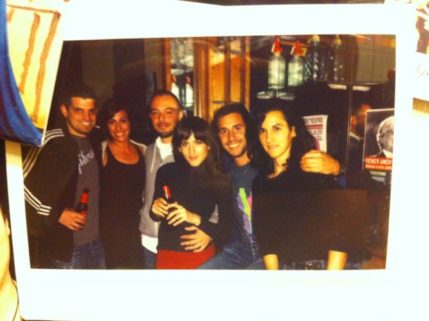 There were a few reasons my sister and I decided to go to Barcelona to finish off our recent exploration of Europe's greatest cities. One of them was to visit my good friend Chris who I had the pleasure of studying and living with during my undergraduate degree. The other being that we had only heard amazing things about the city.
So, what did we do while hanging out in Barcelona? To be honest, based on the 5 pictures I took while we were there a whole lot of chilling!
Our days in Barcelona weren't filled with running around in an attempt to snap pictures of cityscapes and architectural wonders. Instead it was filled with personal connections and having fun just hanging out in a great city.
Mornings for us started late as we headed out from our hostel late afternoon each day. Usually we met my friend Chris for a café con lecce (coffee with milk) before we started days of wandering the city and hanging out.
Some days we headed to the beach for some October sun (since it was still 25 degrees). While on other days we'd explore the alleyways of the Gothic district.
Nights out in the city were fantastic with small tapas and bars hidden away just waiting to be discovered. The food in some of these places was incredible and the only way to find one you really like is to wander in and hope they speak a little English.
We found a great place near the Picasso Museum, an area that I'd highly recommend visiting. Not only was the museum really cool, but the tapas and restaurants surrounding it were phenomenal.
There were so many great museums in the city we found it hard to choose just one, but in this area every doorway and courtyard was filled with people, and the smells of delicious food just called out for us to step in, so Picasso it was.
Barcelona also had some pretty good shopping. I'd recommend checking out Massimo Dutti. It's a little bit on the pricier side, but if you want to buy some good quality clothing to spice up your wardrobe (and get your friends at home asking were then can get that) go there.  I managed to pick up a sweet blazer.
I think that when you're traveling, if you can meet friends along the way, you'll get a truly fulfilling experience. Meeting up with my friend Chris was one of the best parts of our trip. Hanging out, shooting the sh*t, and reminiscing about old times was great.
More than that getting to learn about what his life was like in Spain, meeting his girlfriend, and visiting spots across the city that only locals know made the trip a lot more interesting.
Being a tourist in a city is fantastic, but getting to talk with someone about what it's like to live there, and learn from someone else's experience, helps you to gain a new perspective.
Lucky for me, I also got to meet up with a girl I was spending time with before I left Canada for several months in Europe. Having something to look forward to, like meeting a pretty girl in a romantic city like Barcelona, completed my visit to the city. And having it happen spontaneously and unplanned made it that much better.
Seeing old friends and flames in Barcelona made me appreciate everything that gets missed when you're traveling long term. Sometimes I wonder if a life of endless travel is the most fulfilling lifestyle one can have. It's easy to forget about everyone back home when you're out experiencing incredible cultures, foods, and sites.
The world is a big place but the more you travel the more you see that what's important to most people is the same; family, friends, and love.
I can't wait for my next adventure but I'm happy to be home relaxing with friends and family. Barcelona will be a city I'll remember forever because it taught me that no matter where in the world you are love and friendship are always present.
Happy Travels,
Yac
https://borderlesstravels.com/wp-content/uploads/2014/05/Sister-and-friends-in-Barcelona-Spain.jpg
456
610
Ian Yacobucci
http://borderlesstravels.com/wp-content/uploads/2017/10/small-1-300x75.png
Ian Yacobucci
2013-11-19 07:00:44
2018-03-27 19:39:27
Life lessons learned visiting Barcelona with expat friends