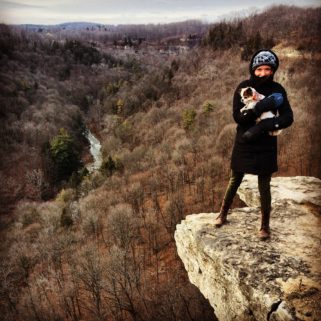 It's Autumn, the perfect time to go hiking. The spectrum of orange and red coloured leaves are arriving, as the summer is coming to an end, turning the forest into a fiery painters pallet.  The   wonderfully cool hiking weather has arrived so that you can dress comfortably without overheating and Hamilton, Ontario, a short drive from Toronto has some of the best hiking in the area.
"Go right to the edge.  It'll be perfect.  There's nothing underneath you except forest!" I yelled across the windy gap, as I snapped a perfect Instagam photo of my wife balancing on the edge of Dundas Peak.
For some it's easy to smile standing more than 135 ft above the forest on a tiny outcropping that looks out towards a massive valley in the the heart of the Great Lakes-St. Lawrence forest.  For others observing the densely forested Spencer Gorge, outside Hamilton, from the safety of a well-groomed trailhead is adventure enough.
It might come as a surprise to hear that the city of Hamilton, once better known for heavy industry, is home to more than 100 waterfalls and dozens of hiking areas where wildlife and the greatest diversity of Ontario tree species can be found.
More stunning is Hamilton's scenic section of the Bruce Trail, which runs along the 725 kilometer Niagara Escarpment (a UNESCO world biosphere reserve), where the distractions of everyday life can easily fade away as you look upon an epitaph of limestone cliffs that detail the regions natural history and glacial past.
Located less than an hour from downtown Toronto and Niagara Falls, makes accessing Hamilton's natural landscape easy and accessible.
There is no doubt that your first hiking stop in Hamilton will take you back in time with a visit to Webster's falls in the Spencer Gorge Conservation area.  Showcasing a 78ft cascade of water, Webster's falls is encased by ancient layers of limestone rock and dominated by hard wood forest along its more than 6 km of trails.
For adventurers, and a little extra exercise, you can venture below the forest canopy to the base of the falls, and along Spencer Creek, via the 123-step metal staircase.  As you descend the stairs towards the river, let the limestone walls of the Spencer Gorge envelop you with a sense of awe as you're taken back to a time long forgotten.
Forget about all the things on your to do list and breathe in the perfumed air of pine and cedar as you try to spot a tiny yellow warbler fluttering from branch to branch, its neon feathers reflecting like light off a piece of river gold among the dark foliage.
Take a moment to listen to the pileated woodpecker hard at work searching for its afternoon meal, as the waterfall fills the air with the soothing sounds of its cascading water crashing on ancient boulders below.
For hikers, the Spencer Gorge/Webster's Falls Conservation area offers 6km of groomed trails.  From Webster's Falls, hikers can follow the main trail along the valley's east rim towards the 135ft Tew's falls (only a few meters shorter than Niagara Falls) and Dundas Peak.
"I didn't really know that Hamilton had such good hiking trails" say's Danielle Aniceto of Orangeville, who was visiting a friend in the area.  "It's kind of like a hidden treasure," she describes before posing for a picture on the edge of Dundas Peak.
Dundas Peak is a highlight for many visitors who hike Spencer Gorge because of its unobstructed views of Hamilton and Dundas Valley.  Here you can stand on the edge of a cliff that drops more than hundred feet back towards the city on your left, or down the valley along your right.  Make sure you stop to capture a new profile pic picture to show all your friends.
For a more local feel you can hike along the tucked away section of the Bruce Trail only a few kilometers from Highway 403.  Here lies a quiet hike that starts along side the 6m high Boundary falls (named for it's location on the Hamilton and Burlington city border).
Autumn is a great time to visit Boundary Falls along Great Smokey Hollow Walk, although this waterfall is best to visit during the wetter months of the year.  As a ribbon waterfall Boundary Falls cascades into snake falls and eventually meets with Grindstone Creek.
It's along Grindstone Creek that you'll find yourself in the heart of Hamilton's section of the Bruce Trail.  Great Smokey Hollow walk offers visitors 5 km of trails to explore.  Here the trail snakes its way along the quiet creek where you'll find yourself deep in a forested valley with the remnants of an old limestone structure, wooden bridges with benches to rest and enjoy the sights and sounds of the forest, and absolutely stunning nature located only minutes from the highway.
Plan to visit early morning or late afternoon so you can make a quick food stop along Main Street Waterdown, just down the road from the falls.  The quaint shops and restaurants here are a great place to enjoy a well deserved drink and a bite to eat before heading out feeling refreshed and stress free after your hike.
So take some time to explore nature by taking a day trip to Hamilton and revisit a city with some of the best hiking in the Toronto Niagara corridor.  Forget about the hustle and bustle of the city and reconnect with Ontario's most spectacular geologic formation, the Niagara Escarpment.
 Getting to Hamilton's Best Hikes
Finding Spencer Gorge (Tew's Falls) Webster's Falls Conservation Area
From Toronto: Take Highway 403 to Highway 6 North; turn left onto Hwy.5West. Turn left onto Brock Road. Turn left at the flashing light, onto Harvest Road. Turn right onto Short Road and left onto Fallsview Road and follow the signs for the parking lot. For Dundas Peak and Tew's Falls lookout parking, follow Harvest Road further down until you see the signs.
Finding Great Smokey Hollow / Boundary Falls
From Toronto take Highway 403 and exit on Highway 6 North (Guelph).  Turn right onto Highway 5 (Dundas St. E).  Turn right onto Mill St.  and park in the Smokey Hollow Resource management Area parking just past the overhead railway bridge on your right.
More Information on these hikes an others visit http://www.waterfalls.hamilton.ca/
Enjoyed these hikes, have more hiking information for us, share your comments below to let know what you discovered hiking in Hamilton!
https://borderlesstravels.com/wp-content/uploads/2017/09/Hiking-in-Hamilton-Ontario-Canada-Spencer-Gorge-and-Websters-Falls-Conservation-Area-Borderless-Travels.jpg
2448
2448
Ian Yacobucci
http://borderlesstravels.com/wp-content/uploads/2017/10/small-1-300x75.png
Ian Yacobucci
2017-09-18 05:02:10
2018-07-26 09:24:03
Canadian Nature| Hiking in Hamilton the Heart of the Niagara Escarpment