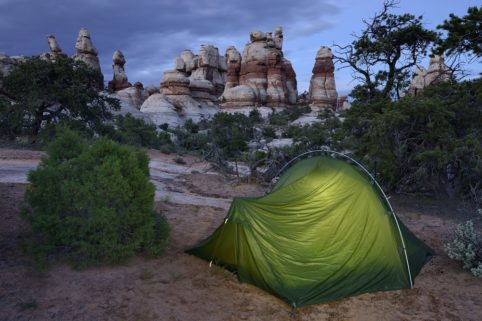 While Yellowstone National Park may get a lot of attention, southern Utah's national parks are waiting to steal your heart. Utah hosts striking red rock formations and diverse wildlife like gray foxes and desert horned lizards. Rivers slice through deep canyons. Cool lakes, perfect for dipping in after an afternoon hike, abound. You can even spot petroglyphs and other testaments of humanity's attempts to tame the wild.
Even though Utah doesn't fall in the ten largest states, it still has the third-most national parks—which means you don't have to travel far to visit them all. The Mighty Five national parks—Arches, Canyonlands, Capitol Reef, Bryce Canyon, and Zion—listed here follow a travel itinerary starting in Salt Lake City and finishing near Las Vegas. Each section below includes must-see sites, best campgrounds to stay at, and a safety tip to keep you well rested, protected, and ready for adventure.
1. Arches National Park
Arches National Park owes its name to an obvious feature: arches, naturally formed in the rocks. You will see many arches from bulky ones to ones so ethereal that they seem like something out of a fantasy novel. Delicate Arch is the most well known, and you should make time to see it. Try taking an early morning hike to beat the crowds (and the heat).
When planning your trip, be aware that the main camping area, Devils Garden Campground, will be closed for construction until November 2017. There are plenty of other BLM campsites nearby, such as Goose Island and Granstaff. But reservations go fast, so you may want to venture further out toGoldbar, Kane Creek Rd.  You can also try your luck at getting an individual site, but they are first-come/first-serve, so you need to get there in the morning and act fast.
Safety Tip: Visiting a national park puts you in close proximity to desert flora and rock formations.  Make sure to pack a 1st aid kit for hiking that can handle scrapes, sprains, and cacti spines.
2. Canyonlands National Park
Canyonlands possesses four distinct areas separated by rivers. Some sections showcase majestic cliffs, mesas, pinnacles, and domes. Others are home to the Green and Colorado Rivers, which you can raft. Must-see sites include Island in the Sky and Mesa Arch.
You won't find any proper campgrounds inside the park, but multiple options exist outside it. Squaw Flat Campground and Willow Flat rest near the Needles District and Island in the Sky, respectively. The Bureau of Land Management maintains much of the land in and around Canyonlands, so you can always rough it and pitch a tent.
Safety Tip: Many of the hikes in Island in the Sky are family friendly, but come prepared. Some of the hikes involve steep ascents and require good hiking shoes. Canyonlands is also more remote and far from services, so it's a good idea to pack an emergency kit in your car and note that cell service may be spotty.
3. Capitol Reef National Park
Once inside Capitol Reef, you'll see why Native Americans termed it "Land of the Sleeping Rainbow." The park's prismatic colors and historical sites, which include a harvestable fruit orchard, will capture your attention and possibly your affection.
Campgrounds for Capitol Reef are on a first-come-first-serve basis. The best sites include Fruita Campground, Cathedral Valley, and Cedar Mesa. Fruita offers more amenities while the other two are more primitive.
Safety Tip: Like the other southern Utah parks, you'll do a lot of walking in Capitol Reef. Take plenty of water with you, even if it means your pack is a little heavier. You won't regret it. Make sure to balance your water intake with salty snacks like trail-mix or add a powdered electrolyte drink to your water bottle.
4. Bryce Canyon National Park
Bryce Canyon boasts the largest number of hoodoos (tall, thin spires of rock) in the world, and the landscape feels magical, resembling castles in a fairytale. The park also displays ancient bristlecone pines, with some approaching 1,800 years in age. Also considered an oasis for stargazing, you can attend special Astronomy Ranger programs where you could see over 7500 stars on a moonless night!
Most travelers stay at a campground because of the chance to see the stars, as well as to see the sunrise and sunset transform the surrounding sandstone. The best-known sites include North and Sunset. Both accept reservations between May and September. You can also find yurt rentals nearby.
Safety Tip: Bryce Canyon starts at an elevation of 8,000 to 9,000 feet, so swath your skin in sunscreen to avoid sunburns and drink lots of water.
5. Zion National Park
Zion tends to be the most visited national park in southern Utah, perhaps because of the Virgin River and the park's towers and monoliths. For must-see sites, put Angel's Landing (age 8+), Emerald Pools, and Weeping Rock on your list. Observation Point is also one of my favorites. Child backpacks are essential for hiking with babies and small children, though there are some paved paths that can accommodate strollers or wheelchairs.
Most people prefer to stay at the Watchman or South campsites. Travelers who enjoy a more rustic site may wish to stay at Lava Point, which is over an hour drive from the main entrance of the park. Watchman requires a reservation, but the other two are open. To stay off the beaten path but in luxury, reserve a spot at the glamping site Moonlight Oasis.
Safety Tip: Some of the hikes, like Angel's Landing, have specific paths marked to keep you safe. Stay on the trails to make sure no one gets hurt.  If traveling with young children, consider a child GPS tracker since it can get crowded on the shuttle, at the trail-head and hiking on the popular trails.  I personally have found the My Buddy Tag to be useful with my rambunctious three year old, though cell coverage may vary depending on where you are in the park.
Overall, you can't lose no matter which national parks you visit in southern Utah.
Have you been to any of southern Utah's Mighty Five before?
Comment and share which places to camp are your favorites.
https://borderlesstravels.com/wp-content/uploads/2017/05/istock-southernutahcamping-overphoto.jpg
666
1000
Krystal Rogers-Nelson
http://borderlesstravels.com/wp-content/uploads/2017/10/small-1-300x75.png
Krystal Rogers-Nelson
2017-05-01 04:30:06
2017-07-26 17:58:06
Travel America| 5 Best Car Camping Spots in Southern Utah