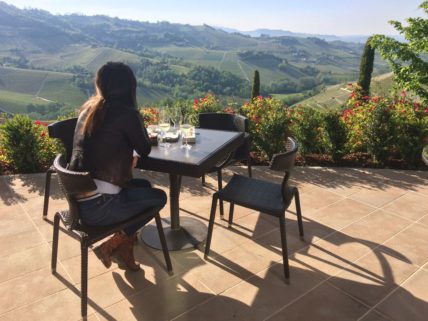 There is a place in Northern Italy where rolling hills of lush green vineyards extend towards the horizon to meet a blue cloudless sky that rises to the heavens like the dome of a grand cathedral.
Looking out among the hilltops dotted with ancient villages of unhurried times, their medieval castle spires symbols of the regal powers that once reigned, it's hard to believe that places like this still exist in the busied hurried world we live in.
It's here in Piedmont, Italy, on a hilltop near one such town, that you'll find Il Boscareto Resort & Spa; a place that blends the pastoral splendor of the Italian countryside with the modernaties of contemporary luxury.
Established in 2009 by Valentina Dogliani whose vision combined the lavish comforts of a luxury resort and spa with the magnificence of the Langhe countryside in Piedmont, Italy's iconic wine region.
Location
Il Boscareto Resort and Spa is located next to Serralunga d'Alba in the Langhe region of Piedmont, Italy.  Easily accessible from Milan's international airports, diving here takes roughly 1.5 to 2 hours of mostly highway driving with an exhilarating trip through the small hamlets of the Langhe countryside before your arrival.  It's also a short drive away from Turin and Genoa for those who are in the area.  Be sure to make time for a local stop to sample local wine and some traditional cuisine.
What you get
Amenities –With immeasurable attention to detail the staff and services offered at Il Boscareto ensures visitors can leave their stresses behind and enshroud themselves in relaxation as soon as they step through the door.  Here the Michelin star restaurant, bar, and full service spa and wellness area overlook the surrounding countryside with access to a gym, pool, Finish sauna, Turkish bath, massage suites with the natural wonderment of the region.
Of course, wifi, direct tv, and all other modern amenities are provided so you can stay connected while you enjoy the comfort of your stay.
Rooms – All of Il Boscareto's 38 rooms are lavishly designed with detailed luxury that inspires visitors with large windows and patios to connect them with the natural beauty of the resorts surrounding vineyards.  Consideration to detail is seen everywhere from the silk walled textiles to the carefully orchestrated furniture that makes each room unique.
Breakfast – Nothing is more important to us then waking up to a hearty breakfast.  Every morning from 7:30 – 10:30 breakfast is served in Il Boscareto's breakfast rotunda.  With organic juices (including blueberry!), yogurts, fresh croissants, bacon, eggs, local cheeses, fresh breads, fruits, vegetables, and morning deserts there is something for everyone.  For us, it was the view that made this breakfast location special, and of course the Italian coffee.
La Rei Restaurant
La Rei, named after one of the vineyard terraces that crisscross the hillsides around Il Boscareto, is a Michelin starred restaurant helmed by executive chef Pasquale Laera.  Hailing from Puglia and mentored by infamous Italian chef Antonio Cannavacciulo, Pasquale passionately works to inspire creative Italian dishes that arouse a visceral infusion of northern and southern Italian influence.
Sharing an aperitivo and a coffee Borderless Travels sat down to learn more about Pasquales inspiration.  Passionate about pushing culinary boundaries Pasquale gets inspiration from the natural beauty and splendor of the Piedmont region.  His influence from time spent at Michelin starred restaurants in Copenhagen and Japan also provoke his attention to detail, and with his team they create a tapestry of culinary pleasures well worth the visit.
Why you should stay
For a truly Italian experience that unites affordable luxury with impeccable service and spectacular surroundings Il Boscareto stays true to its ambition.  Piedmont's Langhe is one of the world's top wine producing regions with beauty beyond what you can experience any other way than visiting.
At Il Boscareto you can enjoy a Michelin stared meal, let the world melt away in relaxation at the spa, explore the medieval hamlets and vineyards of surrounding countryside, and experience the authentic Italy that defies stereotypes.
Hotel Cost: 200€  – 800€  (double to platinum suites)
5 Perks:
Lavish yet affordable luxury at a 5 Star hotel
A top resort and spa in Piedmont, Italy's Langhe region
Michelin Star Restaurant with high quality cooking worth a stop at La Rei
Spectacular surroundings in one of Italy's top wine regions
La Sovrana Spa because you deserve it
Il Boscareto Resort & Spa
http//:www.ilboscaretoresort.it
+39.0173.613036
info@ilboscaretoresort.it
Via Roddino, 21
12050 Serralunga d'Alba
Cuneo – Italy
https://borderlesstravels.com/wp-content/uploads/2017/05/Looking-out-from-Sunsi-Bar-at-Il-Boscareto-Resort-and-Spa-Piedmont-Italy-Borderless-Travels-.jpg
2448
3264
Ian Yacobucci
http://borderlesstravels.com/wp-content/uploads/2017/10/small-1-300x75.png
Ian Yacobucci
2017-05-04 07:36:18
2017-07-26 17:57:03
Italy Hotel Review| Il Boscareto Resort & Spa