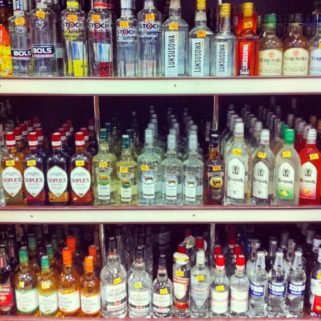 If you're in Poland you're going to want to drink Vodka like pro; don't embarrass yourself. This tried and tested guide – developed with friends/professional Vodka drinkers in Warsaw – will give you the rules so you can learn how to drink vodka in Poland, guide you in mixing Polish vodka, and teach you how to find the best vodkas in Poland.
6 Rules to drinking Polish vodka
1.  Never ever say that Russian vodka is better than Polish vodka; it's not
2.  Always drink vodka in shots – Don't get cocky. You can always drink vodka with a chaser, which is better than puking all over the place
3.  Always take a shot with your right hand – Even if you're drinking straight out of the bottle; sorry lefties
4.  Always toast before you drink – Even if the toast means nothing. In Poland they toast to "Na Zdrowie"
5.  Don't cheat if you're forced to drink out of the bottle – Take a full sip you're in Poland, or drinking Polish vodka like you are
6.  Don't drink Vodka by yourself; you're not Polish
How to mix Polish vodka
In Poland vodka is usually drank in shots, but if you're looking to pre-game, or want a hangover cure, there are a couple of ways you can mix Polish vodka.
Vodka on ice with lemon (actually a shot with lemon, but you're mixing them together so that counts 😛
Zubrowka (vodka made with bison grass) mixed with apple juice
Zoladkowa (Specialty flavoured Polish vodka) with a cucumber slice or mixed with pear juice
Hazlenut vodka with milk (commonly drank in the form of a shot, or mixed like a white Russian)
Best Vodka in Poland
If you drink alcohol you're going to have trouble leaving Poland without trying at least a couple types of Vodka. Everyone has their preference of Polish vodka so you can try a few or try them all. To help you acquire a taste for the famous Polish drink, and develop your palate like a Polak, try these for sorts.
• Wyborowa
• Krupnik
• Czysta żołądkowa Deluxe
• żubrówka Biała
• Luksusowa
• Belweder (the most expensive and 'luxurious')
Now that you know how to drink and mix Polish Vodka it's time to go out and try it. Of course, Polish vodka always taste better in Poland so you might need to plan a visit, or find a friend who can bring some home for you.
Na Zdrowie,
Yak
Disclaimer: Borderless Travels is not responsible for any shenanigans, injuries, awesomeness, disappointment, hangovers, vomiting, sexual activity, loss of anything (including self-esteem, clothing, memories, life, shoes and/or virginity) resulting from the use of this article.
https://borderlesstravels.com/wp-content/uploads/2014/05/Types-of-Polish-Vodka-610-x-610.jpg
610
610
Ian Yacobucci
http://borderlesstravels.com/wp-content/uploads/2017/10/small-1-300x75.png
Ian Yacobucci
2013-09-04 08:30:06
2018-07-26 10:02:30
Polish guide to drinking vodka