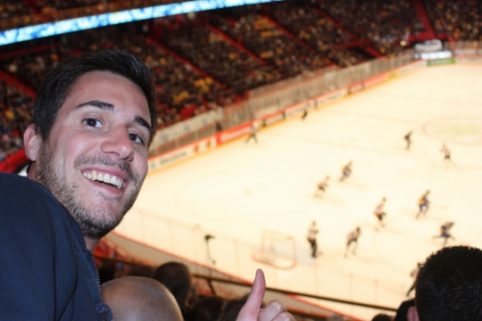 In Sweden and Finland during the 2012 IIHF World Hockey Championships I couldn't resist seeing Sweden play Germany during the preliminary rounds of the tournament.
With 11, 500 fans chanting, "sveria, sveria, sveria!" I couldn't help but join them during my first IIHF World Hockey Championship game. Sweden is a major hockey country and watching them dominate Germany in a 4-2 win over their Western European compatriots was great for a Canadian hockey fan like me. In fact, there's nothing more Scandinavian than attending a hockey game, and since I conveniently found myself in Stockholm for the 2012 IIHF World Hockey Championship that's exactly what I decided to do.
Of course, hockey isn't for everyone, but who could resist watching six foot giants skating at top speeds of 35 km per hour as they smash into each other in their attempts to put a tiny rock hard rubber disk into a net at racecar speeds. Realistically, watching any professional sports match is exciting, and since sports are inextricably connected to a countries cultural identity it's a great way to learn about the people and place you're visiting.
When attending big events it's not always easy to get tickets, and for tournaments such as the IIHF World Hockey Championships you often have to buy tickets in sets. Another problem, especially during the current IIHF tournament in Finland and Stockholm, are prices. Unfortunately, the tickets for this tournament were quite expensive and, due to complaints by fans, were actually lowered in Sweden.
I tried to see a preliminary game in Finland but the 150 Euro tickets were out of my price range. Lucky for me, tickets were selling for around 500 Kronor in Sweden, the equivalent of $60 USD, a far more reasonable price. Since most of the game was sold out my Swedish friend Karl and I bought our tickets from a scalper.
Getting scalped tickets in Sweden was extremely easy because the scalpers are super friendly. When I approached someone selling tickets and asked if they were good, he responded by saying that if we were disappointed we could bring them back; he was dead serious.
At the Sweden vs. Germany game the hockey atmosphere was electric. With more than 11, 000 fans, most of whom were Swedish, everyone was excited to see the likes of NHL greats such as Henrik Zetterberg, of the Detroit Red Wings, and Daniel Alfredsson, the Ottawa Senators captain, light up the ice. As the game progressed everyone was chanting and clapping as they watched the action on the ice.
One thing I found interesting about attending the game was that beer, although available, was not permitted in the stands. If people wanted to have a drink they were required to go into the 18+ area and drink it there. Of course, if the period started you could watch the game from several televisions in the area, but if you wanted to get your money's worth and watch the game, you had fifteen minutes to enjoy your drink and head back to the arena.
In my opinion there's nothing like experiencing a live sports event that brings the international community together.  At the World Hockey championships I learned that Canadians are stereotyped as die hard hockey fans, Swedes love clapping more than average, and if you want to get a beer during a world event in Sweden go before or after the game.
https://borderlesstravels.com/wp-content/uploads/2014/05/Ian-watching-Sweden-play-Germany-at-the-2012-IIHF-World-Hockey-Championships-in-Stockholm-Sweden-Ian-Yacobucci.jpg
360
540
Ian Yacobucci
http://borderlesstravels.com/wp-content/uploads/2017/10/small-1-300x75.png
Ian Yacobucci
2012-05-18 01:49:43
2018-07-26 11:40:13
Watching the 2012 IIHF World Hockey Championships in Stockholm, Sweden