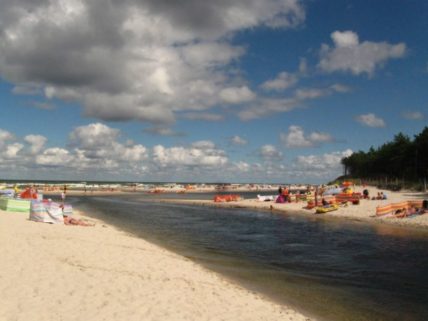 If a chill place with white sand beaches, lush pine forests, no foreigners, unreal food, cheap prices, fun bar scene and friendly people doesn't excite you, then go to Warsaw. But if you're looking for a cool summer spot to an off the beaten track cottage paradise in Northern Poland then you need to figure out a way to get to Dębki.
Dębki is a small summer town located on the shores the Baltic Sea in Northern Poland, about an hour drive from Gdansk (which has an airport). It has a tiny village of about 100 people that live there year round, but during the summer the seaside becomes a vacation spot for Polish tourists.
My friend's family has been spending their summer vacations on this Baltic Seaside paradise for the last thirty years, and while visiting her I was invited to spend some time at their cottage. Dębki is relatively undeveloped because of its national forest.  It's frequented by a few Polish tourists, which makes this place is relatively unknown to foreigners.
Still, there's a main street with a few amenities including some amazing restaurants, where a delicious meal (I'd recommend the pork with spinach and sundried tomatoes) at a place like Kurczak Bar will run you about 25 Zloti ($8). It also has some small shops, a bakery, the best crepes in the region, a bike rental shop, and a few fruit stalls.
If you want to develop your palate for Polish vodka there are a few places worth checking out in Dębki. A lot of young people go out on the weekends, but you can find people to party with any day of the week. I'd recommend starting off at Kurczak Bar where you can go straight to the vodka or watch some football with a Tyskie (Polish beer) in hand.
Later, you can head down to the beach and party like a local at Kontener Bar. It's a really easy going atmosphere and the people are super friendly. There are a couple other bars like Cooler Bar and Beach Bar, but stick to Kontener Bar and party till the morning; no one goes to the other two.
After a night out you'll probably want to chill on the white sandy beaches, swim in the sea, and catch some rays. The beach is massive and there are endless places to set camp. It can be a little windy so you might want to bring a parawan (beach windscreen).
If you're a free spirit you can wander down to the nude beach and work on your full body tan (clothes are also fine). Just don't be a weirdo, it's a family beach so leave your camera in your bag, and if you want to get freaky do it at home; no one wants to see that, and it's illegal.
On your way to or from the beach make sure you take some time to explore the forests. Dębki's beach is a national park so the pine forests that border it are pristine.
There's also the river Piasnica to explore. If you're interested there are a few kayaking companies that run cheap river trips from Zarnowiec to the Baltic Sea.
Ultimate frisbee fans won't want to miss SandSlash Dębki, Polands biggest ultimate frisbee beach tournament. The 5 year old tournament now brings more than 500 people from all over Europe for a weekend of sports and partying from August 16-18th.
The best way to experience Dębki is with some Polish friends, but renting a place or tenting is easy too. Just get there and enjoy because this seaside paradise is exactly that.
How to get to Debki, Poland:
1. Get yourself a minibus or two from the Gdańsk airport directly to Dębki and for the way back.
One-way ride for 1 person costs 80 PLN, with a 10% discount for 2-3 people, 20% for 4-5, 30% for 6-7 and 40% for 8+ – you get a discount for the amount of people you're making the reservation for.
To do that use this form:
http://www.bus-lebork.com/1,ea584fa921cd940036b2a453d24fd4f2
We checked google translate and everything looks understandable, but if you'll have any problems just scroll down to the bottom of the page and send them an email with all the neccessary info. There's one English speaking person in the company who will inform you by email where the car will wait for you and how will it look like. Don't expect the driver to say anything more than 'Hi" though.
 2. By bus which departures from Gdynia bus station at 9:10, 12:30, 16:30, 19:00:
A)  To reach it from the airport you have to take the bus 110 to Wrzesz PKP (last stop) for 4 PLN, then go to the SKM train station (slow, aboveground subway), buy yourself a ticket for 4,90 PLN, take any train going in Gdynia direction and leave it at Gdynia Główna. Bus goes every 30 minutes, train every 15 minutes. Whole trip should take around an hour.
B)  If you come by train to Gdańsk Główny, find the platform of SKM, buy yourself a ticket for 5,70 PLN, hop in any train going to Gdynia – it takes 30 minutes for the train to reach Gdynia.
Exit Gdynia Główna SKM station through the main entrance – the bus station should be on your left just 100 metres away. Get on the bus 665, pay 14 PLN and in 2 hours you will be in Dębki.
 3. With your friends' help
Take an SKM train to Wejherowo (note that not every one reaches it) – 7,70 PLN from Gdańsk Wrzeszcz, 8,30 from Gdańsk Główny. From there you can still take the bus 665, which leaves from the bus station just outside the train station or call for your friends that travelled by car, because Wejherowo is only 30 kms away from Dębki.
 Special thanks to Wilka & Sandslash for providing Borderless Travels with amazing directions
https://borderlesstravels.com/wp-content/uploads/2014/05/Debki-Poland-beach-with-river-Piasnica-610-x-458.jpg
458
610
Ian Yacobucci
http://borderlesstravels.com/wp-content/uploads/2017/10/small-1-300x75.png
Ian Yacobucci
2013-09-01 11:39:09
2018-07-26 10:02:42
Discover Debki Poland's secret seaside paradise