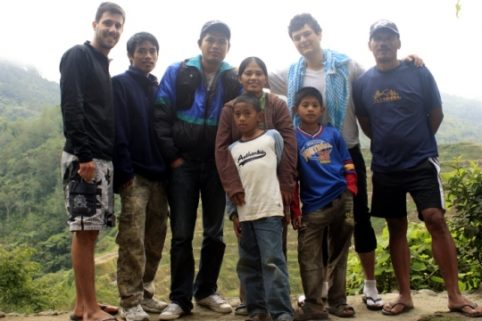 Not choosing your accommodations in advance can sometimes lead to a lucky break. I found this out when I went off trek without a guide, and happily ended up finding a homestay that overlooked Banaue's rice fields. Plus I got to eat pancakes for breakfast!
Escape the chaos of Manila's city of eight million and visit what many consider the eighth wonder of the world, the rice fields of Banaue. Located in the mountainous region of Ifugao, Banaue's spectacular vistas and 2500 years of history have turned this once isolated village into a popular tourist destination.
Upon arrival, it's easy to see why this tranquil place is popular to visit and difficult to leave. Take a look around and there's only beauty to be seen; majestic mountain rice terraces, jungles, waterfalls, and extraordinary views at every turn encompass this special place. Finding basic accommodations in this small mountain village is easy, but take the road less travelled and choose a homestay if you want to immerse yourself in this UNESCO World Heritage Site.
Of course, you can easily stay at a backpacker hostel where hundreds of others have dropped their heavy backpacks before heading out into the mountains for a trek. There's two big ones side by side located in the city. I decided to go for something different and chose to stay at Rita and Tony's for a unique home stay experience.
Located two hundred steps below Banaue's main view point, Rita and Tony Tocdaan live in a house that overlooks the entire Banaue valley, and they have made their home a place to share with travelers.
Staying at their house, the Viewpoint Homestay you get the best view in the area all to yourself. Even better is the local food Rita cooks, which includes native rice from her family's rice terraces, plus you'll get to feel like a part of their family during your stay. For an unbeatable price Rita and Tony will show you what it truly means to be from Banaue.
I met Rita by accident while adventuring off the beaten track with my friend Jacob. The two of us were making our own way through the rice terraces and we met Rita as we began to descend into the valley. Rita didn't bombard us with offers of guide packages and scooter rides the same way the other guides did when I first stepped foot in Banaue, groggy from an overnight bus ride. She kindly offered us her services, suggesting that a guide would be the best way to tour the famous valley. Jacob and I jumped at her offer.
For a slightly lower fee than the local guides, Rita toured us along a spectacular route, at one point showing us her family rice terraces passed down through her family for thousands of years.
As we continued our two hour trek through the terraces, we inquired about the best place to stay in Banaue. Rita kindly responded with a smile and asked the two of us if we'd like to stay at her house. Without hesitation, our answer was a resounding yes, and that evening began one of my most memorable experiences in the Philippines.
The simply furnished two bedrooms downstairs at Rita and Tony's offers tourists comfortable and clean double-beds to rest their weary bodies after a long night bus, and a safe place to leave their luggage if they decide to head into the mountains for a one to four day trek to the neighbouring villages.
Rita offers her services as a kind and generous homemaker, making sure everyone is comfortably fed during their stay. There's always activity in the kitchen, where Rita combines local flavours, and cooks everything from fish to pancakes.
Time can often stand still here as you look out onto 2500 years of history and take in the valley and its hundreds of terraces. We got to enjoy our time at Rita and Tony's relaxing, reading, hanging out with Scott and Bradley (our host's youngest children), and, of course, taking in the surrounding landscapes.
Tony is a bit of a legend around Banaue for his adventures in America. He, along with his author friend Brad Newsham, embarked on a 5000 mile journey from San Fransisco to Washington in June 2001, an incredible adventure that landed him a spot on Filipino television. Now Tony keeps himself busy working as a wood carver and tending to his rice terraces and family.
As a local guide, Tony knows the surrounding mountain treks better than anyone. However, as he is getting older, he can no longer guide on long journeys, but has passed the torch onto his son Franz who will be happy to guide you through the mountains. Jacob and I opted to take the two-day overnight journey from Kinakin to Batad, a journey that is sure to impress even the most seasoned hiker.
With Rita and Tony's son in law, Instalone, at the wheel, transportation around Banaue and the surrounding hills was a breeze. Always chewing the popular Moma, Instalone is ready for anything as he tours you around in his Huble Huble.
So whether it's trekking, relaxing at the viewpoint, or cruising around, the Tocdaans are there to make your stay as pleasant as possible. If you're looking for a one stop shop that will offer you all the comforts of home, stop asking yourself, "where can I stay in Banaue?" and contact Tony today.
Banaue Viewpoint Homestay
· Tony Tocdaan – tonytocdaan74@yahoo.com
· Viewpoint, Banaue, Ifugao, 3601 Philippines
· Phone – 09353975853
https://borderlesstravels.com/wp-content/uploads/2014/05/17.jpg
360
540
Ian Yacobucci
http://borderlesstravels.com/wp-content/uploads/2017/10/small-1-300x75.png
Ian Yacobucci
2012-02-21 00:27:00
2018-07-26 11:48:28
Viewpoint Homestay| Best place to stay in Banaue Philippines