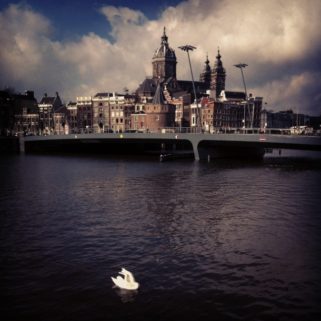 There are plenty of things you can do with only five hours in Amsterdam. Like me, if you're passing through and have a layover at Amsterdam's Schiphol airport you're going to want to take advantage of your time there.
Getting to Amsterdam central station, downtown Amsterdam, is really easy! It only takes 15 minutes to get to Amsterdam city centre by train from Schiphol airport, and costs 3.90 Euro each way with trains departing every 15 minutes.
Since Amsterdam Schiphol Airport is a major hub for international flights, customs is designed to get passengers in and out of the airport quickly and efficiently giving you extra time to work with.
During my most recent flight I had about 5 hours to spend in the city and managed to take advantage of every minute. While I was there I visited the Anne Frank Museum, took a walking/photography tour the canals, and founding a café to enjoy a quick meal. I also added a few other things you might want to explore if you have time. Enjoy!
Things to do in Amsterdam
Check out the Anne Frank Museum
The Anne Frank Museum was the highlight of my recent visit. The museum, which was once a hide out for two Jewish families during World War 2, offers visitors a historical glimpse of what it was like to be Jewish during the Nazi occupation of Europe. The exhibit is an emotional one that allows for reflection and challenges visitors to remember what happened so that discrimination can be eliminated from our world. Get there early because the line can get long!
Walking/Photography Tour of Amsterdam's Canals and city centre
There's no better way to enjoy a few hours in Amsterdam than wandering the cobblestoned streets and canals of the city. I really enjoyed getting a little lost as I toured the streets around Amsterdam Central station. The unique architecture, bicycles, canals, cafes and boats are a photographers dream making it easy to get lost behind the lens. Just make sure you don't forget you have a flight to catch!
Visit an Amsterdam Café
Delicious coffee and scrumptious deserts are what comes to mind when I think of Amsterdam. If you're lucky enough to visit in the spring or summer, enjoying a drink on a patio overlooking the canals is a must do. For me, delving into a traditional Dutch Gouda, mustard, gherkin and rye sandwich, while sitting in a vibrant café, was the perfect way to spend an hour and enjoy some good food between flights.
Other things to do in Amsterdam
Visit the Amsterdam Centrale Bibliotheek (central library)
How could you not visit the largest public library in Europe.  The beautifully designed Centrale Bibliotheek is a wonderful place to relax with your book or browse around with your camera indulging in some architectural photography.  If you're a blogger, why not take some time to sit behind your computer and enjoy the wonderful working space that this complex has to offer.  There's even a cafeteria if you want to grab a bite to eat and a wonderful patio on one of the upper floors. It's amazing and definitely one of my highlights!
Visit an Amsterdam coffee Shop
Notorious for its legalization of marijuana, Amsterdam coffee shops offer a legal place for customers to consume marijuana products. If you're into it, coffee shops are a place where patrons can enjoy a puff or snack on some baked goods in a safe accepting environment. I'd advise caution to those interested in smoking pot in Amsterdam since, like alcohol, it is a drug and can inhibit your judgment; you don't want to miss that flight!
Rent-A-Bike in Amsterdam
A great way to see the city is to tour around on a rental bicycle. I word of caution to those who wish to do this between flights, be careful! Riding a bike in Amsterdam is similar to driving a car and along with it comes safety concerns. Of course, if you've always dreamed of riding a bike through the canals you won't want to miss this chance.
Tips
Don't change money use a credit card: I found that most places in Amsterdam accept credit cards which allowed me to save money since commission and exchange rates can be astronomical.
Know your timeframe: Be smart and check your watch.  You don't want to miss your flight!!
Leave a buffer: You never know what might happen so make sure you leave at least 40 minutes for commute times and 30 min to go through customs.
https://borderlesstravels.com/wp-content/uploads/2014/05/Swan-in-central-Amsterdam-1.jpg
610
610
Ian Yacobucci
http://borderlesstravels.com/wp-content/uploads/2017/10/small-1-300x75.png
Ian Yacobucci
2013-05-16 18:33:04
2018-07-26 11:17:55
5 hours of ideas for an incredible Amsterdam layover