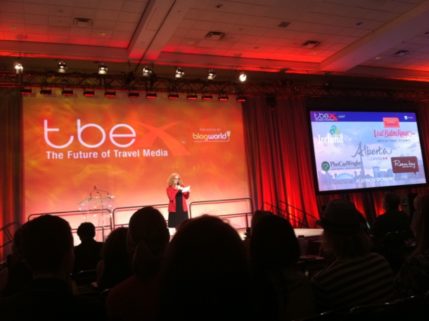 Non-stop learning, amazing people, great parties, live music, delicious food, networking, press trips…need I go on?
Let's go back three months ago when my badass traveling buddy Stevo, AKA. The Shameless Traveler, sent me a Facebook message that read, "TBEX Toronto in June?"
Before that message I had never considered going to a travel blogging conference. In fact, some travel bloggers don't go to conferences at all and prefer to define themselves by carving their own path.
There's also that contrived image that blogging conferences are filled with superficial hellos and handshakes, one reason that "real bloggers" don't attend.
As a teacher, I'm constantly bombarded with professional development. In Canada working as a teacher means monthly professional development days, annual conferences, and constant updates on what's happening in the industry.
So why should travel blogging be any different? News flash, it isn't. Conferences like TBEX are places where like-minded professionals can meet each other, discuss business strategies, learn from established professionals, and work to improve their understanding of a vibrant growing industry.
Learning
TBEX is all about learning. If you're a new travel blogger, or someone who's been doing it for years, conferences like this are a great place to learn new strategies to improve your blog.
Yet it's not all about you, conferences like this also offer new strategies that will help stimulate your readers and get them interacting with you.
So…
Well, I'm not going to go through and tell you everything I learned because there's just too much. I will however give you an idea of some of the talks that I went to in hopes you'll get a better understanding of how relevant and useful they were.
Brands, Bloggers & Dollars – Discussion of what brands and bloggers are looking with a focus on how they can benefit from each other.
Creative Pitching for Experienced Travel Bloggers – Matching the needs of you and the company you want to work with
Video 101: I know I should but how – Discussion about how to make videos
These are just a few of the presentations I attended. If you want more information about what TBEX Toronto offered and learn more about future conferences check out at www.tbexcon.com.
Networking
Companies and you:
The relationship between brands, travel companies, and destination marketing organizations (DMO's) is growing within the travel blogging world. At travel blogging conferences like TBEX you'll get the opportunity to talk to different organizations and discuss partnership and press trip opportunities.
So…
This year TBEX Toronto ran open market place and speed dating events. During these events bloggers could book appointments with DMO's, travel companies and brands to discuss everything from press trips to partnerships.
These meetings were a great opportunity for bloggers to practice their pitch. Not only that, it also provides an outlet to look at what other bloggers are doing, what their media kits look like, and how they're approaching companies.
During each meeting bloggers had the chance to talk to industry professionals. During the meetings bloggers could find out what companies are looking for and discuss future opportunities to work with different travel related businesses.
Parties and collaboration:
TBEX is all about meeting great people, good conversation, and partying.
Sure, there's a ton of learning and informative talks during the day, but these constitute only a fraction of the learning that goes on at a conference like this.
Every night TBEX throws events where bloggers get a chance to meet and talk over food and drinks. And after these parties are the after parties.
So…
So during these parties you'll get to meet all different types of bloggers. You'll meet people who want to start a travel blog, people who are just getting into it, people who are vlogging (video blogging), and people who have been blogging for years.
There're also industry professionals from public relations, travel companies, destinations and brands. The best part is that everyone is there to connect and collaborate with each other.
You'll meet hundreds of people, most of whom you probably won't end up working with. But everyone has something to share that you can learn from, and at the same time the few you connect with on a deeper level might turn into good friends.
As for the after parties….use your imagination 😉
What do I think about TBEX? 
I found TBEX to be a great opportunity for learning and educating myself on the issues that travel bloggers need to be thinking about.
Travel blogs are a relevant way to engage people interested in travel, and companies are starting to see how working with them is an affective marketing tool.
While at the conference, I got to meet so many amazing people with whom I talked business strategy and exchanged business cards.
After the formalities of the day, I got to know these people on a deeper level as we shared our stories and experiences traveling and working online.
While at TBEX I learned how to focus my website and pitch it to companies. I learned how to strategize my social media use and how bloggers are interacting with their communities.
Finally, on top of all this, I learned that travel blogging is a growing industry that companies are starting to recognize and value. It's still a new industry and there's a lot of room for it to grow. It's not too late so get involved if you're interested in starting your own blog.
Would I go to TBEX again?
DEFINITELY!!!
See you then,
Yak
https://borderlesstravels.com/wp-content/uploads/2014/05/Borderless-Travels-at-TBEX-Toronto.jpg
456
610
Ian Yacobucci
http://borderlesstravels.com/wp-content/uploads/2017/10/small-1-300x75.png
Ian Yacobucci
2013-06-12 11:23:50
2018-03-27 20:15:41
Experiencing the TBEX travel blogger conference learn, network, party...just go