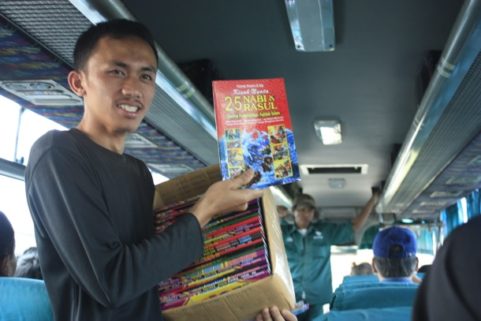 Indonesia's buses are full of character. Set some extra time aside to include a bus ride during your stay in Indonesia.
There's no 'official' on-board entertainment for this ride. When taking the bus in Indonesia, you don't need a TV, computer, or iPod to keep yourself busy; all you need to do for entertainment is sit back, relax, and enjoy watching the characters that come and go throughout your ride. The bus in Indonesia is more like a mobile market place, and for the adventure traveller or those looking for an authentic Indo experience, riding the bus something you should include in your itinerary.
Indonesia is full of transportation options for getting around. Most travelling here use the faster, more efficient trains or airplanes which cost a fraction of what you'd pay in North America and Europe. The difference in price sometimes makes taking the plane a no-brainer. How does a one-hour flight for $50 USD sound compared to a $30 12-hour train ride? You decide. If you're in a hurry, the bus is definitely not the option for you, but with time on your hands it's a must do. Fully loaded with AC and comfortable, all be it non-reclining, seats you're sure to enjoy the ride.
Trying to find my way from Jakarta to a small fishing village called Batu Karas on the west coast of Java, Indonesia's main island, I was in search of transportation options. I wanted to get to the beach as soon as possible, and the most efficient modes of transportation included trains and buses. Buses being the slower yet cheaper option, I decided to take the train for the first leg of the journey and save some time. For around $6 USD you can ride for three hours in executive style with reclining seats, plugs for your gadgets, and more leg room than you know what to do with. For me, this comfortable train ride was a great start to my journey from east to west Java.
When I arrived in Bangdun from Jakarta late at night, I needed to find a way to continue towards my destination. I was told I could take the morning bus directly from Bangdun to Batu Karas or take the train to a place called Banjar, then transfer to a bus. Bright and early I was off again and rather than pay for a taxi I decided to try the city bus to get to the terminal. One hour later my 3000 rupiah city tour through Bangdun ended. On the tour we drove through neighbourhoods and markets, the gently sloping mountains and hill side villages with their emerald green rice terraces in the background. I managed to save about 300,000 rupiah, the cost my German friends paid for their tour of the town, and enjoyed my snapshot of life in Bangdun.
This public tour of the city, commonly known as taking the bus, ended abruptly at a roundabout, and I was shuffled off along with the 3 remaining passengers. Seemingly lost somewhere on the outskirts of Bangdun with only a pointed finger to guide me, I crossed the street, navigating the oncoming traffic like I was on the 10th level of Frogger. I dodged scooters, trucks and buses to get across that ash fault river. Safely on the other side I was surprised to find that there was only a few shops, no bus station anywhere. Wondering what to do next, a head popped out from the back door of a bus on the other side of the street and yelled, "Pangandaran, Pangandaran." He was looking in my direction, so with my bags secured tightly on my back, I ran across the river of traffic once more and made it to the bus just in time for us to take off to what I hoped was Pangandaran, Batu Karas' neighbouring city.
The bus in Indonesia is an experience like no other. 7 or eight hours can fly by with on-board entertainment in the form of live musicians playing instruments and singing through portable karaoke machines. Vendors hop on and off the bus at will, and try to sell you their peanuts, fruit and other delicious snacks by leaving their goods on your lap or seat as they cruise up and down the aisle looking to make a sale. Even book salesmen find their way onto this travelling bazaar! They'll also leave you with their merchandise so you can browse through it while they deliver their sales pitch to the load of passengers that just sit complacently as the bus meanders through the winding mountainous roads towards its final destination.
Friends are easy to come by on this road. Lunch stops of vegetable soup and rice accompanied by a warm cup of tea are also a good chance to stretch your legs and make conversation with fellow passengers. My new friends and I enjoyed our afternoon luncheon discussing what little things we could with our shared language abilities, and we watched each other devour our lunches before rushing back onto our mobile supermarket and talent show. What surprised me the most about the bus was how generous everyone was; most people offered donations to the disfigured men, women, and even the singers. Soon after the mendicants finish making their rounds past all the passengers, the bus drops them off and continues on.
While cruising through the mountain's winding road, twisting and turning on barely enough space for a small rodent to fit between us and the oncoming traffic, it's a welcome distraction to watch the cities and towns pass by. Rice fields, volcanoes, houses, shops, people working through their daily routines; these scenes give you a glimpse of life in the area.
Taking the bus in Indonesia is a crazy experience that you can't pass up. Work it into your itinerary as an activity, and remember to set some extra time and money aside for Indonesia's hardest working salespeople.
https://borderlesstravels.com/wp-content/uploads/2014/05/Selling-things-on-the-bus-indonesia.jpg
407
610
Ian Yacobucci
http://borderlesstravels.com/wp-content/uploads/2017/10/small-1-300x75.png
Ian Yacobucci
2012-02-21 01:27:44
2018-07-26 11:47:38
What it's like traveling in Indonesia