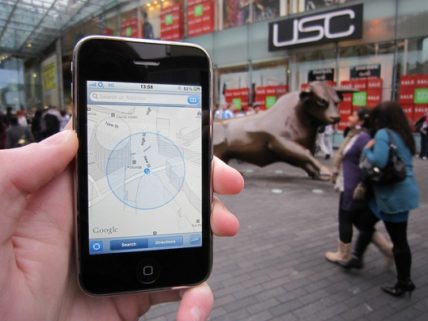 A complete guide of the 10 best travel apps. If you're travelling you won't want to leave home without these.
Are you tired of wondering what travel apps to download? Well look no further, if you're planning a weekend getaway or a trip around the world these helpful apps will make your time away a breeze. With these top ten travel apps you'll be able to connect with friends, play games, or check updated weather and currency exchange rates from anywhere in the world. So stop wondering and start downloading to make your smartphone the ultimate travel tool.
1. Skype
Don't leave mom and dad worrying about where you are. Call you boyfriend or girlfriend to fill them in on your exciting adventures. With Skype everyone's a phone call away all you need to do is find a Wi-Fi connection and log in. Better yet, if you have an iPhone or smartphone with video you can try video Skype and talk live with a video feed to your family and friends at home. Skype is a free service if you connect using two computers using the Skype software. For landline and mobile calls you can top up your account and for a few cents a minute call from anywhere in the world.
2. Banking
Almost every bank has a mobile banking app. To check your savings, stay on top of bills, and transfer money between accounts a banking app is something you can't live without. Using your banking app will help you monitor your finances and keep you up to date on all your transactions. Essential for the traveler on a budget banking apps will make sure you're staying on target by showing you how much you have and how much you're spending.
3. XE Currency converter
If you're planning on visiting one or a dozen countries the XE currency converter app is a great way to keep up to date on all the exchange rates. This currency conversion app updates every time you connect via the Internet and allows you to access the rates of up to 7 currencies simultaneously. With a few taps of a finger you can easily compare the currency rates of the country you are in with your home country and those you've already visited. Indispensable to the modern traveller, the XE currency converter app will make sure you'll never have to guess a price again.
4. WhatsApp
WhatsApp is a multi-platform app that allows you to stay connected with family and friends via instant messaging no matter what type of phone they're using. Connect to a WiFi network and you can instantly chat with everyone at home. If you've taken a few pictures or a video you want to share you can easily send it using this app. So whether you and your friends use blackberry, iPhone, or android you'll be able to stay connected during your time away with WhatsApp.
5. Facebook
Check your news feed, upload pictures, and chat with friends while you're away with this must-have app. If you're on Facebook this app is sure to keep you busy on your travels. An easy way to stay updated with all the gossip at home while sharing your amazing experiences with all your friends the Facebook app makes communicating fun and easy. Plus you can make everyone jealous by easily uploading amazing pics of the places you've been visiting.
6. Momondo
If you're looking for a cheap flight home, or to your next destination, Momondo is the best way to find the cheapest flights. Whether it's Europe or South East Asia you're sure to find the best deal with this all-in-one search app. You really don't need to search anywhere else, just download this app, enter your dates and where you're going, then let the app do the work. In no time you'll be purchasing a flight to that place you've always wanted to visit, knowing you're getting the best price available.
7. Tune in Radio
With thousands of radio stations from around the world you'll be able to access your favourite radio programs from anywhere. If you're missing that morning show you always start your day with, the daily news, or the radio station that plays your favourite jams then hop on a Wi-Fi connection and listen away as Tune in Radio broadcasts your station live. For the traveler looking to kill some time with good radio than this apps for you.
8. Drop Box
Wondering how you can access those important computer files from your home computer when you're 5000 miles away? Dropbox allows you to share files from anywhere in the world. Simply drop the files into the Dropbox app and they are instantly shared via your online drop box account. You can even create joint folders in order to share your large files with people at home. Whether its pictures, video's or important business, Dropbox will allow you to share and access all your important files from anywhere in the world, from any computer / smartphone / tablet that has an Internet connection. The service is free and first-time account start off with 2Gigs of cloud storage space.
9. Angry Birds
It's easy to pass those long hours travelling by bus, train or plane. Just download the number one gaming app in the world and the hours will fly by. Angry Birds is a fun way to pass the time. With dozens of levels to challenge even the most hardcore gamer playing Angry Birds is fun for everyone and a great way to pass the time.
10. Nike + GPS
Travel can upset your regular routine and sometimes that means neglecting your health. Don't let this happen! If you plan on keeping in shape while away from home then the Nike + GPS app is the key to keeping up your workout regimen. Even while away, running with your Nike + GPS app will allow you to crank your running tunes and track your distances no matter where you are.
If you're looking for the right smartphone that will allow you to get the best travel apps check out the Top 10 reasons to travel with your iPhone. Armed with a good smartphone and the best travel apps you'll spend less time trying to figure things out, and more time enjoying your trip.
https://borderlesstravels.com/wp-content/uploads/2014/05/0b1ad7a7b79268a1f4558db78e092446_XL.jpg
405
540
Ian Yacobucci
http://borderlesstravels.com/wp-content/uploads/2017/10/small-1-300x75.png
Ian Yacobucci
2012-02-26 09:04:01
2018-04-02 13:24:58
10 best travel apps for your smartphone