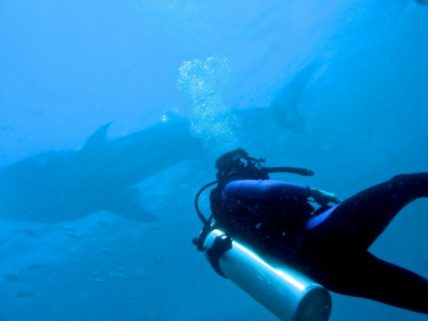 Want to scuba dive in the Philippines, but not sure where to go? Put the guide books aside; Ian's found the hottest spot there is, and all he had to do was ask.
Whale sharks, wrecks, drift dives and more coral reefs than you could explore in a lifetime is just a start to summing up scuba diving in the Philippines. Scuba diving here is like nowhere you've been before, and as a South Pacific Island country with English as the widely spoken second language, travelling here is easy and accessible.
The Philippines boasts hundreds of Islands – each a tropical paradise – and many boasting world class scuba diving. With so many places to choose from it's hard to decide where to go and dive, but don't let that deter you.
When I first planned to dive in the Philippines I was excited but had no clue where to go. It takes time to research on the Internet and in books because there's so much information to sift through. Sometimes the best thing to do is to talk to someone who's been there, and that's exactly what I did.
My diving friend Jenn had spent time diving in the Philippines and, with her advice, finding somewhere to go was easy. Thanks to her, soon after landing in the Philippines my plane was taking off from Manila bound for Dumaguete.
Dumaguete is a city located in the province of Negros Oriental. It's easily accessible from Manila or Cebu City with daily flights from multiple carriers. There is also a ferry you can from Cebu that takes you directly to Dumaguete.
Dumaguete is a known as a university town and is home to a large student population. This is great because it brings the prices on the island down, so things like food and accommodation are often cheaper than other places in the Philippines.
Although situated along the coast, Dumaguete's population of 100,000 people makes it a busy Filipino city, so if you're looking for a relaxing beach this may not be the place for you. The neighbouring beach towns and volcanic mountain ranges are attractive for those who enjoy exploring the outdoors, but the city itself can be overwhelming.
If you need a break from the hustle and bustle of the city you can take in a late evening a stroll along the boardwalk or grab a bite to eat with an ocean view and a calming sea breeze. Don't forget to try some balut (partially developed chicken fetus) if you're feeling adventurous.
In many divers' opinions, Dumaguete is the best place to dive in the Philippines because it's off the tourist track, yet still close to several of the top scuba diving spots in the country. All I can say is get here as soon as you can! Not only is it cheap and accessible, it's also a hub for divers since it's only a short drive or boat ride to diving hot spots like Dauin, Apo Island, Cebu, and Sumilon Island.
Dumaguete is the place to be for divers of any level who want to explore spectacular walls and breath taking coral gardens off Apo and Sumilon Islands, search for colourful micro-wildlife in the muck at Dauin, or dive with whale sharks off the coast of Cebu.
Scuba diving in the Philippines doesn't have to be complicated. Just get yourself to Dumaguete and discover the beauty of diving among these South Pacific islands. Whether you're open water, a dive master, or want to get certified, the diving around Dumaguete is waiting to be discovered and will not disappoint.
https://borderlesstravels.com/wp-content/uploads/2014/05/13.jpg
405
540
Ian Yacobucci
http://borderlesstravels.com/wp-content/uploads/2017/10/small-1-300x75.png
Ian Yacobucci
2012-02-09 00:47:34
2018-07-26 11:52:28
Where to go Scuba Diving in the Philippines