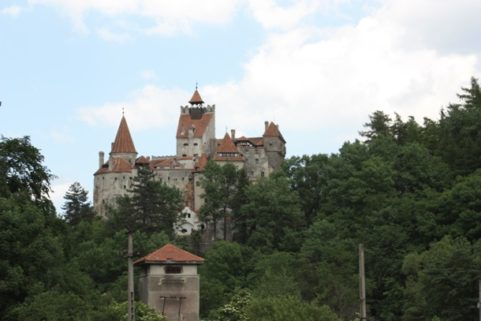 There's only one mythical character who sacrifices his victims by devouring them with his fanglike teeth, sinking them deep inside the nape of a neck to enjoy a bloody feast, and no its not Twilights Edward Cullen.  I'm talking about the original night hunter, Dracula, and I visited his castle!
Yes, I survived a trip the famous Romanian landmark known as Dracula's castle. And although I looked in every nook and cranny of his place I wasn't able to find the phantasmagoric character.
What I did find was a classical Romanian castle that brought the myth of Dracula back to life with the real story of Vlad the Impaler, and a castle filled with historical artifacts that recreated the 14th century style of Bran Castle.
The ancient castle Dracula calls home is located in Bran, Romania and is perched on top of a giant cliff, its blood red spires a landmark that can't be missed. Does Dracula really exist? You're best to answer it yourself with a visit to Bran Castle where you'll be able to read the history of Dracula, his castle, and the people who really lived there.
The best way to visit the castle is by car as it's only about 20 km from Brasov, one of Romania's most popular and picturesque cities. There are buses available and entry tickets cost 10 LEU ($3 USD) for students and 25 LEU ($7.50 USD) full price.
If you're a huge Dracula fan it's definitely worth a visit both inside and out, but don't expect the haunted Transylvanian castle most commonly seen on the television screen. For those on a budget checking out the interior of the castle may not be necessary.
Inside you'll be able to read the history of Dracula, where he came from, the royalty who called Bran castle home, and visit a few rooms that are decorated with period clothing and furniture. If you're there I recommend walking to the highest room in the castle where you'll get to read Dracula's full story and get a great view of Bran.
The landscape that surrounds Dracula's castle is breathtaking with winding roads, river valleys, and sky high mountains encircling the countryside. For tourists, there are plenty of places to purchase Dracula memorabilia, eat lunch and chill out along the river or a nearby park. If you want a good picture of the castle I suggest driving a few minutes down the road, it's worth the trip.
For most people, Halloween only comes once a year, a day where skeletons, monsters, and Dracula come out reigning terror as they walk the streets asking, "trick or treat." For citizens of Bran, Romania Halloween lasts every day outside the castle walls, but you don't have to come wearing a costume 😉
Happy Travels,
Yak
https://borderlesstravels.com/wp-content/uploads/2014/05/draculas-castle-romania-bran-castle.jpg
407
610
Ian Yacobucci
http://borderlesstravels.com/wp-content/uploads/2017/10/small-1-300x75.png
Ian Yacobucci
2013-02-27 16:03:22
2018-07-26 11:25:21
Discover the origins of Dracula's myth at his Romanian castle