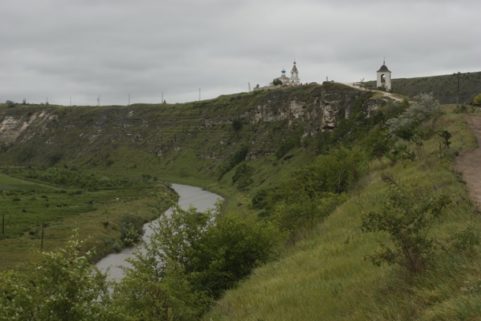 Escape from the city to visit ancient
monasteries, wineries and beautiful countryside 
only 30 minutes from Moldova's capital city, 
Chisinau.
If you find yourself hanging out in Chisinau and think this sounds awesome (and it is) you won't want to miss the opportunity to take day trip to Orheiul Vechi. Most tourists will go there on a tour organized with a local hostel. However, these tours only take you to one winery, can be rather expensive, and don't stop at the breathtaking Orheiul Vechi Cave Monastery.
If you want to save money and experience all Orheiul Vechi has to offer getting a private taxi is definitely the way to go. To hire a taxi for the whole day my friend and I ended up paying 600 Leu ($ 50 USD) a more than reasonable price since public transportation isn't the easiest.
If you do decide to hire your own driver a word of advice, make sure you are extremely clear about what you want, how long you will use the cab, and where you'll be staying. Sometimes miscommunication can be a bit of an issue and if you're not clear the taxi driver may try to get an extra few hundred Leu; be firm.
Orheiul Vechi cave monastery is a 13th century monastery and one of Moldova's most popular tourist sites. The monastery is located on top of a single ridge in the centre of spectacular valley filled with vineyards. Entry to this picturesque monastery is free, and a short hike from the visitors centre will take you along the ridge allowing for some great photos and a stop at the limestone cave.
After a visit to the monastery I'd recommend a little wine tasting. Deciding to skip Cricova, one of the most recognizable if not best known Moldovan wineries in the area, our driver ended up pulling up to Pivnitle din Branesti Winery; a cheaper option. Although visits need to be booked in advance with a little convincing it was possible to organize a quick tour and tasting upon arrival. Turns out my friend and I made a good choice, and although not the most beautiful estate, this winery was certainly worth checking out.
For 100 leu ($8 USD) a guide who spoke some English took us through the underground passageways carved into the hillside where the wine is produced. Sparkling wine is a staple of Moldova and after walking through the cavernous underbelly of the winery we were ushered into a private tasting area where two Chinese dignitaries hold their private collections.
Sitting over a bottle of semi-sweet sparkling wine my friend Johnny and I enjoyed the freshly uncorked bottle right off the line as we chilled out in the wineries private tasting room, something few tourists get to do.
In total, our entire day with a stop off at the winery and monastery cost roughly 425 Leu ($34 USD) per-person. Compared to an organized tour with the hostel, which would have cost 600 Leu and only included wine tasting, organizing the trip ourselves was cheaper and offered us complete control of the itinerary.
So if you're looking for a way to see the Moldovan countryside, take in a little history, and enjoy some wine along the way this is a day trip I'd highly recommend.
Happy Travels,
Yak
https://borderlesstravels.com/wp-content/uploads/2014/05/orheiul-vechi-cave-monastery-moldova1.jpg
407
610
Ian Yacobucci
http://borderlesstravels.com/wp-content/uploads/2017/10/small-1-300x75.png
Ian Yacobucci
2013-02-21 12:47:54
2018-07-26 11:25:54
Charmed by Moldova's ancient monasteries and seduced by it's wineries