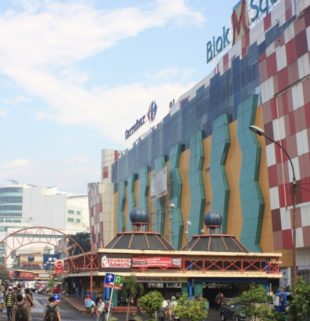 Looking for shopping deals while visiting Indonesia's capital city? There's no better place than Jakarta's M Blok.
Shop till you drop in Jakarta's M Blok! This shopping hub is a great place to spend an afternoon. Whether you're looking for that great deal or taking in the sights and sounds of the city, M Blok is worth a stop.
M Blok is composed of two massive shopping centres: Blok M Square and Blok M Plaza, both spanning several city blocks. Lining the winding streets between these two mega centres are shops and market stalls that sell everything from haircuts to specialty printmaking. No matter what you're looking for, you're bound to find it at M Blok.
If you take public transportation, you'll end up just outside Blok M Square which is a bargain centre with over 5 floors of merchandise. Here you can find everything you need at discounted prices. This super centre has everything from belts to sunglasses, head scarves to jewelry. In the mega complex you'll find a supermarket, clothing stalls, jewelry, art, glasses, toys, cellphone, camera and electronic stalls; everything and anything you can think of is available in Blok M Square. Don't forget to practice your bargaining skills (this is the place to do it). Unlike shopping meccas such as the silk market in Beijing, shop owners in M Blok are not overly aggressive and will give you the opportunity to browse around hassle free. It's also important to be aware that this shopping centre is not an outlet shop, and often the merchandise is fake; but, hey, where else can you buy a 'brand-name' shirt or a pair of shorts for a couple of dollars?
Walking down the street from Blok M Square is Blok M Plaza. Although English isn't as prevalent here, many people will be able to answer simple questions and head you in the right direction. It's a two minute walk along the busy market streets to get there, and spending time here gives you a sense of where you are in the world. The old and new worlds really clash on the streets. On your way don't forget to stop for a henna tattoo or check out some of the discount watches made in Malaysia.
Blok M Plaza is a westernized mall with prices to match. If you're looking for a good coffee, fast food, high quality goods and services then this is the place to go. Most of the coffee shops have WIFI in them, and the mall itself is clean and air conditioned. A home away from home if you've been on the road for a while and miss those simple comforts of a clean bathroom and a good drink. Here you'll findreal name brand products, and unlike Blok M Square this is not the place to bargain.
Transportation to M Blok
Transportation to M Blok is easy and there are several options to choose from. For the adventurous or budget traveler using public transit is the way to go. It's cheap, fast, safe and easy to navigate with a little local help. Jakarta is a busy city and traffic can be a big problem here so using the air conditioned buses which have special bus lanes can be faster and for 3500 Rupliah you can't go wrong. You'll also be amazed at watching the bus boy who ensures that everyone gets safely on the bus from the platform, opens and closes the door at each stop and announces every arrival on the line.
If you're not up for the bus, there are a ton of other options. Taxis are a great way to get to your destination and, although quite a bit more expensive than the bus, they are comfortable, air conditioned, and easy to catch. Depending on your location a taxi ride can cost you between 20 and 100, 000 Rubles. If you want a private ride, try the cheaper options of a Tuk Tuk or scooter. Be aware that Tuk Tuks are often slower and it can get pretty hot slouched over in the side of one of these vehicles. If you want a cheaper ride you're better off to take a scooter, but make sure you wear a helmet if you choose to hop on. Weaving in and out of traffic can be invigorating and often scooters can squeeze through traffic quicker than a taxi or Tuk Tuk.
Definitely worth a look, Blok M is a great location to spend an afternoon. It's a dynamic place with a lot of variety, good food, and great people. Whether you're looking for a bargain, browsing around or need some time to sit back and relax with a good cup of coffee, you need not look further than Jakarta's Blok M.
Tips and Tricks:
Money:

It is easy to take money out of a bank machine in Jakarta. Visa and plus debit cards usually work in most machines.
Banks will not exchange creased or "broken money." In order to exchange money at a bank, the notes have to be in perfect condition. All is not lost if you have money to change; a money changer will exchange your currency for you.
American money is best for exchanging; if you have other currencies, do it at the airport.

Photographs:

Be careful using your camera. Taking photographs is strictly prohibited in the mall. As soon as the security guards see you – and they are everywhere – they will ask you to leave, or put your camera away.

Ask around:

Don't be afraid to talk to people and ask around. Although there isn't much English those who do speak a little are more than willing to help you.
Don't pay the asking price. Walk around, check out other stalls, bargain and get a feel for the cost of the items you're interested in.
Tally:
Bus – 3500 Rupiah
Taxi, Scooter, Tuk Tuk – Varies based on location
Purchases – Limitless ;D
https://borderlesstravels.com/wp-content/uploads/2014/05/14.jpg
559
540
Ian Yacobucci
http://borderlesstravels.com/wp-content/uploads/2017/10/small-1-300x75.png
Ian Yacobucci
2012-02-10 01:29:29
2018-07-26 11:52:04
Indonesia| M Blok Shopping in Jakarta