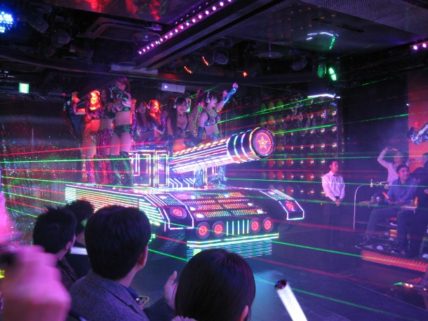 Tokyo's Robot Restaurant is a 60 minute extravaganza that features robots, girls, dancing, drumming, bomber planes, tanks, motorcycles, quads, giant video screens, and three gigantic fifteen foot tall female robots making it the ultimate Japanese entertainment experience. And yes, dinner's included.
Only a month after arriving back in Tokyo, I caught wind of a robot show that apparently put every other weird Japanese things to shame. Forget the quirky manga shops or maid cafés of Akihabara, the popular Nekko (cat) cafés of Shibuya, and host and hostess clubs of Shinjuku because the Robot Restaurant has outdone them all.
Located in a basement, in the Kabukicho district of central Tokyo, the 10 billion yen (100 million USD) Robot Restaurant is Japans newest entertainment phenomena. Now I'm not sure who came up with the concept but the Robot Restaurant is a mind blowing experience reminiscent of a trippy techno music video.
From the street you can't miss the mirrored and neon-light filled "roboto restuoran". The front room, where I incorrectly assumed the show was going to take place, is a waiting area where customers can take pictures with two gigantic female robots in bikinis, choose their "lunch box" (bento) for dinner, and order a drink before the show.
The show itself costs 4000 yen ($40 USD) and seats can be reserved in English by telephone. When you reserve your spot you are kindly reminded to come twenty minutes early and follow three simple rules, "no tattoos, no sunglasses, and no costumes".
When you first arrive you are ushered to a back room where you pay, put your belongings in a locker, and choose either lunch set A or B. At the Robot Restaurant the food and green tea is not what you come for, it's the mind altering show that you could not conceptualized in your wildest dreams.
Before the show starts you have to walk down several flights of stairs lined ceiling to floor with mirrors, neon lights, video screens featuring scantily clad women shooting semi-automatic weapons, and the most intricate and colorful designs of animals, insects, monsters, and skulls. I would imagine it's probably the closest experience to hallucinogenic drugs without actually doing them, and that is only the entrance!
After being seated in the performance room, which sits about 100 people, staff deliver your lunch box and green tea before the show starts. The room itself is lined wall to wall with video screens showing scenes of the dancers in bikinis flying helicopters, shooting guns, and jumping off a diving board into a swimming pool. During the five intermissions these scenes entertain the audience while they are given a few minutes to breathe and buy a drink (your choice of beer, alcoholic lemon flavoured drink, or green tea).
Now I don't want to give too much away because I had no expectations before arriving at the Robot Restaurant and I think that made the experience even better. All I knew was that that it involved robots and girls, and was the trippiest thing you can do in Japan.
The show is broken up into several performances, each more crazy than the last. Throughout the show Japanese girls dance, play drums, sing and interact with the audience. The room is filled with neon lights, mirrors and the video screens that keep the show flashy and fun.
Unfortunately, being an English speaker with limited Japanese I didn't quite understand the story line, and from what I saw perhaps there wasn't even one. About halfway through the show the audience is introduced to King Robota, scientists, and other robots who you get to take pictures with during one of the intermissions.
There are also segments where the Japanese girls ride brilliantly lit segways, tanks, giant robots, motorcycles, a quad, and a bomber plane. There's even a point in the show where the girls circle above the audience, on a conveyor fitted with neon-lit chairs, while performers dressed like fairies and cartoon dragons dance around the room. It's insane and the most fun 60 minutes you can have in Tokyo!
Finally, when it's all over, you're left in wonder and awe as the fact that you just witnessed the best, craziest, weirdest thing you've ever seen sinks in. The Robot Restaurant is truly a Japanese phenomenon that shouldn't be missed and the words of my friend Scott, "if I lived in Tokyo and my friends came to visit this is the first thing I would show them!"
Happy Travels,
Yak
Tips
Show cost – 4000 yen (includes a bento and green tea)
Drink costs – 350 yen (beer, lemon flavoured alcohol drink, green tea)
Rules – No sunglasses, no tattoos, and no costumes
Robot Restaurant contact Info.
1-7-1 kabukicho shinju-ku Tokyo japan
Tel: 03-3200-5500
http://www.robot-restaurant.com/
https://borderlesstravels.com/wp-content/uploads/2014/05/girls-on-an-army-tank-robot-restaurant-610-x-458.jpg
458
610
Ian Yacobucci
http://borderlesstravels.com/wp-content/uploads/2017/10/small-1-300x75.png
Ian Yacobucci
2012-12-10 21:15:00
2018-07-26 11:32:25
Japan| Is Tokyo Robot Restaurant the Weirdest Show on Earth