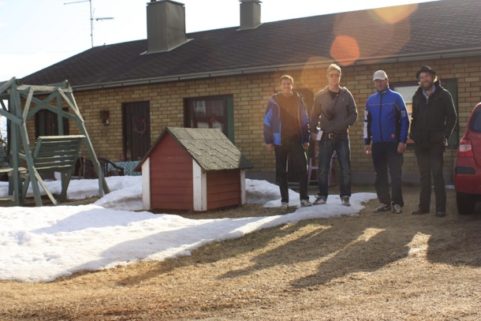 Through Couchsurfing my friends and I met Markus, the CEO of an Internet company based in Finland's capital, Helskinki. During a picnic for the festive spring celebration of Vappu, the topic of ice fishing came up. Markus mentioned that his father Ari was still ice fishing, even as the late April sun was melting the snow and ice-covered lakes of Northern Finland.
Without hesitation my friends and I asked if his father would be willing to take us fishing because if you don't ask you don't get. And so, less than two days later we left our rented cottage on the outskirts of Rovaniemi and headed to Ylitornio, located on the border between Sweden and Finland.
Markus' father lived in a house next to the Tornio River, which was only 50 feet from the houses back porch and completely covered with ice in the early stages of melting. Luckily for us our late afternoon arrival was perfect for the program that Ari had planned; first stop, Sweden.
Driving from Finland to Sweden across the Tornio River took no more than 10 minutes and our tour of the area consisted of a stop at the Northern Research Library where the Minister of Culture and Sport for the Swedish municipality of Overtornea gave us a tour. After that, and a quick stop off at the supermarket, it was back to Ari's for "sauna".
Spending a few days in Finland one learns that saunas are an integral part of Finish culture; they seemed to be in every house and apartment building. In his back yard, Ari had built a unique sauna. His invention was a floating motorized sauna capable of touring the river that separated Finland from Sweden and best of all; it sat next to a semi-frozen river. It was time to get Finnish!
Traditionally, a short stint in a sauna is often followed by a dip into ice-cold water. And so, heated by wood to a balmy 82 degrees Celsius, the steamy cedar sauna had us sweating in no time and after about 15 minutes it was time to take the plunge.
As I walked out into the cold Finnish air things didn't seem so bad. It wasn't until I waded ankle-deep into the frozen water, each step breaking the thin layer of ice that had accumulated as the evening air cooled, that I realized what I was getting myself into.
When I finally committed and completely immersed myself into the frigid waters I lost my breath and a feeling of pins and needles covered my entire body. It was an invigorating experience but after less than two minutes my friends and I were all sprinting back to the sauna to prepare for round two. Of course, if you really want to make a Finnish sauna owner proud you must repeat this act several times, so that's exactly what the three of us did.
So I didn't end up ice fishing but my visit to Yilitornio was no less awesome and my authentic Finnish sauna experience was one of a kind. The best part was that I got to meet a new friend, was welcomed into a stranger's home as if my friends and I were family, and was treated to food and Finnish culture simply because my friends and I weren't afraid to ask.
Happy Travels,
Yak
https://borderlesstravels.com/wp-content/uploads/2014/05/Alu-and-the-boys-tornio-finland-main.jpg
407
610
Ian Yacobucci
http://borderlesstravels.com/wp-content/uploads/2017/10/small-1-300x75.png
Ian Yacobucci
2012-12-26 06:37:17
2018-07-26 11:28:19
How to experience Finland like a local