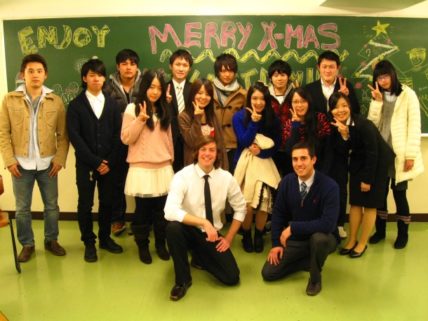 Wondering how to travel the world and make money while you're doing it? Have you just finished a university degree, but can't find a good job. Are you looking for ways to pay down your student loans while traveling the world?
You probably know someone who has taught English overseas, and now you want to be that person. Learning how to find a job teaching English overseas, and making your dream of traveling the world come true, is easy. All you have to do is take the chance, and this is the first step!
So, how do you find your perfect travel job teaching English overseas?
1. Figure out what country you want to teach English in
There are several options for you to teach overseas and each one has its advantages and disadvantages. The three most popular places for teaching English overseas are:
Teach English in Asia
Japan, Korea, and China are the three most popular, and profitable, countries in Asia to teach English.
Japan – In recent years, it has become more difficult to find work in Japan however, teaching jobs are still available. In Japan there are public (state run) and private companies that run English programs in elementary and secondary schools. There are also English programs run through universities, but these jobs often require some experience and are more difficult to find.
Korea – Teaching in Korea has exploded in recent years. Full year teaching positions, as well as summer English camps are popular choices for new university graduates. These programs are offered by both public and private companies, all you have to do is find one you like and apply.
Note: I'd caution about taking jobs with Hogwans (after school study companies) unless you contact previous teachers to make sure that the company is trustworthy.
China – Teaching English in China is a wonderful opportunity to explore a country that is growing at an incredible rate. Job opportunities both public and private are easy to find, all you have to do is decide on where you want to work. There are jobs at elementary, secondary, and post-secondary levels although pay can often be less than Korea and Japan. That in mind, you'll be making more than enough to live comfortably as the cost of living is significantly low and teaching salaries are lucrative (by Chinese standards)
Teach English in Europe
Teaching English in Europe is an amazing opportunity because once you're there exploring new countries is really easy. Take a weekend in Paris or head over to Germany for your Easter holidays. Discount airlines, trains, and busses connect the whole of Europe making travel easy, cheap, and accessible.
Summer camps and full time work are offered in almost every country in Europe. Finding the right job depends on you and whether or not you want to work in the private or public sector.
Note: If you have a European passport you're in! Many jobs are easily accessible to native English speakers with a European passport because you don't need a visa to work.
Teach English in the Middle East
Most jobs in the Middle East are run through private or International schools. These jobs often require teaching experience and/or credentials. There are also post-secondary opportunities but it's important to do your research and contact previous teacher to ensure you're going to be well taken care of. Cultural differences can be an issue for some people, but if you love learning and are an open minded person the possibilities to explore are endless.
2. Decide how long you want to teach English 
There are a wide range of teaching options for people who want to teach English overseas, and deciding what works best for you will help you find the perfect job.
Long term English teaching contracts – Most popular and easiest to find are 1-2 year teaching contracts. For these teaching jobs flight, accommodation, holidays, and a comfortable salary are usually included.
Depending on whether you're working a government job, or with a private company, the contracts differ. Just remember you're never locked in a losing money is better than an unhappy and unhealthy work environment.
Short term English teaching contracts – Summer and winter camps are usually the options for short term contracts. However, there are a few jobs (although rare) that offer teaching contracts for several months.
I prefer to work short term contracts because they allow me more freedom to travel, less commitment, and if I don't like the camp or working conditions I can usually power through a 3-7 week camp.
If you're a teacher this is the best option for you. Plus, the pay is often enough to cover at least a few weeks travel, minimizing your travel expenses so that you come home breaking even.
3. Do your research
Research is probably the most important, yet least used, step to finding the perfect job teaching English overseas. Researching the country you're going to, the English education options, whether or not there are state run programs, the school you want to attend, and connecting with teachers (if you get the job), is invaluable.
Go on government websites – You need to go on the government websites to find out if they subsidize English education in the public school system. This is important because, if they do, these jobs will offer more job security, higher pay, and a support system.
*Korea and Japan are two countries who offer these programs
Check out English teaching forums – An easy way to find out what teaching English overseas is like is to check out online forums. Often, there are ex-pat forums and Facebook pages where you can ask questions, read feeds, and find out the real deal.
Look up companies and schools – Have you found a company or school you think would be great to work for? Great! Now look into it. Check out their website, email the administration, find out if you can contact current or previous teachers. This will ensure you know what the deal is, and will allow you to make an educated decision.
4. Find an English teaching job
So, you've found a country you want to work in, you've decided how long you want to work, you've done some research, now all you have to do is find the job. No problem, this is where the internet becomes your best friend.
Find an English teaching job on the Internet
Government and ESL teaching websites are a great place for you to start looking. Here are three websites I've found helpful for finding jobs teaching English overseas.
Daves ESL cafe –  hosts thousands of overseas English teaching jobs. Finding the right one and making sure it's a good job takes some time. I'd recommend you find a bunch of jobs and email them all.
tefl.com – super easy to use and good for European jobs. With search options that make finding teaching jobs where you want to work, and with contracts durations you're interested this site is great. However, there seems to be a lot of British schools if you're researching Europe.
TESL Canada – is good resource that I believe is more reliable than random online websites.  This is Canada's national federation for English as a Second language teachers.  Most of the jobs on here are usually offer contracts for 1 or more years.
Finding an English teaching job by word of mouth
This is the best way to find a job that you'll love. Several of my teaching jobs have come from word of mouth, and I've ended up teaching year after year at these places.
If you know someone who's worked somewhere previously, you can name drop, and you'll have a better idea of what the job is really like.
5. Send your resume/CV
You're almost ready to start working but first you have to get an interview and secure the job.
1. Make a resume and attach your photograph to it, most likely the places you're applying to want to put a face to the name.
2. Send your resume to as many schools and people as you can. You need to cast a net and hope you catch at least one job prospect. The more choices you have, the easier it will be to find the perfect job.
3. Write one email then copy and paste it. Just make sure you change the names of the addressee!
4. Apply to at least 10 jobs.  Set that as your first goal because at least you'll have something to work with.
5.  Learn some teaching jargon.  When you interview, employers want to know that you can do a good job.  Impress them with your knowledge and use industry words to communicate that you know what you're talking about.
Now that you know how to find a job teaching English overseas, you'd better get started.  This is your chance to make the change you want in your life, so go after it.  Remember, you want to travel the world and make money while doing it, fulfill your dream, and do something you've always wanted!
Good luck,
Yak
If you have any other suggestions, success stories, or ideas to help fellow readers please feel free to comment 🙂 Now go out there, travel the world, and make a difference!
https://borderlesstravels.com/wp-content/uploads/2014/05/Teaching-English-in-Japan-610-x-458.jpg
458
610
Ian Yacobucci
http://borderlesstravels.com/wp-content/uploads/2017/10/small-1-300x75.png
Ian Yacobucci
2013-08-21 09:32:12
2018-03-27 20:10:54
5 essential steps to find a job teaching English overseas