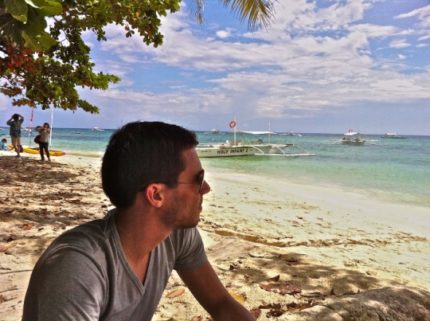 For the first time in my life I've no flight home.
No bus, no train, no plane ticket back to Toronto; I'm travelling. Life has taken a path that I had only dreamed of. I gave up my job working as a production assistant in the reality television industry of Toronto, took a leave of absence from my supply teaching job on the side and packed my bags with a few flights and no plans.
In April I was supposed to return to Canada – finish my mountaineering course at the Himalayan Mountaineering Institute in Darjeeling and head home. Back to teaching and the life I'm expected to fulfill. And maybe, when I'm ready to settle that's where I'll be, but for now I'm just following the gut feeling that's been telling me, "this is where you're meant to be."
Sometimes I miss being home, but travelling is where I'm supposed to be right now. As I sit on the 8:20pm train bound for Seoul Station, the sounds of the metal on metal rumbling of the train grinding along the track, the announcement in Korean then English telling me I've just arrived in Suwon, and looking to my left a Yogi (old Korean woman) gives me a smile as I watch the city lights fly by, I feel home.
Everyone follows their own path. We are always looking for answers hoping that something will tell us what we're doing is right. Maybe you're working hard building a new career or a family. Maybe you're at home thinking, I wish. Hopefully you're happy but never forget that you know what is right for you and you can be responsible for your own happiness.
And if you're part of that small percentage that feels like there's something else you want to do with your life then stop thinking about it and start working towards it. Things don't just happen over night. Maybe you don't want to be where you are in life right now, maybe things don;t feel right, maybe it's time to make that change you've always wanted and if you're ready, do it. You can book that one way flight to somewhere, or take that acting class you always wanted, and if it's not right for you now, start thinking about how to make it happen.
Leaving is hard. Giving up a career, your life, all you've ever known to follow a feeling seems crazy, but if it's right and meant to be it will work out. Only you can make that happen. So what if you don't get the support you feel like you need, so what if no one understands why your doing this, just do it. If your family and friends love you, which they do, they will support you.
Life is learning and everyone is different; we live, love and experience life in different ways. There is no right path. But, if you do what feels right and follow your dreams it may not lead you to where you think you should be, but where you're meant to be.
So stop worrying about the 'what ifs' and start dreaming about the possibilities. The world is yours to explore so get out there and explore it.
https://borderlesstravels.com/wp-content/uploads/2014/05/9caa2793658f3cc387f216157300b1ce_XL.jpg
403
540
Ian Yacobucci
http://borderlesstravels.com/wp-content/uploads/2017/10/small-1-300x75.png
Ian Yacobucci
2012-01-19 11:37:33
2018-03-27 18:11:06
No flight home