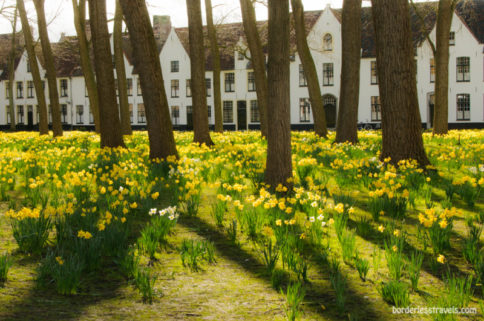 Welcome to Belgium the land of chocolate, waffles, and beer.  For most tourists, a visit to this small yet dynamic Western European country would not be complete without a stopover in it's romance capital, Bruges.  Famously the location of the 2008 crime drama In Bruge, the city is nothing short of its description as "a fairytale".  Yet for most tourists, visiting the city of Bruges is often a four hour mad dash of walking, eating, and drinking before returning back to Brussels.
Not surprisingly, this is exactly what I'd recommend you do, but with a little more time and some recommended sights.  If you're like me, slowing down in Bruges will be relaxing and give you time to appreciate its architecture, quaint streets, Belgian beers, and serene parks. Bruges is a city where you should at least spend the night and unwind from busy travels.
Discover Bruges on foot
Start walking to nowhere in particular, because around every corner in Bruges is a photograph waiting to be taken.  Meandering through the narrow streets filled with artisan shops, bistros, and pubs is best way to discover the city of Bruges.  You don't need a guide or trip advisor to tell you where to go.  Simply pick the local map (which you can get upon arrival at the train station) then visit Markt (Market Square) and Burg square before heading over to some of its famous churches and historic buildings.
As you amble through Bruges, put your map away for a while and get lost exploring the side streets and canals, you'll always find your way back.  My recommendation would be to make time for the city parks of Astridpark and Minnewaterpark.  If you've been off visiting the metropolis cities of Europe the serenity you'll find strolling along the riverside will fill you with appreciation.  Be sure to bring your camera and if you're not a photographer simply tuck into a pub or two and try one of the 1600 beers Belgium has to offer.
Explore Belgian beer and eat at Cambrinus restaurant
Yes, Belgium boasts 1600 beers that are brewed within its borders.  That's roughly four beers per day if you want to try them all in a year! One of the most popular places to sample Belgian beer in Bruges is Cambrinus.  This traditional Belgian restaurant boasts more than 400 Belgian beers and traditional food to acquaint your Belgian palate.
Cambrinus offers up a pub like atmosphere with wonderful traditional dishes such as Flemish onion soup with cheese and beer (I had this twice), and my personal favourite Flemish carbonades prepared with dark beer (a sumptuous stewed beef that goes nicely with a Trappist beer).
Never heard of Trappist beer?  Picture this; only eleven Trappist beers exist in the world and six of them are from Belgium.  Brewed by monks in Trappist monasteries these beers are created following strict criteria.  In order for a beer to be labeled as a 'Trappist' beer the International Trappist Beer Association says it must be brewed within Trappist monastery walls by monks or supervised by them.  Secondly, the brewing of the beer must be secondary to the monastic practices and way of life.  And finally, the beer must not be brewed for profit.  Instead is should be brewed so as to cover the costs associated with monastic life and care of the monastery with left overs donated for charitable purposes.
Visit 'De Halve Maan' brewery
Of course, a trip to Belgium wouldn't be complete without a brewery visit.  Luckily, within the city walls of Bruges you can find 'De Halve Maan' brewery.  Translated to half moon brewery in English, it's the only beer brewed in within the city of Bruges.
Family brewed and run by the Maes family since the mid 1800's a brewery tour here includes more than just a beer with your ticket entry.  Along with the usual brewery history, tour of the old techniques used in making the family recipes, and a freshly brewed beer pumped straight from the vat is a great view of Bruges from the roof of the brewery (so you don't have to pay to go up the Markt tower).
Hopefully you're lucky enough to get there during the seasonal brew of their Heritage beer, which is aged for a year in old oak casks from France.  Uniquely, every year the Half Moon breweries Heritage beer tastes different, since the barrels are used in the processing other liquors.
Capture a tranquil moment at Begijnhof (The Beguinage of Bruges)
After signing up for a brewery tour at 'De Halve Maan' brewery, with a half-hour to kill, my fiancee and I stumbled upon one of the most beautiful courtyard gardens we'd ever seen.  Surrounded by the quaint white facades of old-world buildings, with the sun streaming through the trees illuminating the daffodils and the shimmering off the brooke, it was as if we had left middle earth and entered Rivendell (shameless Lord of the Rings reference).
Later we discovered that this place was a convent dedicated to bequines who, according to UNESCO, are women who devote their lives to God and founded beguinages (convents) in order to fulfill both their spiritual and earthly needs.  To see the daffodilIs you'll need to visit during the month of March and don't forget to take some quiet time for reflection; it's why places like this were created.
Sitting by the fire sipping a freshly brewed beer as you overlook a canal at Half Moon Brewery, wandering through the timeless fairytale streets and canals of Bruges, attempting to try every Belgian beer, or just sitting in the park watching the swans, it's easy to lose yourself in the company of your partner, a few good friends, or even some new ones while, 'In Bruges'.
https://borderlesstravels.com/wp-content/uploads/2016/05/Begijnhof-Beguinage-of-Bruges-Belgium-Borderless-Travels-e1462990499102.jpg
531
800
Ian Yacobucci
http://borderlesstravels.com/wp-content/uploads/2017/10/small-1-300x75.png
Ian Yacobucci
2016-05-11 14:42:41
2018-07-26 09:31:16
Discover Belgium| How to get a fairytale experience 'In Bruges'