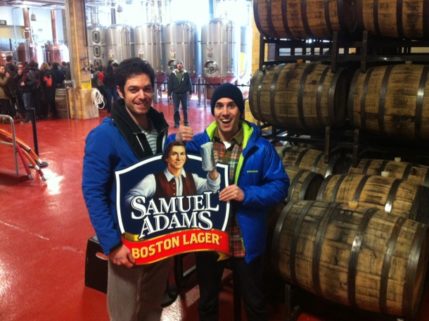 "What should I do this afternoon in Boston?" I asked the waitress at the American Joes where I was already enjoying my second Boston Lager of the afternoon. "Drink beer; what else," She replied as I glanced up at the 6-1 hockey clinic the Bruins were giving the Flyers. Okay, so there's a lot more to do in Boston than sitting in pubs enjoying glasses of local craft ales and lagers, but exploring the Boston between cold refreshing pints of beer is certainly a great start.
Boston is the city of North American firsts. The first university, the first school, the first time the American constitution was presented, home to the start of the American Revolution, and so much more. Naturally, the first thing to do in the city is explore its history. The best way to do this is to walk the freedom trail, a red trail inlayed in Boston's downtown sidewalks, which marks all the historically significant locations and events in the city centre.
Once you're historied out you need to get a taste for Boston.  Walking the streets of central Boston between pints of beer and bowls of clam chowder (pronounced "chowda") will get you acquainted with the city while enjoying its culinary flavours.
Visiting local craft brewers is vital to starting your beerventures in Boston.  On my most recent visit to Boston I got acquainted with delicious beer with a visit to Samuel Adam's brewing company for a tour and tasting.
As Americas largest independent brewery Samuel Adams (who was one of America's founding fathers) makes some great beers.  And in all honesty, unless you don't drink beer, I can't think of a better way to start an afternoon in Boston then learning about and tasting beer for free.
The guides at Samuel Adams were awesome!  They were incredibly knowledgeable, fun, and love drinking beer (as you'll often see staff enjoying a pint as you tour the facility).  While you're there you get a chance to taste a variety of beers, learn the proper steps to tasting beer (the same way judges do), and have some fun with other people on the tour.
After your tasting you can either head to Harpoon brewery (which I've heard is great) and continue your beer lessons, or head into the city for some more informal tasting and city exploration.
Beacon Hill is a great neighbourhood to start exploring. Beacon Hill is one of the prettiest neighbourhoods in Boston, and is famous for its gas lamps and old brick row houses.  As the oldest neighbourhood in Boston it's also the perfect place to get a postcard picture of the city.
Beacon Hill is also great for boutique shopping, food, and of course beer. Just outside the neighbourhood you'll find Cheers, which is the inspirational bar for the hit television show. I ended up snapping a pic and taking a peak inside, but I found the place pretty touristy and decided to head elsewhere to chill.
Just down from Cheers is Charles street, where my friends and I found a beer drinking gem called The Sevens Ale House. This pub was a great hangout where we tried some local brews, played darts, and enjoyed the local atmosphere.
After hanging out at The Sevens I'd recommend exploring the shops, alleyways, and incredible architecture of Beacon Hill with a camera in hand, or head to Boston Commons for a walk through the park (in the winter you can also skate on the frog pond).
For those who want to eat and shop Boylston and Newbury street are great places to wander around. You can also go to the Quincy Market where small fast food restaurants, souvenir shops, and more pubs will keep you entertained.
Checking out the campus of Harvard (America's first university) or MIT is a fun way to lean the history of Education in Boston, and see some of the famous movie settings from film greats like "Good Will Hunting". The history and architecture of these institutions are incredibly Boston, fun to learn about, and a great place to practice photography.
For a night out on the town there is no shortage of places to go. If you're looking for something different I'd check out some comedy.  Since I was on a work trip, our whole team was scheduled to go to Improv Asylum. This was sooooo much better than going to a club or bar and partying hard.  it was something different and unexpected, and now that I think about it, nothing starts a trip better than having a good laugh, not to mention the fact that the current professional improv team is a really tight crew who are incredibly funny!
Boston is a great city! Between beer tastings, walking the city, exploring its history, and hanging in local pubs, Boston gets two thumbs up. I only scratched the surface of Boston, and left so much left to explore. With incredible sports teams, the hub of education for the United States, an indulgent night life, and more history than you could possibly absorb in one trip, Boston is an American city waiting for you to discover it.
What's your favourite thing to do in Boston?
Happy travels,
Yak
https://borderlesstravels.com/wp-content/uploads/2014/05/Samuel-Adams-Brewery-Boston-Massachusetts.jpg
456
610
Ian Yacobucci
http://borderlesstravels.com/wp-content/uploads/2017/10/small-1-300x75.png
Ian Yacobucci
2014-02-10 18:10:02
2018-07-26 09:53:09
Discover Boston between beers