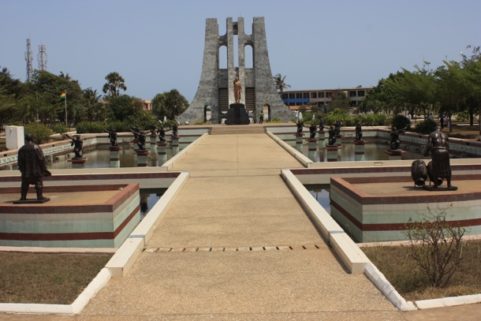 Accra is an exciting and busy city that seems to be in constant fluctuation. From the hawkers walking the streets selling everything from plantain chips to flashlights, the seemingly endless half complete buildings lining every street, the heat, dust and smoke, it's hard to take it all in.
If you have a few hours in Ghana's capital city and you're looking for things to do in Accra before heading to the coast, hoping on a plane, or cruising to your next destination I have a couple ideas that will give you a feel for the city.
After spending a couple weeks in Ghana's Western Region I wanted to explore Accra before flying out, but only had a couple hours to do it in. On my list of things to do were to check out a market and see something cultural.
After negotiating a price with my taxi driver Steven, who was more than happy to take me on a three hour tour of the city – for a price – we settled on a fixed price for an hour and a half tour of central Accra.
The afternoon tour started at the Centre for National Culture (Greater Accra Region) – Textiles Market/Art Centre. In Accra there are several market places although this one is geared more towards tourists and doesn't quite offer the cultural experience of an everyday market place.
The market was a lively place located within a local neighbourhood. The maze of shops filled with colourful Ghanaian textiles, art, woodwork, and jewelry lined its dusty dirt alleyways. Walking through the market it's hard to avoid shop owners and browse at your leisure. The constant barrage of questioning was almost too much to handle and enough to overwhelm even the most seasoned traveler.
Yet, I pushed on and found a couple of items I was looking for. On the list were what I called Ghanaian party pants and a couple pieces of art. Luckily, I met Hannah who toured me through her shop, let me try on some pants, negotiated a fixed price that was slightly lower than the others, and made the sale.
Next to the market place was the Kwame Nkrumah Memorial Park, a mausoleum dedicated to the first president of Ghana. For 6 Ghana Cedis (3 USD) you can enter the park which houses a gigantic monument dedicated to Dr. Kwame Nkrumah as well as a museum. Included in the cost is a 30 minute guided tour of the grounds, although I didn't have enough time to check it out.
The grandness of the monument sitting on the grounds dwarfed the arboretum surrounding it. Filled with trees planted by foreign dignitaries from around the world the monument grounds are easy to explore on your own. Being the only tourists at the monument, a popular place for wedding photos, I was able to walk around and take photographs as if I had the park to myself.
After visiting memorial park I was rushed to meet the time constraints negotiated Steven. To save time he offered to drive me by the national stadium, Freedom Arch, and Independence Square so I could snap a couple pictures before heading back to my hotel.
Dr. Kwame Nkrumah once said, "I have sown the seed and indeed it will germinate". Exploring Accra I certainly saw a city going through a period of growth and development. From its independence Ghana and the city of Accra have certainly grown, but there is still much work to do as the endless streets of unfinished buildings bared witness too.
The quick tour I had of Accra left many unanswered questions and a lot to explore. From the beaches to local markets and the old town I'm looking forward to going back again. Yet, with all the time I spent in the Western Region, the few sights I got to see were more than sufficient to satisfy me for now.
Happy Travels,
Yak
https://borderlesstravels.com/wp-content/uploads/2014/05/Kwame-Nkrumah-Monument-Accra-Ghana.jpg
407
610
Ian Yacobucci
http://borderlesstravels.com/wp-content/uploads/2017/10/small-1-300x75.png
Ian Yacobucci
2013-06-26 08:24:49
2018-07-26 11:07:56
Fun ways to explore Accra for a great afternoon of exploring