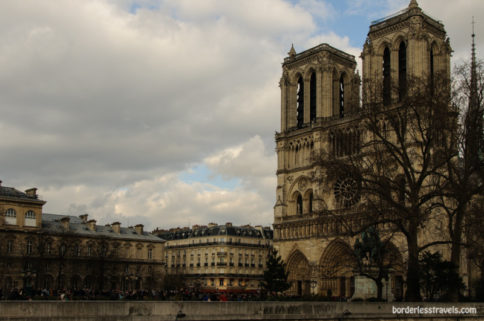 Don't get bombarded with hundreds of ideas highlighting the best things to do in Paris, just ask yourself, "what is Paris known for?" If you answered art, food, architecture and French culture than this short list of ideas for your next Paris visit is all you need.
Typing "things to do in Paris" in any search engine will yield hundreds of ideas. You'll find articles listing the best things to do in Paris, the top 10 things to do in Paris, the 20 ultimate things to do in Paris, 12 worst things to do in Paris, and of course the unrealistically long 101 things to do in Paris (not to mention the dozens of other "things to do in Paris" variations).
If you're only in Paris for a few day's than sifting through all that information just won't do. Thankfully, this guide to Paris will sit you down for fantastic Parisian meal, help you find the best way to photograph and see the Eiffel tower, give you the must see Paris museum, while providing you with time to discover Paris on your own. 
Photograph the Eiffel tower & picnic at Champes de Mars at sunset
A trip to Paris would not be whole without visiting the Eiffel tower, the iconic 300 meter wrought iron structure that might just be the most recognizable building in the world.   If you're visiting Paris you're bound to get there one way or another but some ways to visit the Eiffel tower are better than others.
Simply put, the best way to visit the Eiffel tower is from the Trocadero metro stop. As you exit the subway station at Trocadero you'll be acquainted  with a full view of Les Jardins du Trocadero (Trocadero gardens) and it's iconic fountain as the majestic and unmistakeable Eiffel Tower fills out the horizon.
The best time to visit the Eiffel tower is for sunset overlooking Les Jardins du Trocadero and the Eiffel Tower. At this time the Eiffel tower is front lit by the setting sun with a great view from the steps overlooking Trocadero Gardens and the tower itself. This is hands down the best place to get a photograph of the Eiffel Tower and the best time to do it!
If you plan ahead bring an evening snack, some wine, and a blanket because from Troccadero metro stop you can walk to the Eiffel tower then settle down in Champes de Mars (the large park the Eiffel Tower is located in) to enjoy the rest of the sunset while you sip some good French wine watching the day set over Paris.
Eat a Parisian meal at La Jacobine
In my quest to find the best French onion soup in Paris, a feat that would probably take a lifetime to discover, I found La Jacobine. Located down a narrow alleyway in the Odeon/Saint-Michel neighbourhood the quaint café atmosphere of La Jacobine lends itself to traditional Parisian flavours that are sure to excite your palate and bring you back more than once during your visit.   La Jacobine is a great place for a coffee and Parisian confection but even better for their salads, entrees, and of course their French onion soup.
The best time to visit La Jacobine is between 1pm-3pm to beat the lunch and dinner rushes. If you decide to come at a different time I suggest calling ahead or plan to wait a while, as there's only select seating in this quintessential Parisian restaurant.
For a perfect day plan with a visit to La Jacobine, might I suggest an early morning visit to the Luvre before adventuring across La Sienne to Le Jacobin for a late afternoon lunch. It's a great walk, just make sure you have something to hold you over while adventuring through the Louvre as you'll want to get there early and spend at least a few hours.
Get cultured at Musée du Louvre
Like many Paris destinations the Louvre is one of the most visited tourist attractions in the world, and a must see if you're visiting Paris. As you can probably expect, the line-ups to visit the Louvre are immense and often reach more than 100m in length. Yes, you read that correctly.
So, how do you avoid long line-ups and ensure a great trip to the Louvre during your visit?  You do two things:
Buy your tickets online ahead of time (9am is the best ticket time to purchase)
Plan to arrive 30 minutes before it opens to use your 9am ticket
You should know that tickets are usable for the entire day so you can always go back. Getting there first thing in the morning is key because you can visit the more popular sections of the museum (the Mona Lisa and the more spectacular Wedding at Cana across from it) without huge throngs of tourists.
As I mentioned earlier, the best thing to do is to visit Musée du Louvre for the morning and early afternoon then head to La Jacobine for an incredible Parisian lunch!
Discover Impressionism at Musée d'Orsay
Le Musée D'Orsay is one of the greatest contemporary art museums I've ever been to. Forget the fact that it's located in the impressive former Gare d'Orsey railway station, or that it hosts the worlds largest impressionist artwork collection. The Musée d'Orsay is a very well done museum in a cool building that's impressive to just admire on it's own.
The biggest mistake people make, and I'm one of them, is visiting the museum from the main floor and working your way up. Take my advice, start at the top on floor 5 (the impressionist gallery). Here you'll get to explore the great impressionist works of Monet, Cézanne, Degas, Pissarro, Sisley and more. You'll also get a great view overlooking the city of Paris from behind the buildings clock.
If you're not arted out after exploring the greatest impressionist collection in the world there are lot's of other exhibitions worth checking out as you work your way down. Just don't burn yourself out by starting elsewhere before seeing the impressionist works.
The line up for this the museum d'Orsay is a lot faster and much less busy then the Louvre. You can still get tickets online to fast track, but the wait is usually a decent 30min regardless of what you do.
Walk along La Sienne & photo stop at Notre Dame de Paris
Paris is an architectural marvel. Built along La Sienne, it's wide boulevards and grandeur buildings are great for exploring by foot. Sure, you could splurge on a tourist filled boat ride down La Sienne, or even better you could meander at your own pace along the uncrowded riverside.
If you're visiting Paris with a romantic partner walking is one of the most romantic things you can do in "the city of light".  And while your exploring, be sure to pop into a café along your journey and watch the people of Paris mingle with daily life as you try to imagine what life living in one of the worlds greatest cities might be like.
Surely, you'll need to stop of at the Notre Dame Cathedral, but my best advice is to take a quick picture and move along. If you're really interested in going in, you can test your patience with the monstrous lines that rival that of the Louvre. To be honest, walking through the city is free, you'll discover little shops and quaint eateries that you'll never find online, and you can devote all your attention to the person you're walking with.
Where to stay in Paris
Finding an affordable place to stay in Paris is hard. You'll end up paying through the roof no matter what route you take. Thankfully, we found a great room (with breakfast) at the Median Porte de Versailles, right on the Paris metro line at Balard, giving us easy access to the entire city at an affordable rate (around 100€ per night for two). To be honest, we'll definitely end up here again during our next stay in Paris because one visit to the "city of light" is impossible!
In the end, these are just the quintessential Paris attractions that made our most recent visit to the city a memorable one for my fiancée and I. These suggestions offer a reasonably priced way to experience Parisian food, art, and culture along with a little downtime too.
Whether you're alone, with a friend, or a romantic partner Paris is a massive city with literally 101 things to do. Keeping that in mind, these ideas will ensure you don't get overwhelmed looking for the best options of things to see and do in Paris, so you can concentrate on enjoying it.
Happy Travels,
Yak
https://borderlesstravels.com/wp-content/uploads/2016/06/Notre-Dame-de-Paris-Cathedral-Paris-France-Borderless-Travels-e1464780863450.jpg
531
800
Ian Yacobucci
http://borderlesstravels.com/wp-content/uploads/2017/10/small-1-300x75.png
Ian Yacobucci
2016-06-01 08:06:28
2018-07-26 09:30:46
Perfect Paris| Quintessentials for an artistic, cultural & culinary Parisian visit