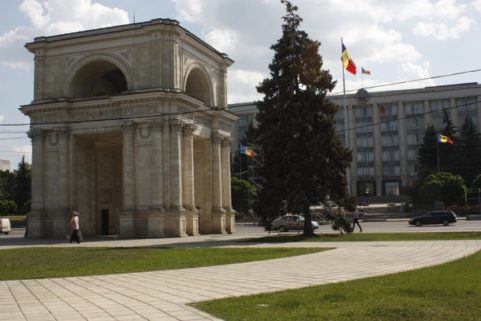 Like many European cities the best way to explore Moldova's capital, Chisinau, is by walking. Spending a good portion of the day wandering through Chisinau's streets allowed me to see all the main sights and explore a little on my own. Here's what I found:
# 1 – Memorial Park – as Moldova's WWII memorial you won't miss the orange pyramid towering high above the buildings in this area. The main structure is a unique world war two monuments and believe it or not has two soldiers standing guard during the day even in the thirty degree heat I was walking around in.
The park itself is beautiful with green trees and red roses lining the walkways of the memorial grounds. Behind the monument are the graves of those who fought in World War II as well as for Moldovan independence.
# 2 – Parcul Valea Morilor – what a surprise! Just outside the centre of the city lies the man-made lake alongside a parkland area. There's no better place to chill out than on the beachside where you can catch some sun, take a dip to get away from the hot summer heat, and relax with a view of the Moldovan hillside in the background. If you're like me just walking through the park is a great way to enjoy this place.
# 3 – Parcul Aleea Clasicilor – also known as Puskin Park is on of Chisinau's central parks. Don't forget your computer if you're going to chill out here. On a nice spring or summers day you'll find its benches lined with people on their laptops chilling on the parks wifi and plugged in to the sockets that line the benches. If you're with young ones, splashing around in the parks central fountain seems to be the thing to do while onlookers chill out and watch the kids play.
# 4 – Art Market – just down from the central park, if you're walking along the main street Bul. Stefan Cel Mare, you can stop by the art market to check out some local talents. I stopped with a friend who bought a necklace; you can also find old soviet souvenirs and other small trinkets there.
#5 – Cathedral Park – is Chisinau's central park which is located in the dead centre of the city just down from the opera house. Usually filled with people on their lunch breaks you can get a few good shots of Nativity Cathedral, the city's main church, and the Triumph Arch located across from the government house.
The best thing to do in Chisinau is walk. Like me you'll find that the city has a great vibe that is best enjoyed on a warm day. The cities opera house, main cathedral, and parliament are all on the main street so don't forget to bring your camera and have fun.
Yak
https://borderlesstravels.com/wp-content/uploads/2014/05/triumph-arch-cathedral-park-moldova-1.jpg
407
610
Ian Yacobucci
http://borderlesstravels.com/wp-content/uploads/2017/10/small-1-300x75.png
Ian Yacobucci
2013-03-06 12:58:51
2018-07-26 11:23:37
5 captivating tourist spots in Chisinau, Moldova