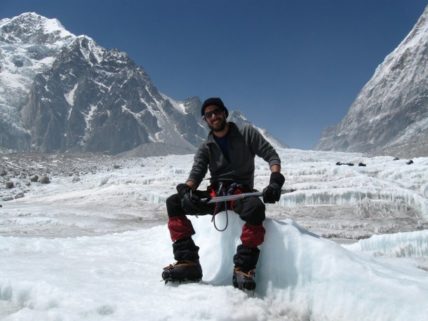 Trekking in the Himalayas is an experience of a lifetime but I looked for a bigger challenge and decided to join the Himalayan Mountaineering Institute in India for a mountaineering course instead.
If you're thinking of trekking in the Himalayas, learning how to mountaineer, or just plain want to challenge yourself than a course at the Himalayan Mountaineering Institute is a sure bet.
HMI is run by the Indian Ministry of Defense and its instructors  not only have tons of domestic and international experience going above 8000 metres, but a few also hold world records (my group instructor was the only person to have climbed Everest from all three faces, one of which is so dangerous it's been closed).
The educational value of a course at the Institute is priceless – but don't be under any illusions: its programs are extremely difficult. As the oldest mountaineering institute in Asia, established by the first successful Everest summiteer Tenzing Norgay, its courses are designed to prepare you for the most hardcore of mountains.
I first heard about the Himalayan Mountaineering Institute while completing my teaching practicum in Cape Town, South Africa. About two weeks into our practicum some of our group took a weekend break from a busy week of teaching for a hiking trip into the mountains in the outskirts of the city.
Organized by one of our instructors, a local guide trained as mountaineer took us into the hills for a wonderful afternoon exploring Cape Town's natural beauty. Not thinking much of it at the time I asked him where he had learned his skills. He enthusiastically told me that he had trained with the Indian military at the Himalayan Mountaineering Institute and that the program was a great way to learn mountaineering skills.
A natural athlete who looked like a professional rugby player, he informed me that the course was quite demanding and was based on a military style training regiment. Although it sounded quite difficult, the course sparked my interest as a way to develop and learn the skills to properly climb mountains – something I'd wanted to do for a while.
For three years the Institute's name was written on a small piece of paper stuck to a bulletin board in my room. I went to the Institute's website many times over those three years to read about the history and the courses on offer. However, the course dates never corresponded with my time off from teaching.
But then, after several years out of university and working in the real world, I decided to leave everything behind and embark on some new adventures (in other words, I morphed into the Travelling Yak… the rest is history). I decided immediately to enroll at the Institute.
And so, in March 2012, soon after a teaching gig in South Korea followed by a few weeks scuba diving and surfing in South East Asia, I arrived in Darjeeling, a.k.a. the Queen of Hills.
https://borderlesstravels.com/wp-content/uploads/2014/05/Top-of-Rathong-Glacier-5000m-West-Siikim-India610-x-458.jpg
458
610
Ian Yacobucci
http://borderlesstravels.com/wp-content/uploads/2017/10/small-1-300x75.png
Ian Yacobucci
2012-11-14 00:12:18
2018-07-26 11:34:46
Mountaineering in the Himalayas