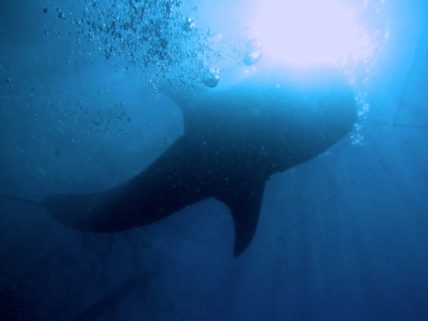 Scuba diving in the Philippines:
It doesn't get much better than spending time alongside the biggest fish on the planet. 
When I originally decided to visit the island of Negros Oriental, and the city of Dumaguete, I was disappointed with the fact that I probably wouldn't get the chance to see whale sharks.  Traditionally, in the month of February (coincidentally the month I was visiting) whale sharks can be found in the waters near Donsol.
However, when I arrived I was excited to learn that a family of whale sharks was found of the coast of Cebu island in Oslob.  This new discovery came with some controversy as fisherman, who were protecting the fish by preventing poachers from killing them, were also feeding the fish.
In recent years, with the destruction of many of the Philippines reefs (a result of weather and overfishing) fisherman have lost their lively hood.  With the arrival of the whale sharks the fisherman protected and fed the fish, in return receiving monies from divers who paid for a permit to dive with the animals.
Fortunately, scuba diving (which is not permitted in Donsol) is permitted in Oslob, although no negative effects have been found as result of scuba diving with whale sharks scientists still aren't sure of the effects.
Another concern is the fact that the fisherman feed the whale sharks, which might result in the changing of natural migrations and feeding practices since there is a lot about the fish that is unknown ( only recently discovered in the late 90's).
During the dives my friend lent me their underwater camera so I were able capture stunning images like the one above.
Scuba diving with whale sharks was incredible and I highly recommend the experience to any divers or snorkelers who love learning about and experiencing the oceans wonders.
Have you ever seen a rare underwater creature?  How did you feel being together with it in nature?
Click to learn more about scuba diving in the Philippines and muck diving in the Philippines
https://borderlesstravels.com/wp-content/uploads/2014/05/254a4b72dd34d703abeddb0ff13be0a2.jpg
525
700
Ian Yacobucci
http://borderlesstravels.com/wp-content/uploads/2017/10/small-1-300x75.png
Ian Yacobucci
2014-01-10 10:09:06
2018-07-26 09:54:47
Travel Photo| Scuba diving with whale sharks