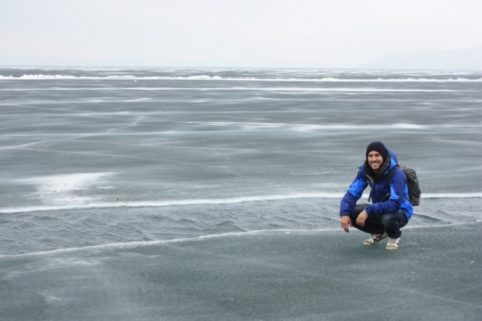 If you want to know how to get to the largest deepest fresh water lake in the world than my trip to Lake Baikal will help you find your way.  This stop is a must see if you're travelling on the Trans-Siberian.
Lake Baikal is the deepest lake in the world and if that doesn't impress you it is also the biggest fresh water lake in the world. I grew up along the shores of Lake Ontario visiting Niagara Falls, Lake Erie, Superior and Michigan, but they didn't prepare me for the magnificence of Lake Baikal.
Perhaps it was the fact that I had been travelling on the Trans-Siberian, passing through Siberia's desolate frozen countryside and Mongolian deserts for the last two weeks. Maybe it was that I lucked out and got there while it was still frozen, but when I arrived and saw mountains lining the horizon of Baikal, a back frozen ice mass glistening in the sunlight, I knew I was at one of the world's natural wonders.
Getting to Listvyanka from Irkutsk is pretty easy and most tourist information maps have the location of where you can find the direct mini buses. The mini buses to Listvyanka usually leave every hour and cost 100 rubles each way, 200 return. The ride takes about 50 minutes and often stops to pick people up along the way.
When you arrive in Listvyanka you don't have to worry about catching a minibus back. If you time your stay correctly you can get another bus back at a different time, and once again these usually depart for Irkutsk every hour.
I arrived in Listvyanka early on an April afternoon and was ecstatic to find it frozen with a few people walking on it. The frozen ice, a deep blackish blue hue, stretched to the horizon and mountains surrounded the beautiful lake. My friend Johnny and I decided to follow a few others out onto the ice so we could grab a couple pictures and slide around.
Johnny had read that you can drink the water in the lake so we filled a bottle and took a few sips out of the makeshift river that meandered along the icy shore. Refreshingly cold the fresh lake water was a treat after all the bottled water we'd been consuming, and with a few pictures on our cameras we decided to head to the market.
Lake Baikal is not only a Unesco world heritage site famous for its size, it is also well known for a smoked delicacy known, in Russian, as Omul. Omul is smoked white fish found in Lake Baikal and can be purchased in the marked for about 70 rubles a fish.
The fish is absolutely delicious and also comes in a preserved salted version. If you're trying it for the first time I recommend the freshly smoked fish which is kept warm in a wooden steam box. The smoked flavour of the fresh fish is not overwhelming and compliments the natural texture and flavour of the fish nicely. The best part of eating Omul is that you get to use your hands to peel off the skin and bite size morsels.
My friends and I devoured our Omul as we looked out over Lake Baikal, and after a short stroll through the town, a single street of restaurants and shops, it was time to head back to Irkutsk to catch our train to Omsk. For me Lake Baikal was a Trans-Siberian highlight and if you're travelling on the Trans-Siberian Railway I suggest a stopover in Irkutsk with visit to Lisvyanka and Lake Baikal.
Tips:
1. If you go in the winter dress warm. Winds of the lake can be quite frigid.
2. Visiting Lake Baikal in the summer may allow you to catch a glimpse of its famous fresh water seals.
3. If you're planning on staying in Listvyanka overnight try to book your accommodation ahead of time because the town is quite small, and if you're there during tourist season it may be difficult to find a place.
Tally (as of April 2012):
Bus from Irkutst to Listvyanka (return) 200 rubles – $6.50 USD
Omul (per fish) 70 rubles $2.50 USD
https://borderlesstravels.com/wp-content/uploads/2014/05/Ian-standing-on-Lake-Baikal-in-Listvyanka-Russia.jpg
360
540
Ian Yacobucci
http://borderlesstravels.com/wp-content/uploads/2017/10/small-1-300x75.png
Ian Yacobucci
2012-04-17 12:14:00
2018-07-26 11:42:16
Travelling on the Trans-Siberian to Listvyanka and Lake Baikal