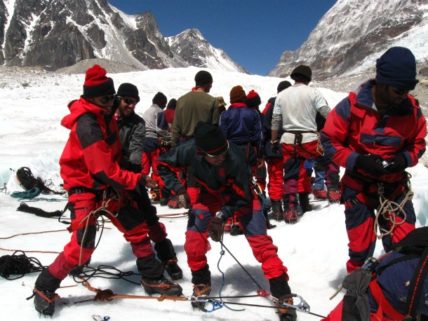 Theory – Daily lessons and movies
Usually there are between two and four lessons a day. In the beginning of phase 1 lessons dominate the curriculum however, as the week progresses more and more emphasis is put on rock climbing and other training.
The basic course lessons are taught throughout the day and to be perfectly honest are not the best. The instructors are not trained teachers; they are military men and professional mountaineers. Most of them have climbed 8000m peaks and, more often than not, more than one. However, this course isn't about sitting in a classroom studying about mountaineering, it's about practicing the sport of mountaineering and that's exactly what the instructors teach you to do.
Lessons include topics such as equipment, ropes and knots, Himalayas, avalanches, principles of rock climbing, mountain hazards, mountain terms and more. Often the lessons are taught in broken English and Hindi although some instructors prefer to teach only in Hindi. For these lessons it's best to sit beside someone who can help translate.
Having the lessons in Hindi is a great experience because it allows you to put yourself in someone else's shoes, the shoes of an immigrant attending school in a new country. You get to experience what it's like to be in an environment where you are the outsider, it forces you to try and learn as much of the language as you can while feeling what it's like to not understand a thing.
The best way to prepare yourself for the lessons and ensure you get all the information is to go to the souvenir shop and purchase HMI's two mountaineering handbooks. One costs Rs. 30 and the other Rs. 15. These books contain all the information from the lessons as well as informative diagrams of ice climbing techniques and rope knots.
After a day of studying and training movies are shown in the evening, usually after 5pm, and each one focuses on mountaineering or rock climbing. The coolest thing about these movies is that a few of them are from the 1970s and are shown using a 16mm sound projector called the photophone superlite 2. Of course, they do have a DVD player and projector for the more modern mountaineering films which includes a film about the HMI teams recent ascent of Makalu.
Equipment and other useful information
Students in the Himalayan Mountaineering Institute's basic course are provided with equipment. It is distributed in the middle of phase one and students must use it for morning physical training during the trekking exercises.
Equipment provided:
90 litre backpack
Plastic mountaineering boots
Crampons
Windproof pants and jacket
Down jacket
Climbing harness
Carabineer
Jumar
Sling
Belclava
Ice axe
Water bottle
Tea cup
Messtin (2 pieces)
Spoon
Sleeping bag
Sleeping bag liner
Sleeping pad
Afternoon Off
Before heading off to base camp (phase2) students are given a half day off to go into Darjeeling. On my day off I took advantage of the opportunity by taking a shower, since I had only taken one since arrival, which was a result of the cold weather as well as the freezing cold temperatures and lack of running water.
On your day off I'd also recommend buying some snacks and other supplies because, outside of your three daily meals, not much is provided when you begin trekking in Phase 2. I bought 12 snickers bars, almonds, cashews and dates. The course only gives students gum and a few hard candies to get them through the hard days of trekking so if you want to sustain your energy buy some snacks.
Also, if you haven't already purchased wet wipes you should get a 100 pack of those as well (the Himalayan brand is good) because when you reach base camp there's no running water and unless you plan on getting sick washing yourself in the freezing cold snowy weather is out of the question (I went in March).
Now it's time for Phase 2
If you have further questions about my experience please feel free to leave a comment or email me
For more information on the Himalayan Mountaineering Institute check out:
http://www.himalayanmountaineeringinstitute.com/
https://borderlesstravels.com/wp-content/uploads/2014/05/Mountain-rescue-in-full-equipment-610-x-458.jpg
458
610
Ian Yacobucci
http://borderlesstravels.com/wp-content/uploads/2017/10/small-1-300x75.png
Ian Yacobucci
2012-11-30 00:41:29
2018-07-26 11:33:00
Himalayan Mountaineering Institute Basic Course : Phase 1 – Theory and Equipment