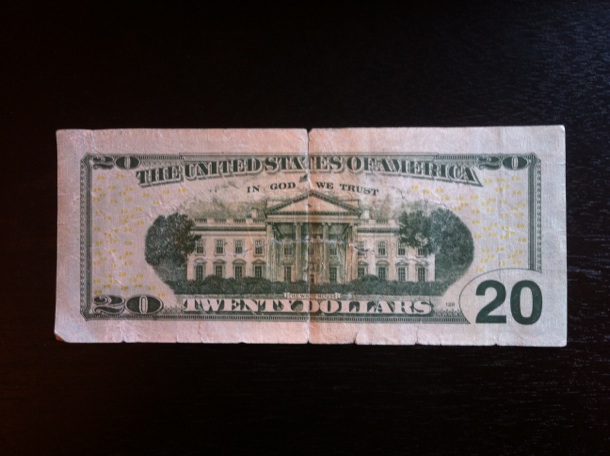 To tell you the truth, it wasn't for lack of trying that I couldn't get rid of the counterfeit twenty-dollar bill I found amongst my real American cash while traveling in Ecuador. A feat that would consume a good deal of time, and several battles with my conscience, while surfing and partying in Montanita on Ecuador's Pacific coast.
The quaint surf-town that transforms into the biggest party on the Ecuadorian coast was the last place I thought I'd find a couple fake twenty-dollar bills amongst the American currency tucked secretly away in the dark crevices of my backpack.  Then again, I was a foreigner in a fantasyland of dark clubs and cheap drinks where thousands of people flock when the weekend hits.
It all started on one of those frenetic nights out in the party capital of Ecuador.  Carlos, one of Montanita's infamous mixologists, spends most nights fancifully flipping out colourful alcohol ridden fruit drinks and snapping picks with visitors along Montanita's cocktail alley.
Cocktail alley naturally attracts flocks of people who come to start untamed nights out sitting in red and white lawn chairs as they share drinks and conversation with tourists, Ecuadorians, and locals alike.  It's here that I started my night with Carlos and his devilishly tasty rum saturated fruit bombs.
"Falsa," he said as he handed back the crisp new twenty-dollar bill I had just given him in exchange for the two drinks my friend and I had consumed.  It's real I assured him as I handed it back reaffirming that it was a new one from Canada.
I could have sworn I had brought the money directly from my Canadian bank to Ecuador.  That's when then I remembered that businesses in Ecuador don't accept fifty-dollar bills and I was forced to change some of it at an exchange booth in Guayaquil.  Guayaquil, being the largest city in Ecuador, is where I figure I unassumingly got duped into taking two freshly minted, incredibly fake, counterfeit twenty-dollar American bills along with a half-dozen real tens.
Counterfeit money is not something new in Ecuador.  In fact, shortly after the Ecuador switched from the sucre to the American dollar in 2000, illegitimate currency started percolating into the country via Columbia.As the story goes, Columbian taxi drivers were bringing in thousands of dollars in fake currency and exchanging it with the real thing through daily transactions and other illegal practices.
The night I discovered I had come by forty-dollars in counterfeits was no big deal, since the club I went to cost $15 and the attendant was collecting money as fast as she could get people in.  By slipping a fake twenty under a real one I was able reinsert the currency back into the system and out of my wallet.  To be honest, the club was absolutely horrible and completely empty, so ironically, I still felt like I had been ripped off.
Happy that I wasn't completely at a loss over my recently acquired counterfeit money, I realized that there was one problem; I still had another twenty to get rid of. You'd think it'd be easy to get rid of a fake currency when there are hundreds of places to do it. However, in Ecuador this isn't the case because people know what to look for and no one wants to get ripped off.
Realizing this, my first job was to make the bill look well used and more realistic, since it was in pristine condition and noticeably fake under good light.  With some advice from a friend of mine I decided to take the bill for a swim in the ocean.  When I took the mashed up twenty out of my board short pocket, it certainly looked like the idea had worked.  The bill had gained years of use from just five minutes in the water, but since it was made out of paper (not currency paper) it ripped and looked even more fake than before.
Luckily, a little tape fixed the bill, but making it look real wasn't the only problem to getting rid of the money.  The other problem was my conscience.  Montanita is a small seaside village, and in a few short weeks I had already begun establishing relationships with the shopkeepers, restaurant staff, and bar owners.  The longer I stayed in Montanita the harder it was to justify tricking one the wonderful people I was meeting into taking the counterfeit money, and so I resolved to hold onto the bill as a souvenir.
Finally, it was time to leave Montanita and head back to Quito before returning home to Canada.  Realizing that I would be taking a late evening taxi from the airport in Quito to my hotel downtown, I resolved to give it one last try and finally rid myself of my last fake twenty-dollar bill.
Duping the taxi was the perfect plan.  It was dark and late, the driver had probably been on the road for a while, and there was a good chance that I could just hand over the money, grab my bags, and head into the hotel without any trouble.  I even planned to get dropped off around the corner so the driver wouldn't find me and harass the hotel staff.
When the driver picked me up at the airport he quoted my cab fare at twenty-seven dollars, which was perfect amount to go through with my plan.  By placing a real ten-dollar bill over the counterfeit twenty I was hoping that I'd leave right after handing over the money, and that the tip incentive would be enough to distract the driver.  I didn't feel good about it, but neither did I want to be the one who got ripped off.
Sitting in the front seat of the taxi I went over the scenario in my head and resolved to hand over the money and be done with it.  Why should I be the one that gets screwed, I thought.  The reality was that the money was a real thing, looked relatively realistic, and would probably find its way through the system somehow.
As my conniving came to an end I determined to just do it and move on.  That's when the taxi driver looked over and started a conversation with me.  After a few minutes of conversation, I noticed that he was a kind looking man and spoke with a gentle voice in his maroon sweater vest and grey tie.
He garnered respect with his outfit and demeanor, liked his job, loved his family, and was genuinely interested in me. On that hour-long ride from the airport to Quito central we became friends.  We talked family, life, sports, love, and politics all in broken Spanish, Italian, and English.  We laughed, we philosophized, we reflected on the world, and when I arrived at the hotel I reached in my wallet and handed him all real American bills (no counterfeit).
In the end, I returned home with my counterfeit twenty-dollars and learned that the kindness and generosity of people is worth more than a few dollars.  Honesty, respect, and loving your neighbors no matter where you are in the world is far more important than ripping someone off for your own benefit.  Ultimately, I learned to always check your change no matter where you are in the world, and that corporations like McDonalds are considered individual people according to law so giving them your fake money is okay in my books.
Lets just say the American McDonalds coffee I had the other day tasted amazing!
Happy Travels,
Yak
http://borderlesstravels.com/wp-content/uploads/2014/11/Back-Conterfeit-american-twenty-dollar-bill-1.jpg
456
610
Ian Yacobucci
http://borderlesstravels.com/wp-content/uploads/2017/10/small-1-300x75.png
Ian Yacobucci
2014-11-06 11:44:29
2018-07-26 09:36:52
Scammed in Ecuador| Counterfeit money how I schemed my way back to zero