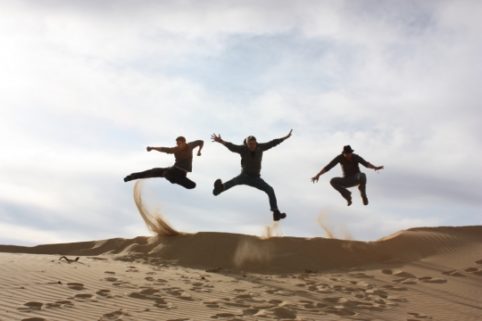 Travel blogger Johnny Ward shares his philosophy on living the life you want to live and travelling the world.
Somewhere throughout the last couple of centuries some genius decided that despite life being short, we should work 5 days out of 7 for the majority of our lives. We would spend the best days of that short life saving for a retirement that may never come, counting ourselves lucky for a two-week break in the sun once a year.
I've never subscribed to that, not by a long shot and now 70 countries later, with a residual online income, I'm a huge advocate of people turning their back on social conformity, redesigning their lifestyles and really living their lives.
"Don't take life too seriously, you might not make it out alive"
Live is a gift, one which we should embrace and appreciate. We shouldn't let it wilt in the rituals of Monday morning meetings, grinding it out in the ratrace, working in an industry you probably don't really care about. Forget that.
Follow your dreams, escape the banal life that the masses are willing to reduce themselves too. Have a look at yourself, admit where your true passions lie, and don't give up on them. Chase them with a renewed vigour. Draw a line under the mistakes you've made and be proactive in correcting them.
If you want to travel the world, sky dive, bungee jump, go on safari then you can do it, but you have to change something. Do what you always do and you'll get what you always get, so do something different. Say yes more, grasp opportunities when they come your way, be brave, hit the open road and don't let the haters bring you down.
If other people are happy with their lot, that's their choice but you know there's more waiting for you. Hammocks and cocktails on a Thai beach, white water rafting on the Blue Nile, self-employment and a 10 hour work week online, it's all much closer than you think, but you need to get out of the cubicle before you can truly obtain it. I live my life, and I never feel guilty for it, I hope you guys are gonna live yours too.
*Johnny Ward has been traveling pretty much non-stop since graduating from University in 2006, he blogs about how to redesign your lifestyle, travel the world for cheap and make the most of your youth at One Step 4 Ward. He also runs training courses, in Thailand, for people who wanna become English teachers around the globe at Teach dot Travel and runs an online travel magazine for would-be backpackers who are trying to take their first steps in travelling the world at Aspiring Backpacker.
Follow him on facebook at: facebook.com/onestep4ward
Follow him on twitter at: twitter.com/onestep4ward
http://borderlesstravels.com/wp-content/uploads/2014/05/51a3864ed3ad604d2340c3f8fe249f94_XL.jpg
360
540
Ian Yacobucci
http://borderlesstravels.com/wp-content/uploads/2017/10/small-1-300x75.png
Ian Yacobucci
2012-05-01 11:07:10
2018-03-27 18:04:27
Live your life and don't feel guilty for it (guest post)